Big Ten Power Rankings: January 25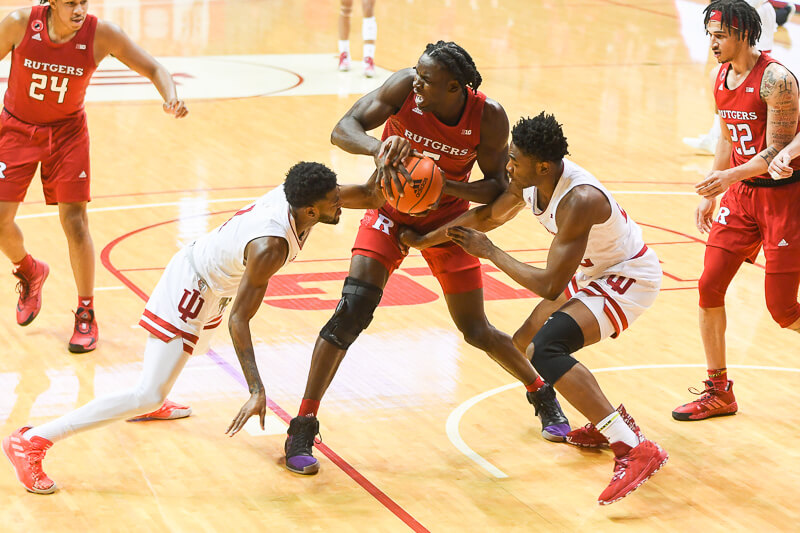 The pace of games played in the Big Ten has slowed due to COVID-19 related program shutdowns. As a result, every program has been impacted in some way and the conference now must figure out to reschedule as many games as possible over the regular season's final six weeks.
Here's a look at how things currently stand in the conference race with less than seven weeks to go until Selection Sunday. The power rankings will be published each Monday through the conclusion of the regular season:
14. Nebraska (0-5, .925 PPP, 1.138 PPP allowed)
Due to a prolonged COVID-19 shutdown, Nebraska hasn't played since its Jan. 10 loss to Indiana in Lincoln. The Cornhuskers are scheduled to play Michigan State on Feb. 3 in East Lansing. Given the number of games it has already postponed and its remote chance of reaching the postseason, it's a longshot that Nebraska will be able to reschedule all of its missed games.
13. Northwestern (3-7, 1.008 PPP, 1.138 PPP allowed)
The Wildcats have now dropped seven in a row and are tied with Nebraska for the worst defensive efficiency in the Big Ten. During its losing streak, every Big Ten opponent has scored more than 1.1 points per possession against Northwestern and six of the seven have shot better than 50 percent on 2s.
12. Maryland (3-6, .981 PPP, 1.080 PPP allowed)
Despite its 3-6 record in league play, Maryland is firmly in the conversation for an NCAA tournament bid because of who it has beaten on the road. The Terps won at Minnesota on Saturday, which added to previous victories at Wisconsin and Illinois. At No. 37 in the NET rankings with an overall record of 9-7, Maryland is right in the mix for an at-large bid. The Terps have two big opportunities at home this week as they host Wisconsin and Purdue at the Xfinity Center.
11. Penn State (2-5, 1.025 PPP, 1.092 PPP allowed)
The Nittany Lions recorded their first two conference wins last week, beating Rutgers and Northwestern at home. Myreon Jones is putting together a terrific junior season from behind the 3-point line. In Big Ten play, Jones is 20-of-42 on 3s, which is the fifth best percentage in the conference. Due to scheduling adjustments, Penn State will play at Ohio State on Wednesday this week before hosting Wisconsin on Saturday.
10. Michigan State (2-4, .977 PPP, 1.023 PPP allowed)
Michigan State hasn't played since collapsing at home against Purdue on Jan. 8, but is slated to return to action this Thursday against Rutgers in Piscataway. Michigan State's last win actually came over Rutgers back on Jan. 5. At 8-4 overall with just two conference victories, Michigan State needs to get in as many games and wins as possible over the next six weeks to build a viable tournament resume.
9. Indiana (4-5, 1.048 PPP, 1.062 PPP allowed)
Inconsistent play has plagued the Hoosiers under Archie Miller and last week was another perfect example of Indiana not being able to handle prosperity. Thursday's 81-69 win at Iowa was impressive, but Indiana followed it up by losing 74-70 at home to Rutgers on Sunday afternoon. Due to Michigan's shutdown, the Hoosiers are not scheduled to play again until Feb. 2 against Illinois.
8. Rutgers (4-6, 1.025 PPP, 1.078 PPP allowed)
The Scarlet Knights were in desperate need of a win and got one on Sunday in Bloomington to snap a five-game losing streak. Rutgers, once ranked No. 11 in the Associated Press top 25 poll, still has two games against Northwestern and one against Nebraska, which should be beneficial in getting the wins necessary to return to the NCAA tournament for the first time since 1991.
7. Minnesota (4-5, 1 PPP, 1.041 PPP allowed)
Minnesota couldn't keep Liam Robbins out of foul trouble on Saturday and it was a big reason the Golden Gophers fell flat in a 63-49 home loss to Maryland. Minnesota has now dropped three of its last four games and its next two games will be on the road at Purdue and Rutgers. Marcus Carr has been the Big Ten's best point guard this season, but he's been inconsistent. In Minnesota's last two wins, Robbins is averaging 24.5 points and 11 rebounds. In Minnesota's last three losses, he's averaging just seven points and four rebounds.
6. Purdue (6-4, .999 PPP, 1.017 PPP allowed)
Purdue played its Friday night game against Michigan despite Sasha Stefanovic testing positive for COVID-19 earlier in the week. The Boilermakers lost the game, 70-53, at Mackey Arena. Despite its winning conference record, Purdue still has a negative efficiency margin in conference play. Nonetheless, if Purdue finishes at or above .500 in Big Ten games, the Boilermakers are a lock to make the NCAA tournament.
5. Wisconsin (6-3, 1.027 PPP, .989 PPP allowed)
The Badgers have been a disappointment this season and are currently at the bottom of the top tier of the conference. The latest setback for Wisconsin came over the weekend when it lost at the Kohl Center to Ohio State in a game that the Buckeyes controlled for more than 30 minutes. The play of Nate Reuvers, who is shooting just 28.6 percent on 3s and 45.5 percent on 2s this season, continues to underwhelm.
4. Ohio State (6-4, 1.098 PPP, 1.009 PPP allowed)
Chris Holtmann continues to quietly win games in Columbus with a roster that doesn't overwhelm from a talent perspective. Ohio State has won four of its last five, including a 74-62 triumph against Wisconsin on Saturday in Madison. EJ Liddell is one of the league's best sophomores and is averaging 14.5 points and 6.8 rebounds per game.
3. Iowa (6-2, 1.18 PPP, 1.051 PPP allowed)
Iowa's offense disappeared in a disappointing 81-69 loss to Indiana at Carver-Hawkeye Arena on Thursday night. Jordan Bohannon missed all eight of his 3-point attempts and Joe Wieskmap only scored one point in the second half. The loss dropped the Hawkeyes a game behind Michigan in the loss column of the Big Ten standings. Iowa has a pivotal game on Friday night when it travels to Champaign to take on Illinois.
2. Illinois (6-3, 1.12 PPP, .982 PPP allowed)
The Fighting Illini have the highest upside of any Big Ten team, but have a difficult schedule the rest of the way that is going to make it difficult to challenge for the league crown. Illinois still has games at Michigan, Wisconsin and Ohio State and also hosts Iowa this Friday night. Kofi Cockburn and Ayo Dosumnu have both been terrific this season and have formed the league's best duo. Cockburn is making over 70 percent of his 2s while Dosunmu is fifth in KenPom's national player of the year standings.
1. Michigan (8-1, 1.106 PPP, .918 PPP allowed)
Michigan won 70-53 on Friday night at Purdue, but is now on a two-week shutdown that is affecting the entire athletic department in Ann Arbor. The Wolverines won't play again until Feb. 11 against Illinois and can't practice or have any team activities for a two-week period.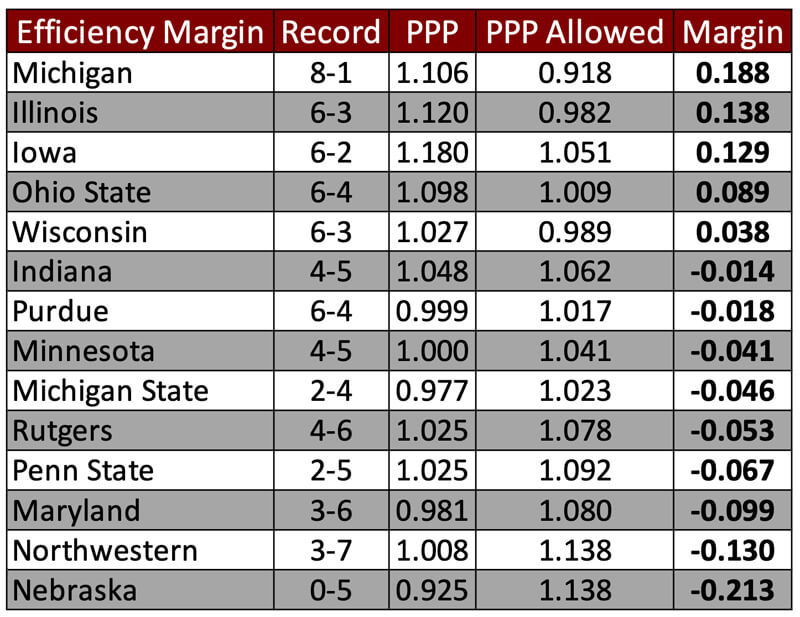 Filed to: Big Ten Power Rankings