Big Ten Power Rankings: January 18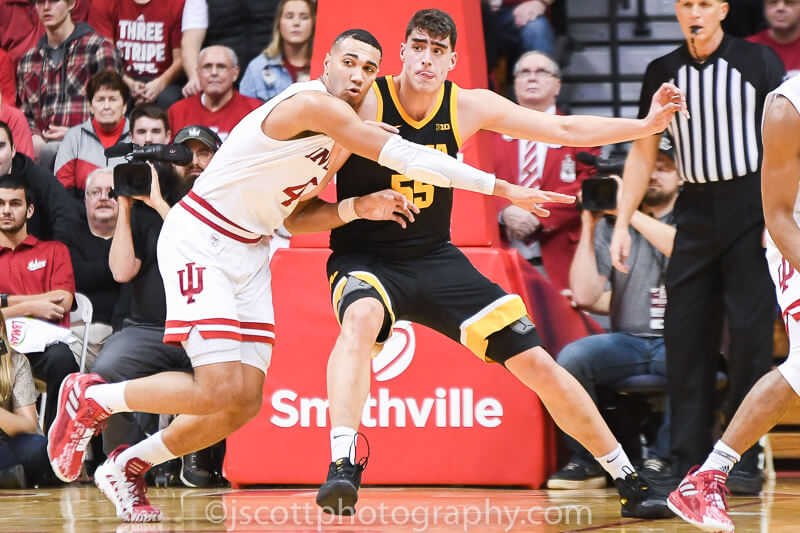 The Big Ten race became more intriguing last week as Michigan took its first loss of the season and Iowa continued to bludgeon teams with its elite offense.
With less than eight weeks remain until the NCAA tournament field is announced, here's a look at how the league currently stands in our power rankings, which are available each Monday:
14. Nebraska (0-5, .925 PPP, 1.138 PPP allowed)
Nebraska didn't play last week due to COVID-19 issues within its program and the Cornhuskers could be shut down for the foreseeable future. On Sunday, Nebraska announced that "a total of 12 individuals in the program, including seven players and Fred Hoiberg, are in isolation or quarantine due to positive test results per CDC, Big Ten and Lincoln Lancaster County Health Department guidelines." Both of Nebraska's games this week are postponed.
13. Penn State (0-4, 1.029 PPP, 1.137 PPP allowed)
The Nittany Lions returned from a COVID-19 pause and fell 80-72 at Purdue on Sunday afternoon. It was the first game for Penn State since Dec. 30 at Indiana. Myreon Jones went for a team-high 23 points in the loss, but took 22 shots and didn't get to the foul line once. Penn State will play four games in nine games beginning Tuesday at Illinois.
12. Northwestern (3-5, 1.016 PPP, 1.143 PPP allowed)
A 3-0 Big Ten start is now a distant memory for the Wildcats, who have fallen apart in the new year. The Wildcats have lost five straight games by an average margin of 18.4 points. It's one thing to lose, but Northwestern hasn't even been competitive recently. Sunday's loss at home to Iowa was Northwestern's second straight home loss by 23 or more. The Hawkeyes scored 1.33 points per possession in a 96-73 blowout win.
11. Maryland (2-5, .99 PPP, 1.096 PPP allowed)
The Terps only played once last week and the opponent was Wingate, which is Division II. Unsurprisingly, Maryland rolled to a 100-58 win. It was an opportunity for Mark Turgeon to get his inexperienced players some minutes before road games at Michigan and Minnesota this week. Maryland needs to get Eric Ayala (groin) back in the lineup if it's going to make a run at an NCAA tournament bid.
10. Rutgers (3-5, 1.023 PPP, 1.082 PPP allowed)
The homecourt advantage of the RAC has disappeared without fans. The Scarlet Knights have now lost four straight games and three of those came in Piscataway. A once-promising Rutgers season is now teetering on the verge of disaster. Rutgers did get some positive news recently as freshman Cliff Omoruyi returned and played 15 minutes in a 60-54 loss at home to Wisconsin on Jan. 15. Rutgers has a pair of road games this week against Penn State and Indiana.
9. Michigan State (2-4, .977 PPP, 1.023 PPP allowed)
There's no word on when the Spartans will play again as the program postponed games last week against Iowa and Indiana due to COVID-19 issues. Michigan State is not scheduled to play again until this Saturday at home against Illinois. Perhaps the time off will allow Tom Izzo to figure some things out for this group of Spartans, who are still searching for solutions at point guard and center.
8. Indiana (3-4, 1.027 PPP, 1.062 PPP allowed)
Indiana's losing streak to Purdue reached eight games on Thursday as the Boilermakers marched into Bloomington and left with an 81-69 victory. The Hoosiers have now lost two conference games at home and have little margin for error moving forward. Trayce Jackson-Davis continues to shine in his sophomore season, but Indiana's guard play and defense continue to underwhelm. Shooting also remains a major issue for the Hoosiers under Archie Miller.
7. Minnesota (4-4, 1.024 PPP, 1.045 PPP allowed)
The Golden Gophers handed Michigan its first loss of the season on Saturday in convincing fashion. Liam Robbins went for 22 points and eight rebounds in the 75-57 win. At 11-4 overall with a non-conference win over Saint Louis and league wins over Iowa, Michigan and Ohio State, Richard Pitino has Minnesota in a perfect position for an NCAA tournament bid.
6. Purdue (5-3, 1.017 PPP, 1.012 PPP allowed)
Matt Painter doesn't have his most talented roster in West Lafayette, but he's figuring out how to put wins on the board. After escaping Michigan State with a pivotal 55-54 win on Jan. 8, Purdue won at Indiana on Thursday and then beat Penn State at Mackey Arena on Sunday afternoon. Trevion Williams belongs in the conversation for first team All-Big Ten and Purdue's 10-man rotation is allowing the Boilermakers to stay fresh.
5. Wisconsin (5-2, 1.032 PPP, .991 PPP allowed)
The Badgers are only a game behind Michigan and Iowa in the loss column, but had a concerning performance on Tuesday in Ann Arbor. Wisconsin was down by 40 at one point and fell 77-54 to the Wolverines. Wisconsin did bounce back with a 60-54 win at Rutgers on Friday night, but the Badgers really need to get Nate Reuvers going. In seven Big Ten games, Reuvers is averaging just 7.7 points on 35.7 percent shooting from the field.
4. Illinois (5-3, 1.128 PPP, .997 PPP allowed)
The Illini are third in efficiency margin in conference play, but are already two games back of Iowa and Michigan in the loss column. That's the result of two straight home losses for Illinois to Maryland and Ohio State. The most recent setback to the Buckeyes is concerning because of how poorly the Illini played defensively. Ohio State scored 1.23 points per possession and scored 87 points in the State Farm Center.
3. Ohio State (5-3, 1.106 PPP, 1.015 PPP allowed)
Chris Holtmann continues to get the job done in Columbus in his fourth season. Holtmann made the NCAA tournament in his first two seasons at the helm and was going to make it again last season before the season was shut down due to the pandemic. In year four, Holtmann hasn't skipped a beat even after losing the Wesson brothers. The Buckeyes won 87-81 over the weekend at Illinois and have now won three straight games.
2. Michigan (6-1, 1.093 PPP, .938 PPP allowed)
Minnesota showed that Michigan isn't unbeatable over the weekend at Williams Arena in a 75-57 blowout win. The Wolverines certainly made the case to be anointed as the Big Ten's best team earlier in the week with a beatdown of Wisconsin in Ann Arbor, but the loss to the Gophers drops them to No. 2 in this week's power rankings. Michigan and Iowa only play once this season and the game isn't until March 4 in Ann Arbor.
1. Iowa (6-1, 1.203 PPP, 1.033 PPP allowed)
Say what you want about Iowa's defense, but it hasn't stopped the Hawkeyes from winning games consistently. The Hawkeyes have the nation's best adjusted offensive efficiency according to KenPom and the best player in the country in Luka Garza. Iowa has been good enough defensively in conference play that most teams simply cannot keep up with their elite offense. Iowa has scored 86 or more points in four of its last five games.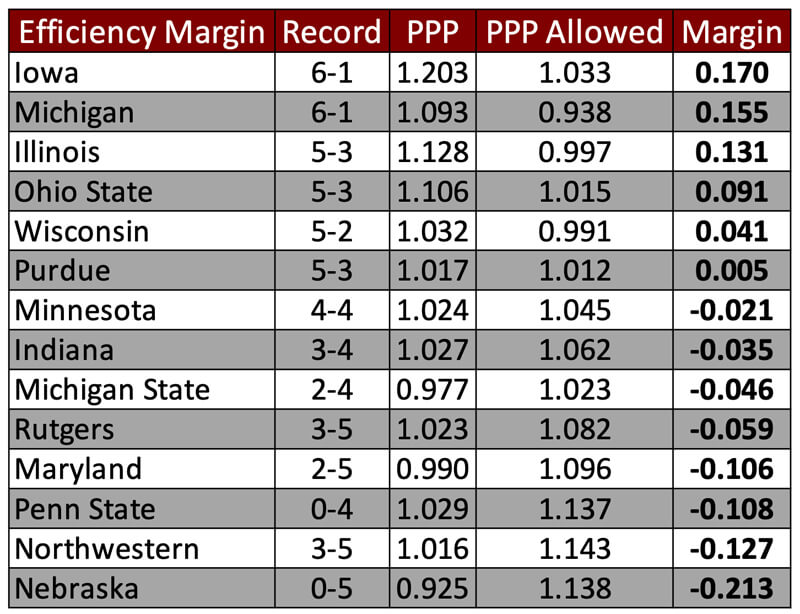 Filed to: Big Ten Power Rankings