What to expect: Purdue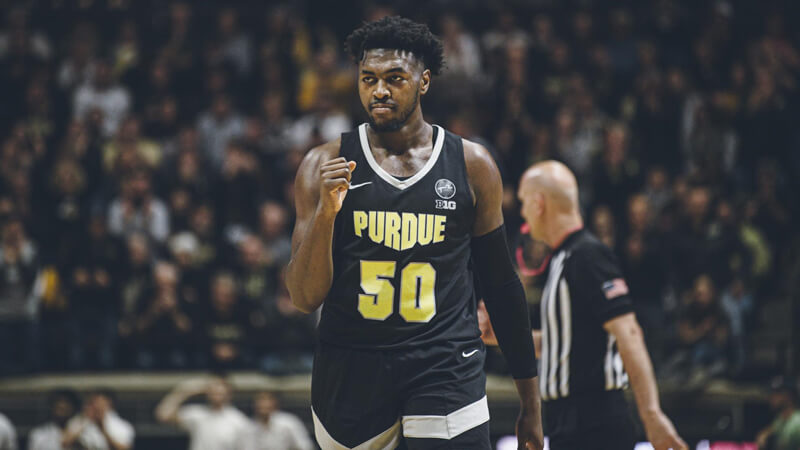 Indiana and Purdue will meet for the 212th time on Thursday night in Bloomington at Simon Skjodt Assembly Hall. The Boilermakers have won seven straight games in the series and 10 of the last 11 matchups. 
The rivalry will tip at 7 p.m. ET on FS1 with Tim Brando and Donny Marshall on the call:
For all of Archie Miller's wins on the recruiting trail within the state of Indiana since taking over in March of 2017, that success hasn't produced any wins in the program's rivalry with Purdue.
The Boilermakers haven't recruited as well as Indiana in terms of the national rankings, but it hasn't mattered when the two teams step on the court. Purdue is 5-0 against Indiana in Miller's tenure with three of those wins taking place in Bloomington. This season offers Miller an opportunity to change the trajectory of the rivalry that has been one-sided since Cody Zeller and Victor Oladipo left Indiana in the spring of 2013.
Purdue comes into Thursday's game at 8-5 overall and 3-3 in Big Ten play, but clearly beatable. The Boilermakers needed a miracle finish on Jan. 8 at Michigan State to avoid a 3-game losing streak and are 1-4 in road games this season.
Matt Painter has proven himself to be one of the Big Ten's best coaches over his 16-year tenure in West Lafayette, but this could be his worst team since the 2014-15 season which ended in a first round NCAA tournament loss to Cincinnati.
MEET THE BOILERMAKERS
Purdue's offense is focused on getting the ball inside to junior Trevion Williams, who has been overlooked at times in a league full of dominant bigs.
The 6-foot-10, 265-pound forward is averaging 15 points, 9.4 rebounds and 2.4 assists in 24.7 minutes and sits at No. 8 in KenPom's national player of the year rankings through Tuesday's games. The Boilermakers will make sure Williams touches the ball as much as possible and through six league games, he's got the highest usage rate of any Big Ten player at 35.8 percent.
According to Synergy Sports, Williams is scoring .902 points per possession on post-up possessions, of which he's had 112 in 13 games. He's a poor free throw shooter at just 52.1 percent overall this season, but Indiana's limited depth doesn't really provide the option of sending him to the line for the sake of it. In addition to his scoring prowess in the post, Williams is also an excellent passer. His assist rate of 33.2 percent ranks third in the league. He's also fourth in offensive rebounding percentage and third in defensive rebounding percentage.
Freshman big man Zach Edey, who is 7-foot-4, serves as the backup for Williams. Edey is playing limited minutes – 14.3 per game – but is averaging a stellar 8.8 points on 62.3 percent shooting. His usage rate for the season is 30.2 percent, but that number has come down considerably in conference games (23.3 percent). Still, his sheer size is a difficult matchup for an Indiana team that doesn't have anyone in the rotation taller than 6-foot-9.
Junior Aaron Wheeler began the season as the starter at the four, but was replaced by redshirt freshman Mason Gillis beginning with Purdue's game against Indiana State on Dec. 12. At just 6-foot-6, Gillis doesn't look to do much offensively and has taken more 3s than 2s in Big Ten play. He is shooting 75 percent on 2s in Big Ten play and just 15.4 percent on 3s. Wheeler, a trendy pick as a breakout player in the Big Ten last season, is 6-foot-9 and likes to take a lot of 3s. He's just a career 28.2 percent 3-point shooter on 216 attempts.
Purdue's rotation has been going 10 deep in most games with juniors Eric Hunter and Sasha Stefanovic starting in the backcourt along with redshirt freshman Brandon Newman. Stefanovic is an excellent 3-point shooter (49.3 percent) and is effective both in spot up situations and off of screens. According to Synergy Sports, Stefanovic is scoring 1.405 points per possession on spot ups, which ranks in the 95th percentile nationally. Off of screens, he's at 1.343 points per possession, which ranks in the 89th percentile nationally.
Newman, a former IU recruiting target, is making 39.1 percent of his 3s in Big Ten play on 23 attempts. He, like Stefanovic is primarily used offensively as a spot up shooter or off of screens. Hunter missed the first four games of the season with an injury and has really struggled in conference play. Hunter is just 6-of-24 on 3s in Big Ten play and 11-of-33 on 2s.
Sophomore Isiah Thompson along with freshmen Jadey Ivey and Ethan Morton round out the rest of the Purdue rotation. Thompson is a 41.2 percent 3-point shooter while Ivey is a plus-athlete with work to do from the perimeter (15 percent on 3s). Morton has only taken 17 shots in 13 games this season and is primarily a facilitator on offense when he plays.
KEYS TO THE GAME
• Capitalize on Purdue's turnovers: The Boilermakers have struggled to take care of the ball in Big Ten play with a league-worst turnover percentage of 19.4. For the season, Purdue ranks 202nd nationally with a turnover percentage of 20. In a game between two teams that play two of the most deliberate paces in the conference, Indiana will need to take advantage of Purdue's mishaps when the opportunity arises.
• Avoid foul trouble for Trayce Jackson-Davis and Race Thompson: Indiana doesn't have the post depth to withstand foul trouble for either player, particularly against a frontline featuring a physical presence like Williams. Both teams are going to be pounding the ball inside and Jackson-Davis and Thompson must be smart about picking their spots when defending in the post and at the rim.
• Consistent guard play: Hunter is struggling, but the Boilermakers have two reliable perimeter threats in Stefanovic and Newman. Armaan Franklin is listed as a game-time decision and if he's able to go, that would provide a much-needed boost to Indiana's backcourt depth. But even if he's available, Indiana needs both Al Durham Jr. and Rob Phinisee to continue their recent string of stellar play. Phinisee is 5-of-12 on 3s over IU's last two games and is averaging 11 points over the last four games. Durham, meanwhile, is averaging 15.8 points over that span and appears to be past an early conference slump.
WHAT IT COMES DOWN TO
This will be a physical game that is likely to be decided in the post as both teams feature dominant big men and solid defenses. Purdue has struggled to make 3s in Big Ten play (30.8 percent), but there are plenty of shooters on the roster that can get hot in a hurry.
"They have great physicality and size," Miller said Wednesday. "Everything around the rim is challenged and, in the paint, to be quite honest with you, that is very, very hard. It makes them tough to deal with. But it's a game where you have to make plays. I think being able to play off the doubles, being able to attack the paint you got to be smart."
The KenPom projection is Indiana by three with a 62 percent chance of a win and the Sagarin ratings also like the Hoosiers by three. The Vegas line opened with Indiana as a four-point favorite but had shifted to just three by late Wednesday night.
(Photo credit: Purdue Athletics)
Filed to: Purdue Boilermakers