News and notes from Archie Miller's radio show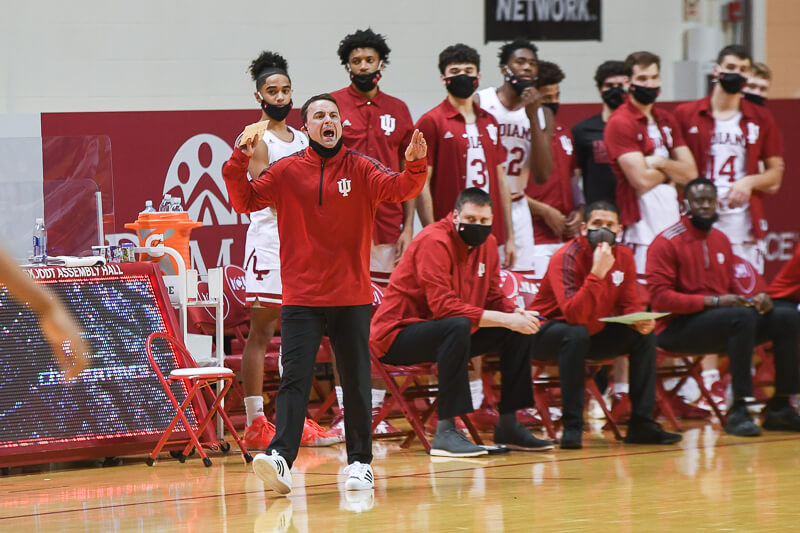 After a week off, "Inside IU Basketball with Archie Miller" returned Monday night as Miller spoke with play-by-play announcer Don Fischer. Miller reflected on Indiana's wins over Maryland and Nebraska and double-overtime loss to Wisconsin. He also previewed the rivalry matchup with Purdue and upcoming game at Michigan State.
– Miller opened by talking about Indiana's two-game road trip in which they decided to go straight from Wisconsin to Nebraska instead of coming back to Bloomington. As a result, the team had extra time to practice, watch film and hang out in the hotel during the days leading up to the game against Nebraska. "I thought it was a breath of fresh air to get away and be with each other," Miller said.
– It was announced Monday morning that 1976 national champion Wayne Radford passed away at age 64. "It's sad news," Miller said. "Our thoughts and prayers are with the family. Every time I saw him he had the biggest smile on his face… He loved to talk basketball, constantly upbeat and positive about the kids."
– Trayce Jackson-Davis was named as the co-Big Ten Player of the week on Monday. Miller said Jackson-Davis carried IU against Maryland and Wisconsin and was "sore and banged up" against Nebraska after playing a lot of minutes. Jackson-Davis got off to a slow start against Nebraska but  "made his free throws when it counted," Miller said. "That's what we're looking for. It was a well-deserved award for him this week."
– Miller said he felt the Hoosiers were prepared and confident heading into the game against Wisconsin. He thought the Hoosiers got off to a solid start and singled out Anthony Leal and Jerome Hunter as guys that sparked them.
– In the second half, Miller was pleased with IU's defense and timely shots. "I thought we believed we were going to win the game," Miller said. His biggest quibble was that IU didn't get to the foul line enough. "It was a big difference in the game," Miller said.
– Miller said IU's execution got sloppy when Indiana held a 56-50 lead. "I give (D'mitrik) Trice all the credit in the world," Miller said. He also called Indiana's poor execution at the end of the first overtime "the biggest regret of the game."
– The difference in the game against Nebraska, Miller pointed out, was that Indiana took care of the ball in the last four minutes of the game. As a result, the Hoosiers were able to take an eight-point win. "Every game seems to play the same no matter who you play," Miller said. "Without the home-court advantage, you have to assume that every game is going down to the wire."
– On the team chemistry, Miller said: "We have a together group… I think that why we see improvements by certain individuals." Miller said they all eat together at the hotel and have friendly interactions during warmups. "It's not a clique-ish group." Miller said that togetherness is led by the veterans like Al Durham and Race Thompson. "It's a group that continues to believe in what we're doing," Miller said.
– Miller has said all year that Indiana will only go as far as its most experienced players. After struggling in non-conference play, Miller has been happy to see Durham and Phinisee turn their production around over the last few games.
– Miller said he feels more comfortable now with Indiana's backcourt play and depth as a whole. He named Leal and Hunter as players who have stepped up in the absence of Armaan Franklin. Miller said Hunter is "playing as well as he played since he's been here." He noted that Leal came into the Wisconsin game with "unbelievable preparation."
– Ahead of Purdue, Miller praised the inside attack of Purdue led by Trevion Williams. He was impressed by the Boilermakers' win over Michigan State and said they're deeper than last season. Miller didn't comment on the status of Franklin, only saying that he hopes everyone will be healthy on Thursday.
– Miller said senior forward Joey Brunk hasn't started his rehab process yet. He'll begin his eight-week "track to get back" in the next couple of days. Miller is still uncertain whether he'll be able to play this season.
Filed to: Archie Miller