What to expect: Nebraska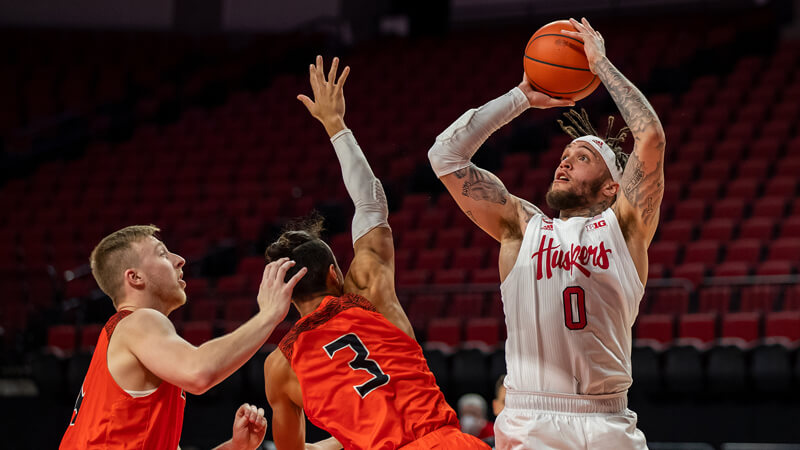 Indiana concludes a two-game road trip on Sunday evening with a matchup against Nebraska at Pinnacle Bank Arena. The Cornhuskers, who have lost four straight games, are 4-7 overall and 0-4 in Big Ten play.
Sunday's game will tip at 6 p.m. ET on BTN with Larry Punteney and Shon Morris on the call:
Less than 72 hours after a narrow 80-73 overtime loss at Wisconsin, Indiana will get a chance to get some positive momentum back in Lincoln.
Nebraska, in its second season under Fred Hoiberg, once again underwent significant roster changes in the offseason. The majority of Nebraska's rotation pieces this season are newcomers and the Huskers haven't beaten a Division I opponent since Dec. 1. Hoiberg went to four NCAA tournaments in five seasons at Iowa State, but the rebuild at Nebraska is going to be a longer-term project.
In a Big Ten stocked full of experienced teams and coaches, an upward movement in the standings is going to take time. The talent level should improve substantially in the coming years as Hoiberg establishes his program on the recruiting trail, but the current season could end with the Huskers in the conference cellar for a second straight season.
MEET THE CORNHUSKERS
Nebraska's top five scorers are all new to the program, but none of them are new to college basketball.
Teddy Allen, who began his college career at West Virginia in the 2017-18 before playing at Western Nebraska Community College, is leading Nebraska with 18.2 points per game. He has the second-highest usage rate of any player in league play at 33.3 percent and is shooting 40.7 percent on 3s against Big Ten foes. The 6-foot-6 guard has the strength to take smaller defenders in the post, can spot up on the perimeter and can also score in transition.
Dalano Banton, a former top 100 recruit who began his career at Western Kentucky, is a big guard that can make plays for himself and others. At 6-foot-9, Banton can handle the ball and he leads the Huskers in assists with 4.9 per game. He's also second on the team in scoring at 12.8 points per game, but has struggled with his efficiency in league play. Banton is making just 40 percent of his 2s in league games and just 33.3 percent of his 2s. Still, he's a major concern because of his size at the guard position and his ability as a passer.
Trey McGowens, a transfer from Pittsburgh, is Nebraska's third guard who averages in double figures. His younger brother, Bryce, will join the program next season and is the No. 22 player nationally in the 2021 class according to the 247Composite. McGowens excels at getting the free throw line and can also knock down perimeter shots. He's shooting 50 percent on 3s (28 attempts) this season and in Big Ten games, has the best free throw rate (FTA/FGA) of any player at 70.8 percent. The caveat with McGowens is that he's been bad finishing at the rim (45.8 percent) and is shooting just 37.9 percent overall on 2s this season.
Lat Mayen, a 6-foot-9 transfer from TCU, and returnee Yvan Ouedraogo are the frontcourt starters for Hoiberg in season two. Mayen takes a lot of 3s from the four position, but is just 14-of-51 from distance this season. Ouedraogo, who is 6-foot-9 and 245 pounds, leads the team in rebounds at 5.5 per game but is an afterthought in the team's offense. A big reason for that is his inability to finish the looks he does receive. The native of France is only making 43.6 percent of his 2s.
The three primary contributors off the bench are returnee Thorir Thorbjarnarson, Western Illinois transfer Kobe Webster and Trevor Lakes, who transferred from the Division II level and has only been eligible for the last four games.
Webster, a native of Indianapolis, is just 2-of-13 on 3s in Big Ten play. Hoiberg is hopeful that Lakes will eventually provide the Huskers with a knockdown shooter on the perimeter. A transfer from the University of Indianapolis, Lakes was a career 41 percent 3-point shooter at the Division II level.
KEYS TO THE GAME
• Avoid a letdown or a slow start after Thursday's disappointing finish: Nebraska is reeling entering Sunday's game and hasn't played since Jan. 2 because of a postponement against Purdue last week, but Indiana can't afford to let Thursday's loss linger. The Hoosiers have been prone to slow starts all season and Nebraska was competitive in its last two Big Ten home games against Michigan and Michigan State. This is a game that Indiana should win if it plays well, but no game on the road in the Big Ten is a certainty.
• Get the ball into the paint as much as possible: Settling for 3s will be a mistake for the Hoosiers on Sunday as Nebraska is being carved up in the paint by Big Ten opponents. The Huskers are allowing a 2-point field goal percentage of 60.8 in league play and are also very foul prone with limited size at the rim. Establishing Trayce Jackson-Davis in the paint early should allow Indiana to get the shots it does take on the perimeter in rhythm from kick-outs and ball rotations.
• Control the pace and don't turn it over: Nebraska is playing the second-fastest tempo in the league and is 11th in the league in turnover percentage. It will be tempting at times for Indiana's players to try and force the issue and take quick shots based on what Nebraska is doing offensively, but the Hoosiers should focus on keeping their deliberate pace, running their offense and getting good shots.
WHAT IT COMES DOWN TO
Even in the midst of a season where Big Ten home court environments aren't as daunting as usual due to the absence of fans, home teams are still winning 66 percent of the time.
On paper, this is Indiana's most winnable road game and the only potential loss left on the schedule that could do significant damage to an NCAA tournament resume. Nebraska is well outside the top 100 in KenPom and has the Big Ten's worst offense and its second-worst defense.
The KenPom projection is Indiana by eight with a 77 percent chance for a win. Sagarin's numbers favor Indiana by seven and the Vegas line opened with the Hoosiers as a seven-point favorite.
(Photo credit: Nebraska Cornhuskers)
Filed to: Nebraska Cornhuskers