Indiana sputters down the stretch in loss at Wisconsin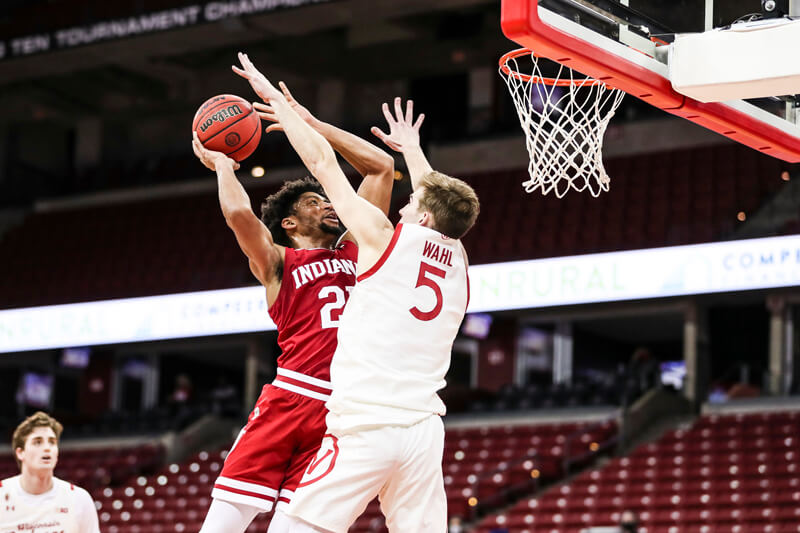 Archie Miller slumped back in his chair and placed his hands atop his sweat-filled hair. In front of the Zoom camera, he pressed his eyelids together and bunched up his lips.
The frustration was evident because this was all too familiar. Indiana had a lead down the stretch. They had opportunities. But they couldn't close it out. So for the last handful of minutes, Miller talked about IU's inability to make opportune plays when they needed it most.
"We gave ourselves a great chance to win this game a number of times," Miller said after Indiana's 80-73 double-overtime loss to top-10 ranked Wisconsin. "They made a lot of winning plays in the end, and we didn't make enough winning plays at the end."
Ever since Indiana's overtime loss at Florida State, Miller has been talking to his team about finishing games. "You have to be on it for 40 (minutes)," Miller said a few weeks ago. Fatigue, he noted, was a factor, too.
In that particular game against the Seminoles, the Hoosiers were up by two points with under one minute remaining. But Indiana couldn't get a defensive stop and Florida State sent the game to overtime. Indiana shot 1-of-6 from the field in the extra period and was outrebounded 9-1. Florida State won by two.
A few weeks later, Indiana found itself in a similar situation against Northwestern. The Hoosiers held a 54-50 lead with 8:54 left before the Wildcats forged on a 12-0 run over the next three minutes. Indiana climbed back, but Northwestern ended the game on a 9-2 run, fueled by Chase Audige to secure the win.
"In the first half he was taken out with fouls, but in the second half he was a confident guy," Miller said of Audige after the game. "He came in and made some really big plays for them and some big shots."
If you want more, don't forget the following contest against Illinois. Again, Indiana held an advantage, this time 49-44 with just under 10 minutes to go. And again, their opponent went on a run, putting up 14 unanswered points to surge ahead. This time it was Ayo Dosunmu delivering the daggers.
"They stepped up and made the winning plays," Miller said after Indiana's 69-60 loss to No. 18 Illinois.
And so on Thursday night on the road at Wisconsin, Indiana found themselves in a similar situation. After a slow first half offensively, Trayce Jackson-Davis was getting anything he wanted. He was in the passing lanes on defense. He was throwing down transition slams on offense. During one possession, Jackson-Davis was wedged in traffic under the basket, but Rob Phinisee tossed up a lob anyway because, why not? Jackson-Davis caught the ball and thundered it home.
Indiana led by six with under six play. The Hoosiers had made seven of their last eight shots and the Badgers had missed eight of their last nine. Indiana didn't show any signs of slowing.
But then, just as it has happened all season, the game started to unravel.
Wisconsin went on a 7-0 run and Indiana fell into a scoring drought of more than four minutes. The Hoosiers' performance down the stretch would be tested again.
With the score knotted at 61 and a few seconds remaining in regulation, Jackson-Davis spun to his left hand, contorting his body under the rim, but put too much force on his layup and the ball popped off the backboard.
No foul. On to overtime.
Then, with the score tied again, there was another chance to seal the game in the extra frame. Durham dribbled the ball on the left wing with the clock running down, but Phinisee looped behind him, erasing any real estate to maneuver. Through the movements, Wisconsin's Brad Davidson grabbed the ball and forced a tie-up.
Wisconsin ball. It goes to double overtime.
"We called a play and we didn't execute," Durham said after the game.
Those were the two key opportunities. And those were the two key opportunities missed. In a Big Ten game against a top-ten team on the road, Indiana can't afford to make those mistakes.
Entering double-overtime on Thursday, Wisconsin guard Tyler Wahl was 2-of-9 from 3-point range on the season. In double overtime, Wahl went 2-of-2 from deep in less than one minute. That's what happens when you can't capitalize on chances when they were presented earlier.
"You have to find a way to step up and make some tough plays," Miller said. "We didn't do that when we needed to the most."
There were, however, many reasons to be optimistic after the game. Jerome Hunter and Anthony Leal provided a boost with Armaan Franklin sidelined due to an ankle injury. Indiana's offense was clicking behind Jackson-Davis and Durham.
But it remains an issue that the Hoosiers can't put away their opponents. Yes, they found a way to beat Penn State and Maryland in crunch time. But in the games against top competition like Florida State, Illinois and now Wisconsin, Indiana has failed to close the deal.
Following the game on Thursday, as Miller closed out his postgame remarks, the final sound from his Zoom call was rather fitting.
As Miller leaned back, he let out a long-winded sigh.
(Photo credit: IU Athletics)
Filed to: Archie Miller, Wisconsin Badgers