What to expect: Wisconsin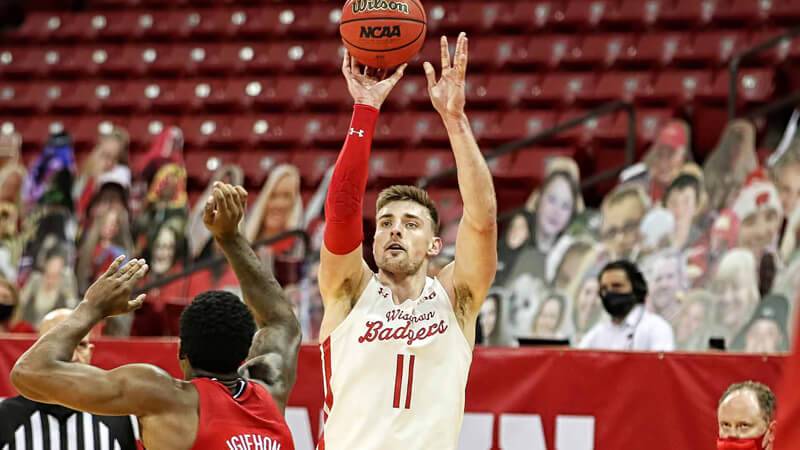 Indiana will be on the road for the second time in Big Ten play as the Hoosiers travel to Madison to take on Wisconsin at the Kohl Center. The Badgers are 9-2 overall and 3-1 in Big Ten play with wins over Nebraska (home), Michigan State (road), Minnesota (home) and a loss at home to Maryland.
Thursday's game will tip at 7 p.m. ET with Adam Amin and Stephen Bardo on the call:
Indiana will receive its toughest test of the season to date on Thursday in Madison. Wisconsin, ranked No. 8 in the latest Associated Press top 25, is one of the nation's most experienced teams. The Badgers start five seniors and are a legitimate Big Ten regular-season title and Final Four contender.
The start to the season for Greg Gard and the Badgers, however, hasn't been all smooth sailing. Wisconsin lost on a last-second shot at Marquette in early December and then was beaten by six at the Kohl Center by Maryland on Dec. 28.
The Hoosiers, meanwhile, have won two straight league games but are 0-2 in road games this season. And in a streak that will continue to be mentioned until it's broken, Indiana has not won in Madison since 1998.
MEET THE BADGERS
Wisconsin returns all five starters from last season's group that won a share of the Big Ten title and finished 21-10 with eight straight wins to finish the season.
The Badgers could have some size mismatches in the frontcourt with 6-foot-8 Aleem Ford, 6-foot-11 Nate Reuvers and 6-foot-11 Micah Potter.
Potter, who began his career at Ohio State, is second on the team in scoring at 12.7 points per game and leads the Badgers on the glass with 7.3 rebounds per contest. Potter is coming off of an 18-point, 11-rebound performance in a 71-59 win over Minnesota on Dec. 31. Not only is Potter one of the best rebounders in the conference, but he can also space the floor. He's a career 39.1 percent 3-point shooter on 151 attempts.
Reuvers became Wisconsin's all-time leader in blocked shots in early December, but has struggled thus far in Big Ten play. In four league games, Reuvers is averaging just 8.3 points and 4.5 rebounds in 22.5 minutes per game. He's blocked just two shots over those four games. In two games against Indiana last season, Reuvers averaged 18.5 points and blocked four shots. It's likely he will start out on Trayce Jackson-Davis.
Ford is a low usage, high-efficiency finisher on 2s that can also step out and make shots. He's 25-for-40 this season on 2s (62.5 percent) and 16-of-47 on 3s (34 percent). Tyler Wahl, a 6-foot-9 sophomore, comes off the bench to average 4.3 points on 43.8 percent shooting in just over 20 minutes per game.
The Badger backcourt is again led by 6-foot point guard D'Mitrick Trice and 6-foot-4 guard Brad Davison. Trice is enjoying his best season yet in a Wisconsin uniform and is the team's leading scorer at 14.2 points per game. He has the fifth highest usage rate so far in league games and is shooting a stellar 43.5 percent on 3s against conference foes. Davison is shooting a career-best 42.2 percent on 3s and is third on the team at 10.1 points per game.
Senior guard Trevor Anderson and freshman Jonathan Davis both play key roles off the bench in the backcourt. Anderson is 8-of-9 on 3s this season and is capable of spelling Trice when he needs a break while Davis is a true freshman with size at 6-foot-5 who can score. Davis is making nearly 51 percent of his 2s and is averaging 7.5 points and 4.5 rebounds per game.
KEYS TO THE GAME
• Close out on shooters and contest 3s: Wisconsin is generating nearly 35 percent of its offense this season from 3s – per KenPom – and is shooting 41.4 percent from the perimeter. That percentage ranks in the top ten nationally and Wisconsin already has three games with 10 or more made 3-pointers. Given how deliberate Wisconsin likes to play on offense, Indiana is going to have to defend every possession late into the shot clock and avoid breakdowns that result in open 3s.
• Stay on the offensive glass: Indiana has been a below-average offensive rebounding team this season, but generated 14 second-chance points in Monday's win over Maryland. For a team that has struggled with long offensive droughts and could also be without Armaan Franklin's scoring, it's going to be important to try to create some second-chance opportunities at the Kohl Center.
• Take care of the ball … because Wisconsin will: A trademark of Wisconsin teams under Bo Ryan and now Gard is playing a deliberate pace and taking care of the ball. The Badgers are third in the country in turnover percentage (12.4) so far this season. Indiana has done a great job of turning opponents over in Big Ten play so far (19.1 defensive turnover percentage), but that's unlikely to be the case against a disciplined, experienced Wisconsin team. It's imperative that Indiana takes care of the ball in a game where possessions will be at a premium.
WHAT IT COMES DOWN TO
Indiana's losing streak in Madison is now more than 22 years old and even without fans in Kohl Center, the Hoosiers face an uphill battle to knock off one of the nation's best teams. That challenge could become even tougher if Franklin (ankle) is unable to play.
Simply put, Indiana is going to have to shoot much better than it has so far on the road if it hopes to prevail in Madison. In its two road losses, the Hoosiers have recorded two of their three worst shooting performances of the season from an effective field goal percentage standpoint. Another such performance won't get the job done against a Final Four contender like Wisconsin.
The KenPom projection is Wisconsin by six with just a 28 percent chance of an IU upset. The Sagarin number favors Wisconsin by 5.5.
(Photo credit: Wisconsin Athletics)
Filed to: Wisconsin Badgers