Resiliency becoming theme this season after Indiana's win over Maryland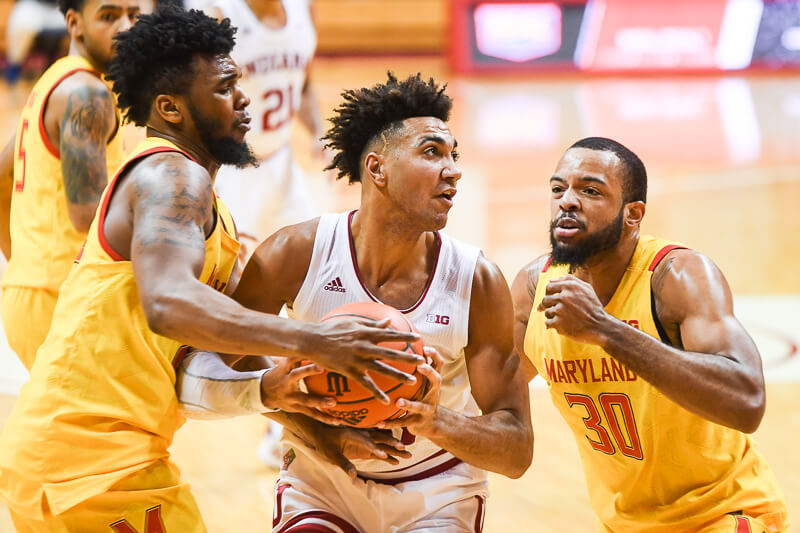 It hadn't been long after the buzzer sounded when Armaan Franklin fired off the text.
Florida State's Scottie Barnes had just euro stepped through Franklin, tossing up a floater over an outstretched arm of Trayce Jackson-Davis. It was early December in the Big Ten-ACC Challenge and Barnes was mobbed in a mosh of blonde jerseys after hitting a game-winner over IU in overtime.
Franklin hadn't spent much time stewing over the loss before he responded to a text message from his former high school coach Jason Delaney.
"We're going to be really good, coach," Franklin messaged him.
Around the same time, Jackson-Davis teemed with frustration in the locker room. He got after some of his teammates. Head coach Archie Miller said it was an atmosphere unlike any other since he's been at IU. Race Thompson later declined to reveal what Jackson-Davis said.
That sense of resiliency, even through a loss, has been the story for Indiana over the course of the season. It was the case again Monday night when Indiana's second-half onslaught carried them to a 63-55 victory over Maryland after a lifeless first half.
"Clearly tonight wasn't our night," Miller said matter-of-factly after the game. "But we found a way to win."
There have been many occasions this season where it wasn't Indiana's night. But they've always seemingly delivered a resounding response.
Start with Indiana's lackadaisical showing against Texas in the second round of the Maui Invitational where the Hoosiers were embarrassed 66-44. The following day, though, Indiana answered by toppling Stanford in dominant fashion.
Following the loss to Florida State, Indiana churned out two consecutive wins against North Alabama and Butler. Then, after falling into an 0-2 hole in Big Ten play, Indiana clawed through overtime to beat Penn State.
Monday's game was a perfect portrait of the Hoosiers' ability to stay afloat with their backs against the wall.
The first half was about as bad as it gets offensively. Indiana scored a measly 21 points, shooting 9-of-30 from the field and 0-of-9 from three. Their bench and fast break points combined for a whopping total of zero.
On top of that, Franklin, who has been one of Indiana's most reliable players, went down early in the half with a rolled ankle. All told, it appeared that IU was headed toward another Northwestern-like showing.
"At halftime, coach just put emphasis on you have to keep attacking the basket," Jackson-Davis said. "Those shots are going to start falling. We make them every day in practice and so just never losing confidence."
That's what Indiana did.
The Hoosiers grabbed seven offensive rebounds in the second half, leading to nine second-chance points. With a more guard-oriented lineup this season, rebounding has been a constant concern for Miller. But the Hoosiers turned the tables and flourished in that category.
The offense was still far from consistent. The Hoosiers shot only 31 percent from the field and 30 percent from beyond the arc in the second half. But they kept getting boards. And they kept shooting. It paid off for Al Durham, Jerome Hunter and Rob Phinisee, who combined for 21 points after the break.
"In the second half we were a much different team," Miller said. "We were a much more physical team around the basket and it started with Trayce. We were much more physical on the offensive glass."
There was a moment late in the second half where every IU fan saw the season flash before their eyes when Jackson-Davis grabbed his right knee after drawing a foul. The score was still tight as he hobbled and teetered before bending down in discomfort.
Miller frantically sent Trey Galloway to the scorer's table to check-in. But, then there was that response amid adversity. Jackson-Davis waved off Galloway.
"I just knew at this point in the game I couldn't come out," Jackson-Davis said.
So he stayed in, scoring 17 of his 22 points, and nine of his 15 rebounds in the second half alone.
"He's a guy that has the ability to respond because he cares a lot," Miller said. "He was a much different player in the second half."
The Hoosiers extended their lead and found a way, even when it appeared they were taking another nosedive after the first half. Now they're even at 2-2 in the conference, putting them in a reasonable position in the standings as they head to Madison on Thursday to play Wisconsin.
As much as anything, Monday's win showed Indiana's redeeming quality of resilience. And in a Big Ten season filled with ups and downs, it's as important as ever.
Filed to: