Big Ten Power Rankings: January 4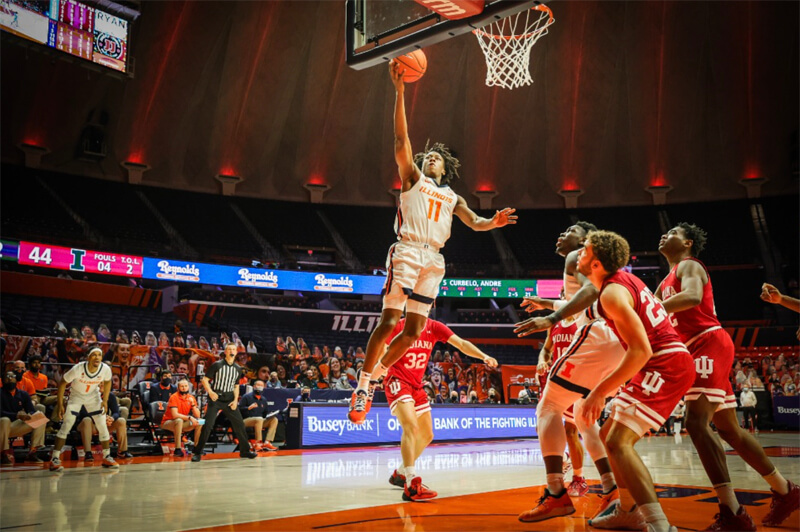 As we enter the first full week of conference play in the new year, the Big Ten looks as deep as ever with 13 teams in the top 56 of the KenPom ratings through Sunday's games.
Our power rankings will run each Monday through the end of the regular season:
14. Nebraska (0-4, .892 PPP, 1.132 PPP allowed)
The Huskers have lost three of their four league games so far by 11 points or more as offense is a major problem for Fred Hoiberg in his second season. Nebraska has the league's worst offense by a significant margin and is shooting just 43.3 percent on 2s in conference play. Teddy Allen has been fun to watch with the second-highest usage rate in the conference, but Nebraska hasn't beaten a Division I team in more than a month.
13. Penn State (0-3, 1.048 PPP, 1.156 PPP allowed)
A narrow loss at Indiana last week showed that Penn State isn't going to lay down in league play. In its two road games in Big Ten play so far, the Nittany Lions lost by only four at Michigan to open conference play and then took the Hoosiers to overtime in Bloomington before falling 87-85 in overtime. Penn State became the first Big Ten team to postpone a league game when its Sunday tilt with Wisconsin was called off due to "health and safety concerns."
12. Michigan State (1-3, .991 PPP, 1.135 PPP allowed)
Tom Izzo got a much-needed win on Saturday in Lincoln, but there are still plenty of outstanding questions about this Michigan State team. The point guard situation got some clarity as freshman AJ Hoggard started and played 23 minutes in the 84-77 win over Nebraska with Rocket Watts now coming off the bench. Still, it's not a good sign that Michigan State allowed 1.06 points per possession to the Huskers, who are easily the league's worst offensive team.
11. Indiana (1-2, 1.03 PPP, 1.097 PPP allowed)
The Hoosiers avoided a disastrous 0-3 start in league play with an 87-85 overtime win over Penn State on Wednesday night. Upperclassmen guards Rob Phinisee and Al Durham Jr. finally came to life in the win after both players were invisible at times over the last couple of weeks. Indiana's defense, thought to be its primary strength entering league play, has been a disappointment through its first three league games. After holding each of its first seven opponents under a point per possession, IU has now given up more than a point per possession in three straight games.
10. Maryland (1-3, 1.036 PPP, 1.12 PPP allowed)
Maryland had arguably the most impressive win in conference play to date last week when it traveled to the Kohl Center and beat Wisconsin 70-64. The Terps couldn't carry that momentum into a New Year's Eve tilt against Michigan and lost 84-73 to the Wolverines at the Xfinity Center. Now Mark Turgeon will be without senior guard Darryl Morsell for a couple of weeks, which will significantly impact an already thin rotation.
9. Purdue (2-3, .996 PPP, 1.051 PPP allowed)
The Boilermakers are 2-0 at home in league play and 0-3 away from Mackey Arena. Redshirt freshmen Brandon Newman and Mason Gillis have both stepped forward to play major roles for Matt Painter, who is consistently going nine players deep in terms of his rotation. Purdue has a pair of winnable games this week as it hosts Nebraska on Tuesday before traveling to East Lansing to take on Michigan State on Friday night.
8. Ohio State (2-3, 1.054 PPP, .987 PPP allowed)
Ohio State was carved up on Sunday afternoon at Williams Arena and suffered its worst loss of the season so far, 77-60 to Minnesota. The lack of a true post presence defensively was a major issue as Minnesota's Liam Robbins finished with 27 points and 14 rebounds, six of which came on the offensive end. Perimeter shooting is also a major concern for the Buckeyes, who are shooting just 27 percent from distance in Big Ten play.
7. Northwestern (3-2, 1.06 PPP, 1.096 PPP allowed)
It was a tough week for the Wildcats, who fell 87-72 at Iowa on Tuesday and were then crushed 85-66 at Michigan on Sunday evening. Northwestern still has three solid wins on its resume, but will play four of its next six on the road. A quick glance at Northwestern's KenPom page reveals just how brutal the Big Ten is this season as the Wildcats aren't projected to win another game until the Maryland game on March 3.
6. Minnesota (3-2, 1.061 PPP, 1.034 PPP allowed)
There were significant questions about how the Gophers would replace Daniel Oturu, but so far, Minnesota looks better than it did last season. Big Ten opponents are only shooting 43.5 percent on 2s against Minnesota and graduate transfers Brandon Johnson and Robbins have solidified Richard Pitino's frontcourt. Marcus Carr continues to look the part of best point guard in the league and could end up being first team All-Big Ten.
5. Rutgers (3-2, 1.125 PPP, 1.102 PPP allowed)
Rutgers missed out on an opportunity for a win over a top 10 team when it fell 77-75 to Iowa at the RAC on Saturday. In a surprise twist that no one saw coming, Rutgers is currently the Big Ten's best 3-point shooting team in conference play at 43.5 percent. The Scarlet Knights also have the league's best turnover percentage (12.1). Once a program that won games by defending and grinding out wins, Rutgers looks more than capable offensively for the first time since joining the Big Ten.
4. Iowa (3-1, 1.173 PPP, 1.084 PPP allowed)
The Hawkeyes rebounded from a disappointing overtime loss at Minnesota with a pair of solid wins last week. On Tuesday, Iowa handed Northwestern its first conference loss, 87-72, at Carver-Hawkeye Arena. That win was followed up by an impressive 77-75 victory over Rutgers at the RAC. Iowa still has the Big Ten's best offense and so far its defense in league play has been respectable enough to win three out of four games. Luka Garza remains in the top spot of KenPom's national player of the year standings, a spot he is unlikely to relinquish this season.
3. Michigan (4-0, 1.118 PPP, .956 PPP allowed)
You can argue that Michigan has played a soft schedule so far, which is absolutely true, while also arguing that the Wolverines have aced every test through nine games. Michigan won by 11 at Maryland on New Year's Eve before absolutely manhandling Northwestern at the Crisler Center on Sunday. Hunter Dickinson is the clear frontrunner for Big Ten freshman of the year and with single plays this season against Illinois and Iowa (both in Ann Arbor), Michigan looks like a contender to win the Big Ten.
2. Wisconsin (3-1, 1.096 PPP, .985 PPP allowed)
Maryland carved up Wisconsin for 1.11 points per possession for a 70-64 win at the Kohl Center last week, but the Badgers corrected their defensive issues for a comfortable 71-59 win over Minnesota on Thursday. Four of Wisconsin's five starters are shooting better than 39 percent on 3s and the Badgers figure to be in the Big Ten title hunt all season.
1. Illinois (4-1, 1.141 PPP, .981 PPP allowed)
Illinois became the first Big Ten team to four wins when it beat Purdue 66-58 on Saturday afternoon. There's no better one-two punch in the league than Ayo Dosunmu and Kofi Cockburn. Dosunmu is averaging 23 points, seven rebounds and five assists per game and might be the only player who stands in the way of Garza winning another Big Ten player of the year award.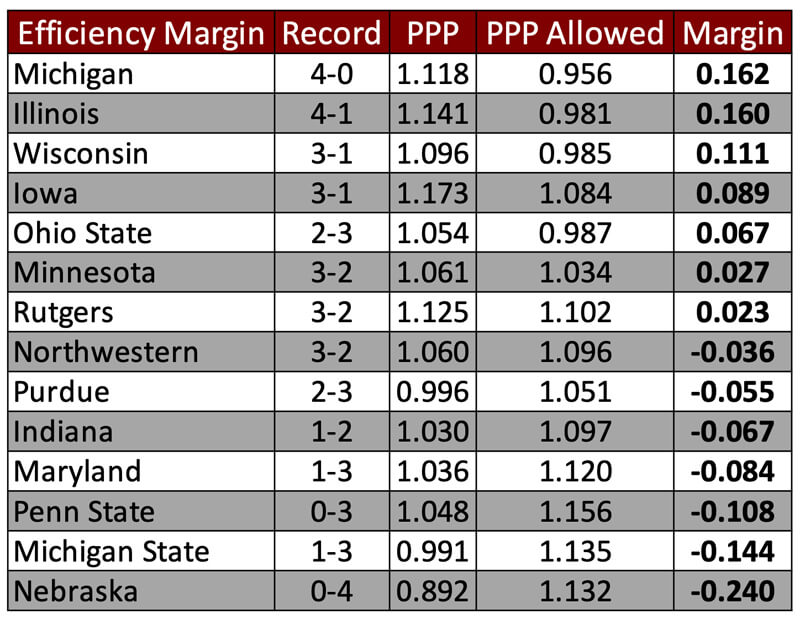 (Photo credit: Illinois Athletics)
Filed to: Big Ten Power Rankings