What to expect: Illinois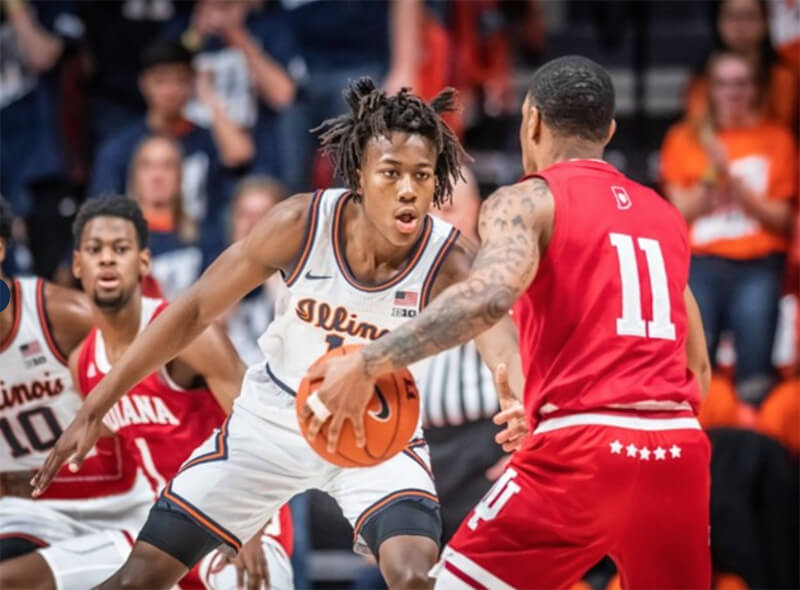 Indiana will look to avoid an 0-2 start in Big Ten play for the first time since the 2013-14 season when it travels to Illinois. The Fighting Illini are 6-3 overall and 2-1 in league play.
Today's game will tip at 4 p.m. ET on FS1 with Brandon Gaudin and Stephen Bardo on the call:
The positivity from Indiana's 5-2 non-conference mark took a major hit on Wednesday night when Northwestern came to Bloomington and left with a 74-67 win.
Indiana allowed an opponent to score more than a point per possession for the first time this season and Archie Miller said the Hoosiers "stunk on both end of the floor" in the loss.
There's little time for Indiana to figure things out as Illinois, which is fresh off a 98-81 beatdown of Penn State at the Bryce Jordan Center, looks like a legitimate Big Ten title contender. The Fighting Illini are 4-0 this season at the State Farm Center and beat Minnesota 92-65 in their only conference home game thus far.
MEET THE FIGHTING ILLINI
Like Indiana, Illinois is playing a compact rotation that includes seven players consistently earning double-figure minutes. Brad Underwood, who is in fourth season in Champaign, has stocked his roster full of guards to surround big men Kofi Cockburn and Giorgi Bezhanishvili.
In one of the more surprising offseason developments in the Big Ten, guard Ayo Dosunmu opted to return to Illinois for a third season. After earning a reputation as the Big Ten's best closer last season as a sophomore, the 6-foot-5 Dosunmu is off to a terrific start as a junior. His 23.4 points per game lead the team, as do 34.2 minutes per game. Dosunmu is shooting 51 percent from the floor overall and 38.7 percent on 3s. He's also averaging 7.8 rebounds per game, which is second on the team, and leads Illinois with 5.2 assists per game.
Senior guard Trent Frazier is second on the team in minutes at 32.2 per game and is averaging 9.6 points and shooting 45 percent on 3s. With defenses being forced to pay a ton of attention to Dosunmu, Frazier often finds himself with some space to get up perimeter shots and he's 18-of-40 from deep this season.
Freshman guards Adam Miller and Andre Curbelo have wasted no time in making an enormous impact in the Big Ten. Miller, a starter, averages 25.6 minutes per game while Curbelo is playing 19.9 minutes a night in a reserve role. Miller is fourth on the team in scoring at 9.8 points per game while the 6-foot-1 Curbelo is third at 10.4 per game. Miller's role is primarily as a shooter right now as he's hoisted a team-high 43 3s and is connecting on 37.2 percent. Curbelo, meanwhile, is great at getting to the rim and finishing or facilitating. Curbelo's assist rate of 34.3 percent leads the team and he's making 58.8 percent of his 2s.
Senior Da'Monte Williams is a gritty defender who knows his role and plays it well. A limited offensive player, Williams has an ultra-low usage rate (8.8 possessions per 100 while on the floor), but has made the most of the shots he has taken. Williams is 14-of-20 on 3s this season.
In the post, the 7-foot, 285 pound Cockburn has been dominant. He's averaging 17.4 points (on 67.8 percent shooting) and pulling down 9.3 rebounds per game. Free throw shooting has been a bit of a problem as he's converting just 58.3 percent from the stripe, but otherwise, there are few warts to find in Cockburn's performance so far.
Bezhanishvili comes off the bench and is averaging 7.1 points and 3.7 rebounds in 17.8 minutes per game. After a disappointing sophomore season in which he shot only 42.9 percent from the field, Bezhanishvili is shooting 63 percent from the field through the team's first nine games.
KEYS TO THE GAME
• Turnovers, turnovers, turnovers: Much like Northwestern, Illinois doesn't place a huge emphasis defensively on turning its opponents over. That fact, however, didn't stop Indiana from turning it over 16 times against the Wildcats, and taking care of the ball remains a top of mind concern for Archie Miller. IU's fourth-year coach talked of slowing down the pace even more following the Northwestern loss to try and trim some of the turnovers being committed in transition. Indiana has hit Miller's stated goal of 10 or fewer turnovers per game just twice this season and appears to be trending in the wrong direction in that facet of the game.
• Avoid a 3-point barrage from Illinois: Illinois doesn't take a ton of 3-pointers – the Illini are only hoisting up 17.3 per game – but is connecting at a 43.6 percent clip, which ranks in the top five nationally entering Saturday's game. It makes it extremely difficult for opponents to send double teams at Cockburn when the four players around him are all shooting 37 percent or better from distance.
• A rebounding game: Miller has been emphasizing the importance of Indiana improving on the glass over the first month of the season and the Hoosiers will be tested on the glass today. Illinois is 22nd nationally in offensive rebounding percentage and 39th in defensive rebounding percentage. The Hoosiers have been decent on the defensive glass, but are only grabbing 26 percent of their missed shots thus far, which is down from 32.4 percent last season. If Indiana can't figure out a way to keep Illinois from second-chance points, it could be a long afternoon in Champaign.
WHAT IT COMES DOWN TO
Illinois looks the part of an elite offensive team and will provide an opportunity for the Hoosiers to prove they are elite defensively. The defense finally failed to hold up adequately for the first time in Wednesday's loss to Northwestern and a repeat performance could be disastrous against an Illinois team with the nation's fifth-best offensive unit.
The KenPom projection is Illinois by five while the Sagarin ratings favor the Illini by seven. The Vegas line, which opened with Illinois as a six-point favorite, sits at Illinois by seven as of early Saturday morning.
Filed to: Illinois Fighting Illini