To reach its potential, Indiana needs more from Rob Phinisee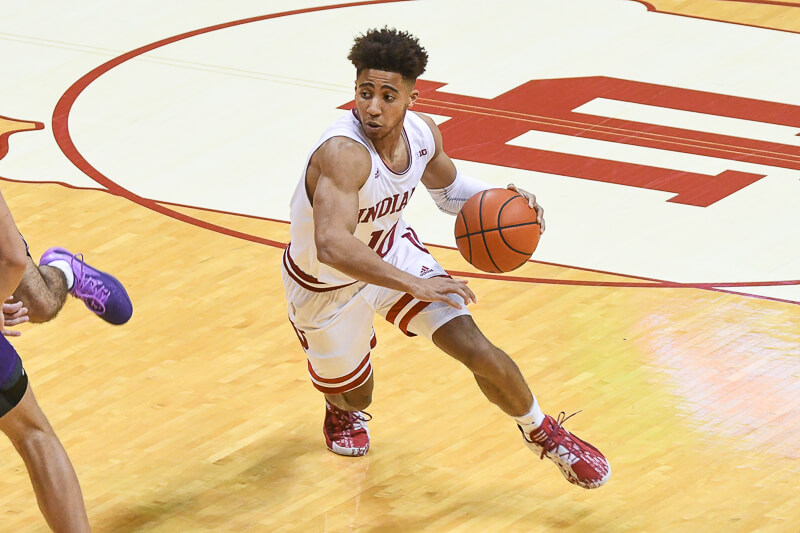 Rob Phinisee's answer wasn't quite coherent. If anything, it was more of a mumble of words.
A little more than two weeks ago, a question was posed to Phinisee about his inconsistent play and inability to stay out of foul trouble. Days before, he had struggled in the Maui Invitational where he picked up a total of 10 fouls to just eight assists in a span of three games. In the final contest against Stanford, the junior point guard committed five turnovers. And so Phinisee rambled on about how it could be fixed in a choppy, confusing explanation.
This was the full quote from Phinisee:
"Really just make sure that I'm in my spots and leading the team. I feel like just when I'm really leading the team and getting guys right, I'm in position. Against Stanford, in the first play, I got my first foul and I didn't start off well. I just need to do things right."
More than two weeks after that response, the mystery behind Phinisee's poor play hasn't gone away. On Wednesday, in Indiana's 74-67 Big Ten opening loss to Northwestern, Phinisee was nearly silent. He scored just four points on 1-for-5 shooting from the field and his two fouls outnumbered his one assist.
It was most of Indiana's experienced backcourt that struggled, too. Phinisee, along with senior guard Al Durham combined for six points, six fouls and 0-for-5 from beyond the 3-point arc.
"Both guys are much better players than they played tonight," Indiana head coach Archie Miller said after the game. "We're going to need them to be better and I know that they will be. Both guys care and they work hard."
At one point in his career, Phinisee looked like he'd be Indiana's dynamic point guard of the future. After being poached from West Lafayette by Miller, Phinisee arrived as a part of the highly-touted 2018 recruiting class led by Romeo Langford. But Phinisee wasn't the most heralded of the group, ranking as the fourth-best prospect out of the five-man class, according to 247Sports.
Quickly, though, Phinisee established himself as a key part of Indiana's rotation. He started 29 games, averaging 6.8 points per game and his assist/turnover ratio of 2.29 was the third-highest single-season mark for a Hoosier since the 1996-97 season. He scored in double-figures on eight occasions and emerged as a stopper on the defensive end.
The highlight of Phinisee's freshman season came against Butler when he launched a game-winning 3-pointer at the buzzer and was engulfed by his teammates. He earned the nickname "big shot Rob" as a result.
Naturally, there were lofty expectations heading into his sophomore season. But Phinisee was plagued by injuries and never really able to find his footing.
He was sidelined for most of the preseason practices with an abdominal injury. Then he caught strep throat later in the season. Eventually, he made his way back into the starting lineup, but there were times where he seemed invisible on the court.
This year, however, was supposed to be different.
Phinisee was supposed to make the leap as one of the premier guards in the conference. Back in late July, a sly smile crept across Phinisee's normally stoic expression when asked about his health: "I feel so much better," Phinisee said. "This is the best I've felt in a while."
Miller later echoed Phinisee's sentiments, saying this was the healthiest he had ever seen him. He was later named a team captain. During warmups on opening night against Tennessee Tech, there was Phinisee flying through the air, thundering in a two-handed slam and looking fleet-footed as ever.
Instead, this season has been much different than what was expected and Wednesday night's game only added to the recent disappointment.
Against Northwestern, Phinisee played only 10 minutes in the first half, converting on 1-of-4 from the field. Phinisee didn't make a dent in the assist or rebound column.  All the while, Indiana floundered on offense and fell into a double-digit deficit.
In the second half, Phinisee played 13 minutes, but only attempted one shot. Over the course of the year, Miller has continuously praised Phinisee's shot-making ability. Yet Phinisee has continuously appeared hesitant to show aggressiveness. His impact as a facilitator in a stagnant offense was non-existent, too.
Experienced guards become extremely valuable down the stretch in close games. Indiana eventually clawed its way back into striking distance and trailed 65-63 with two and half minutes remaining. Phinisee, who was guarding Northwestern's Chase Audige, let him get free for a 3-pointer which he knocked down. Less than a minute later, Audige rose above Phinisee and hit another jump shot to give Northwestern a five-point lead and essentially put the game out of reach.
As the ball cut through the next, Phinisee held both arms up in the air, as if he was in disbelief.
One of the more reliable aspects of Phinisee's game this season has been defense. But neither Phinisee, nor his defense, or even Durham was able to come through in crunch time.
"We have to get them straightened out a little bit because their experience level and the knowledge of knowing what's coming down the stretch and how you have to play, and at what level you have to play to be successful," Miller said. "Both of them play a vital role in what we're doing. Any team that has their two starting guards not play very well. That's going to hurt."
So far, that's been the story of the season for Phinisee. Entering Wednesday, he was shooting just 40 percent from the field. There have only been two games where he tallied more assists than fouls.
There continues to be a clear disconnect between the expectations for Phinisee and his production. At this point in time, there are not many other options as Miller seems reluctant to throw freshman point guard Khristian Lander in for extended minutes.
In order to have success this season, Indiana needs the assertive version of Phinisee. With Illinois and Ayo Dosunmu awaiting on Saturday, there's not much time.
And whether that ever happens is up to Phinisee and Phinisee alone.
He's the only one that can crack the mystery.
Filed to: Robert Phinisee