What to expect: Northwestern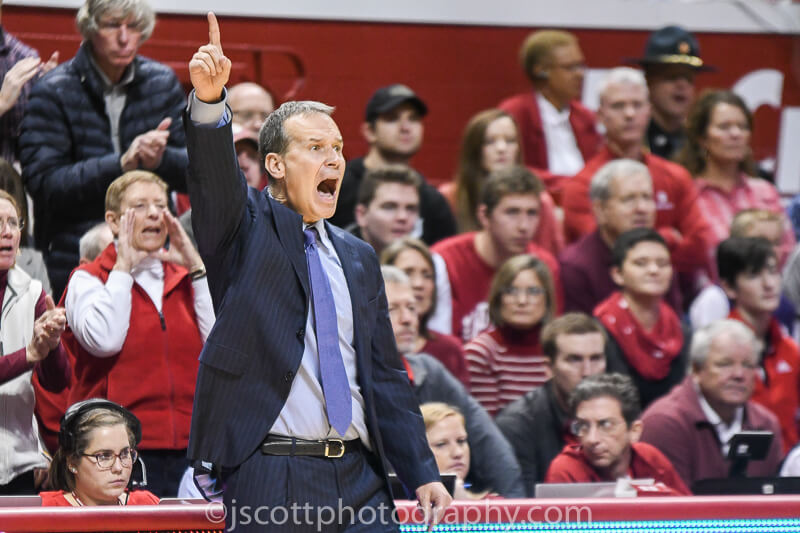 Indiana opens Big Ten play tonight in Bloomington against Northwestern. The 4-1 Wildcats are coming off of a 79-65 win over Michigan State on Sunday at Welsh Ryan Arena.
Tonight's game will tip at 8:30 p.m. ET on BTN with Brandon Gaudin and Jess Settles on the call:
After a truncated non-conference season, Big Ten play begins for Indiana tonight at Assembly Hall. The Hoosiers have, on paper, prepared well for league play by playing five of their seven non-conference games away from home. Rather than choosing to schedule cupcakes, Indiana played five high major opponents in seven games and owns the 48th toughest non-conference slate in the country.
Northwestern, meanwhile, comes in with confidence after dismantling Michigan State on Sunday in Evanston. The Wildcats started 2-0 with wins over two of the seven worst teams in the country before falling 71-70 at home to Pittsburgh in the Big Ten-ACC Challenge. Northwestern then played non-D1 opponent Quincy before upsetting the Spartans to begin Big Ten play.
With three of its first four contests in conference play at Assembly Hall, it's imperative that Indiana gets off to a strong start with a brutal stretch of games beginning Jan. 7 at Wisconsin.
MEET THE WILDCATS
Chris Collins, now in his eighth season at Northwestern, has been unable to build sustained success after guiding the Wildcats to their first and only NCAA tournament appearance back in 2017. Northwestern has posted three straight losing seasons and is 13-45 in Big Ten play over the last three seasons.
The Wildcats were picked to finish last in the conference in this year's Big Ten media poll, but look more formidable than expected following Sunday's win over the Spartans.
Sophomore point guard Boo Buie was named Big Ten player of the week after dropping 30 points on 5-of-6 3-point shooting against Michigan State. Buie, the half brother of former Penn State standout Talor Battle, battled injuries last season, but is off to a strong start in his second season. His 15.2 points per game lead the Wildcats and he's shooting 48 percent on 3s. Buie is also dishing out 5.6 assists per game. The hot 3-point shooting is a team-wide theme for Northwestern as the Wildcats are 57-of-131 (43.5 percent) over their first five games.
Northwestern's guard depth has improved with the addition of William & Mary transfer Chase Audige and freshman Ty Berry. The 6-foot-4 Audige has started all five games and is averaging 13.2 points, but has struggled with his shooting. Audige is shooting just 23.3 percent on 3s on 30 attempts and only 36.9 percent overall from the field. Berry, a 6-foot-3 freshman, is playing 18 minutes off the bench and is averaging a solid 10.6 points per game on 57 percent 3-point shooting.
The arrival of Audige and Berry pushed senior guard Anthony Gaines to the bench. Gaines only played in 10 games last season due to a season-ending shoulder injury and has 30 career starts. He's a below-average 3-point shooter – 26.7 percent for his career – but is a capable defender and has plenty of Big Ten experience. Junior guard Ryan Greer is playing 17.8 minutes off the bench and averages 2.8 points and three assists per game.
Northwestern's frontcourt is occupied by the trio of juniors Miller Kopp and Pete Nance along with sophomore Robbie Beran. Kopp is a career 38.3 percent 3-point shooter and his size on the wing at 6-foot-7 makes him a difficult matchup for smaller guards. Kopp is second on the team in scoring at 14 points per game and has taken a team-high 26 free throw attempts, which shows he's more than just a spot-up shooter.
Nance, a former top 100 recruit, was a disappointment in his first two seasons but seems to be realizing his potential in his third season. He had 15 points and 12 rebounds in the Michigan State win and is the team's leading rebounder at 8.2 per game. Nance figures to get the first crack at guarding Trayce Jackson-Davis. The 6-foot-9 Beran can space the floor and is 7-of-15 on 3s through five games.
After starting all 31 games as a freshman, Ryan Young is coming off the bench but has still been productive in 14 minutes per game. The 6-foot-10 Young is averaging 8.2 points and 5.8 rebounds thus far and is using close to 30 percent of Northwestern's possessions while on the floor.
KEYS TO THE GAME
• Guard the 3-point line: Northwestern is generating 36.6 percent of its points from 3-pointers, which ranks 50th in the country. The Wildcats are attempting 26.2 3-pointers and making 11.4 per game. Three different players have made at least 10 so far and Indiana needs to set the tone early to avoid letting the Wildcats, who haven't played a game away from Evanston, get comfortable from the perimeter.
• Limit turnovers: Defensively, Northwestern isn't forcing many turnovers and Archie Miller has adjusted his goal for turnovers per game from 12 or fewer in previous seasons to 10 or fewer this season. Rob Phinisee has been invisible at times in terms of scoring but has done a solid job running the offense and taking care of the ball. Phinisee has just seven turnovers in seven games.
• Slow down Buie: Buie has been red hot from beyond the 3-point line, but is shooting just 40 percent on 2s and Indiana should make it a goal to force him into the midrange as much as possible. Phinisee will probably start out on Buie, but it won't be surprising to see Al Durham Jr. or Armaan Franklin on him at different times throughout the evening.
WHAT IT COMES DOWN TO
Is Northwestern really as good as it played against Michigan State? Or is Northwestern the team that melted down against Pitt in a one-point loss? The answer is probably somewhere in the middle.
The Wildcats have definitely improved their guard play, but how will they handle guarding the Big Ten's best frontcourt players? Michigan State's bigs were a no-show on Sunday, but that won't always be the case against players like Luka Garza, Jackson-Davis, Kofi Cockburn and several others.
The KenPom projection is Indiana by seven with a 74 percent chance of a Hoosier victory. The Sagarin numbers also like IU by seven and as of Wednesday morning, the Vegas line favors the Hoosiers by 8.5.
Filed to: Northwestern Wildcats