Five takeaways from the 2020-2021 schedule release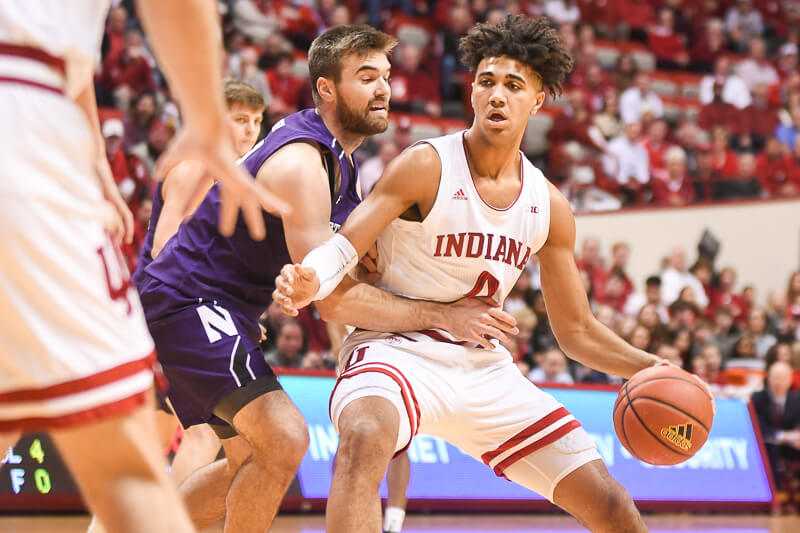 Following the Big Ten's completion of the conference schedule, Indiana released its 2020-2021 schedule on Wednesday afternoon. The Hoosiers are scheduled to play seven non-conference contests and 20 league games.
Here's a look at five takeaways from the release of this year's schedule:
· Big Ten sticks with 20-game slate: The COVID-19 pandemic has changed many things in college sports, but it hasn't changed the Big Ten's plan for men's basketball.
For the third straight season, the Big Ten will play a 20-game conference schedule. There will likely be postponements and cancelations and flexibility will be required across the league, but Big Ten programs should have plenty of opportunities to pick up quality wins.
While it hasn't been formally announced by the conference, many Big Ten schools have already announced that games will be played without fans in attendance on an indefinite basis. That's expected to be a league-wide edict which should, in theory, make it easier to win away from home. The Big Ten has led the nation in attendance for years, but without fans in attendance, road atmospheres shouldn't be nearly as daunting.
· An abbreviated non-conference schedule: Given the 20-game Big Ten schedule and a maximum of 27 regular season games set by the NCAA, Indiana is scheduled to play just seven non-conference games rather than its usual 11.
Of the seven prospective opponents, just two hail from the low major level in Tennessee Tech (OVC) and North Alabama (Atlantic Sun). The rest of the non-conference road is ambitious as the Hoosiers are participating in the Maui Invitational at Asheville followed by a Big Ten-ACC Challenge contest at Florida State along with a Crossroads Classic clash with Butler.
If the Hoosiers can win some of those high profile contests, it will lay the groundwork for a solid NCAA tournament resume.
· Single plays, double plays unveiled: The unveiling of the league schedule from the Big Ten gave us our first look at Indiana's single and double plays for conference play:
Home and away: Northwestern, Illinois, Michigan, Michigan State, Purdue, Iowa, Rutgers
Home only: Maryland, Penn State, Minnesota
Away only: Wisconsin, Ohio State, Nebraska
Looking at the official, unofficial Big Ten media poll released earlier this week, Indiana will play four of the five teams picked to finish in the bottom five of the standings just once.
Given that difficult draw, it shouldn't be surprising to see that KenPom.com projects the Hoosiers to finish just 10-10 in conference play.
· Flexibility built-in: Conference play will begin on Dec. 13 and is scheduled to conclude in early March, but with the pandemic in mind, the Big Ten has allowed itself some flexibility to reschedule games.
According to the league's release issued Wednesday, the schedule is built with two sets of collapsible byes during the weeks of Jan. 18-21 and Jan. 25-28, and the weeks of Feb. 22-25 and March 1-5.
In addition to the schedule flexibility, the Big Ten reiterated its safety protocols: "daily antigen testing, enhanced cardiac screening and an enhanced data-driven approach when making decisions about practice/competition."
· Big Ten games will be played on Christmas Day: While Indiana isn't involved, four Big Ten games are scheduled to be played on Christmas Day this season.
The Hoosiers are scheduled to play their first two Big Ten games on Dec. 23 (Northwestern) and Dec. 26 (at Illinois), but eight different programs will play on December 25.
Christmas is typically reserved for NBA games, but this year the Big Ten will offer up the following slate:
– Wisconsin at Michigan State
– Iowa at Minnesota
– Michigan at Nebraska
– Maryland at Purdue
Given that programs will not be leaving campus to be with family during the holidays, playing games on as many dates as possible should help the league as it attempts to do something it has never done before: play through a pandemic.
Filed to: 2020-2021 schedule