Announcement primer: class of 2021 forward Trey Kaufman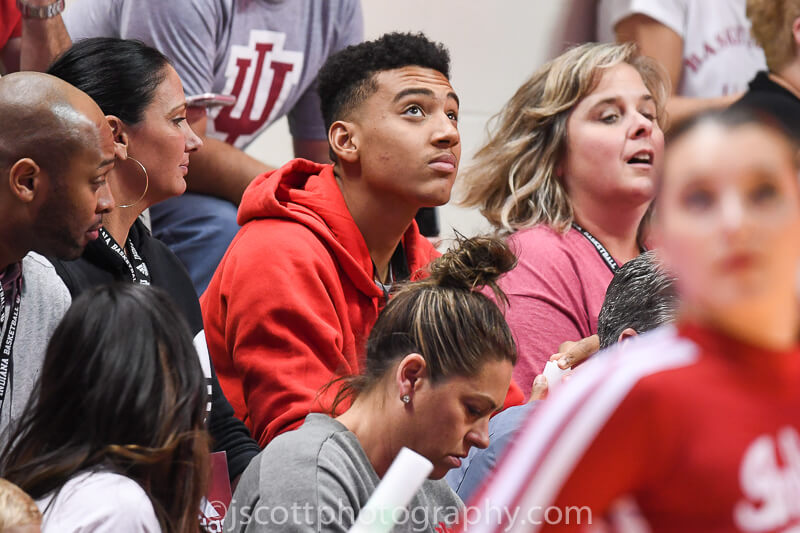 On Friday, class of 2021 Silver Creek forward Trey Kaufman will announce his college decision. The announcement is expected to come at approximately 6 p.m. ET via a radio stream.
Here's our primer for the announcement with everything you need to know:
The essentials
Forward, 6-8, 215-pounds, Silver Creek, Indiana Elite
247Composite: 4-star (41); 247Sports: 4-star (31); ESPN: 4-star (72); Rivals: 4-star (32)
Numbers to know
Indiana's Gatorade player of the year as a junior, Kaufman led Silver Creek to a 25-2 record as a junior. He averaged 25.8 points, 9.6 rebounds, 2.9 assists, 1.6 blocks and 1.1 steals per game. As a sophomore, Kaufman helped lead the Dragons to a Class 3A state championship. He has a 4.0 GPA and is one of the top students in Silver Creek's 2021 class.
The primary contenders
Kaufman collected a large number of scholarship offers including Indiana, Purdue, Virginia, North Carolina, Indiana State, Clemson, Louisville, Texas A&M, Wichita State and Evansville. In early September, Kaufman narrowed his choices to five schools: Indiana, Purdue, Virginia, North Carolina and Indiana State. He will choose from those five finalists.
Kaufman has taken multiple campus visits to Indiana and Purdue for games. Earlier this fall, he took visits to Virginia and North Carolina to tour the campus, but could not meet with the coaching staffs due to the COVID-19 pandemic.
The timing
The NCAA has shut down on and off-campus recruiting for college basketball due to the ongoing COVID-19 pandemic, so it was unlikely that Kaufman would have been able to take official visits. Announcing his decision now allows Kaufman to eliminate any distractions from his final season at Silver Creek. The early signing period begins on Nov. 11 and concludes on Nov. 18 and given the timing of his announcement, he is expected to sign this fall.
The fit
· At Indiana: The Hoosiers could have immediate playing time available in the frontcourt next fall if Trayce Jackson-Davis departs early for the NBA. Joey Brunk could also be gone, but that is uncertain given that the NCAA has allowed an extra year of eligibility for winter sport athletes. The Hoosiers should also have Jerome Hunter and Race Thompson still around in the frontcourt rotation next season along with Jordan Geronimo. In comments to Inside the Hall last month, Kaufman said he envisioned himself playing "relatively the same role that he (Trayce) has and pick up that large portion of minutes immediately." Associate head coach Tom Ostrom has been the lead recruiter for Kaufman, as has been the case for several of the in-state prospects the Hoosiers have landed under Archie Miller.
· At Purdue: The Boilermakers have another top 50 player committed in the class in forward Caleb Furst and will likely have Trevion Williams back as well next season. While there was speculation at first that Furst's commitment could take Purdue out of the running for Kaufman given their positional overlap, that hasn't been the case. Purdue would likely try to play two of their bigs together in this scenario given the mobility of Furst and Kaufman. Given Kaufman's talent, it's unlikely that the depth chart in West Lafeyette would be a barrier in Purdue landing his commitment. He also seems to have built a strong relationship with the coaching staff.
· At Virginia: Kaufman told Inside the Hall in September that the Cavalier staff envisioned him playing a role similar to De'Andre Hunter, who was a lottery pick and a member of the program's 2019 national championship team. "They say they see a lot of him in me," Kaufman said. "Obviously, you don't want to put a box over yourself, but at the same time when you have a player that similar to you and is developed and got to the next level. They think they can do the same with me." Virginia has a pair of senior bigs on this year's roster in Sam Hauser and Jay Huff, but isn't a program that traditionally loads up on top 50 talent. With that said, Kaufman could likely carve out a role quickly in Charlottesville.
· At North Carolina: The Tar Heels could have a crowded frontcourt situation as they have a pair of highly touted freshmen on this year's roster in Walker Kessler and Day'Ron Sharpe. Then there's sophomore Armando Bacot, who will earn significant minutes in the paint this season. Bacot, who's a former five-star recruit, isn't a threat on the perimeter like Kaufman, so the duo wouldn't overlap in the stretch four role. The Tar Heels' most best returner is senior center Garrison Brooks, who was the ACC's most improved player last season. Theoretically, Kessler or Sharpe could both be one and dones, but are not locks under any circumstances. Bacot will surely still be around after a disappointing freshman campaign. And with the extra year of eligibility, Brooks could stay for a fifth year. All of the moving parts mean that Kaufman wouldn't necessarily have guaranteed minutes from the get-go like he would at his other finalists. Roy Williams does, though, have a history of developing great post players.
Kaufman's own words
On what he's looking for in a school: "I think that the relationships with the coaches as well as the players. "Their ability to develop me, being an NBA player. How much playing time I would get. And how much they're going to win. I think those four things are the big four."
On how he's built relationships with schools during the pandemic: "I think Indiana and Purdue had the relationship being able to go meet with them and go to multiple games. Virginia and UNC have done a lot of Zoom and we've had plenty of time, because of quarantine. Multiple Zoom calls, whether it be with the strength coach or virtual visits. I think day-by-day, and week by week we've been able to make progress to where I could go to one of those schools."
Kaufman highlights
How to follow the announcement
Kaufman is expected to announce his decision on WJHI, which can be streamed live here or viewed on YouTube here. We will also post updates on the Inside the Hall Twitter account.
In closing, please remember to adhere to the comment standards that have been set over the past 13 years here on Inside the Hall regardless of the outcome of Kaufman's announcement.
Filed to: Trey Kaufman