Class of 2022 guard Kamari Lands continues family legacy at La Lumiere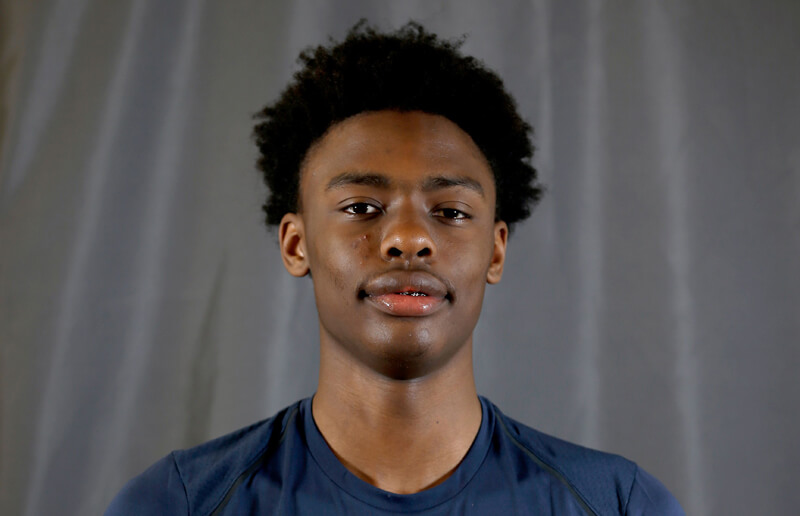 The Lands family legacy is established at La Lumiere School in La Porte, Indiana.
Isaiah Coleman-Lands (now a redshirt junior guard at Miami, Ohio) and Jalen Coleman-Lands (who will finish his career at Iowa State this winter) both starred at La Lumiere, parlaying prep school success into Division I scholarships.
A few years after they left the 190-acre school campus in northwest Indiana, another member of the Lands family is ready to enter the spotlight playing for the Lakers.
Class of 2022 recruit Kamari Lands isn't defined by the legacy of his two cousins who came before him at La Lumiere, and head coach Pat Holmes has seen firsthand the process of Kamari becoming his own player.
"He's blazing his own path," Holmes said of Lands. "He's doing his own thing. He's comfortable with who he is, what he does well."
And what the youngest Lands does well is a little bit of everything.
The 6-foot-7, 195 lb. Lands is a versatile guard and wing option who can impact the game in several ways.
That's the simplest way to explain the value of a player who shot nearly 40 percent from 3-point range as a sophomore while also being third on the La Lumiere team in assists and averaging about six rebounds per game, according to Holmes.
He also started every game last season for the Lakers.
"This last year I was more of a catch and shoot type of player," Lands said. "But these upcoming years I'm trying to show and prove that I'm a very good on-the-ball player, as good as I am an off-the-ball player."
With two seasons under his belt at La Lumiere, Lands has experience playing with some of the country's best prep talent. Former Indiana targets Keion Brooks Jr. (Kentucky) and Isaiah Stewart (Washington) were among the seniors on the La Lumiere roster when Lands was a freshman.
"Just seeing the players that were already there like Isaiah and Keion, just seeing those good athletes, that's what I'm trying to work up to," Lands explained. "Learning from them, seeing what it is to be a top athlete, just how to be (one) on and off the court. Definitely great to have them around."
Traits passed down from the likes of Brooks and Stewart have already shaped Lands' development.
"Just always keep your head on straight and just always work hard," Lands said. "Just always be in the lab working because that's where it's made, and always have confidence."
Changes have already been evident to Holmes.
"I think coming here opened his eyes a little bit about, 'You've got to bring it every single day. You've got to work hard every single day. You've got to show up and do your job every single day,'" Holmes said.
Lands plays on the perimeter in La Lumiere's "four-out and one" offense, which grants freedom to create on the offensive end. Offseason work for the previously perimeter-orientated Lands included on-ball moves and finishing at the rim.
"He's able to use ball screens and make plays for himself and teammates and utilize his ability to put the ball on the deck and use his bigger frame to finish through contact at the rim," Holmes said. "He wasn't afraid to get down there in the post if he had a mismatch."
On the other end, La Lumiere plays "99.9 percent man defense" in the words of Holmes.
"It's a good challenge for Kamari to go up against other elite guys that are a year or two older than him or in his class," Holmes said. "So he can really lock down and guard and properly execute our defensive rotations."
Reaching the Division I level is the obvious goal for Lands, and interest is already building in his recruitment.
Lands, the No. 36 player nationally in the 2022 class according to the 247Composite, currently holds scholarship offers from, unsurprisingly, DePaul and Miami (OH), but also from Syracuse and Xavier.
Louisville and Indiana are among the schools interested in Lands, who described his recruitment as "super open" while also saying Notre Dame and Purdue have recently been in touch.
As Lands matures into his final prep school seasons, with the increased recruiting attention that will follow, he said he knows what he wants from whichever college he attends.
"I want them to put me in that position in order to succeed," Lands said. "Since I want to be a big guard, I want them to be like 'Okay, at this school you're going to be a guard and you're going to make decisions and play-make also.'"
In the meantime, things like becoming a vocal leader for teammates and continuing to grow his basketball IQ will be paramount as La Lumiere continues to compete against other elite prep schools, preparing Lands for the next level.
"We're going to empower him to do that and teach him how to best go about being a leader," Holmes said. "He's kind of just scratching the surface right now."
Filed to: Kamari Lands