Roundup: Big Ten's top assistants, new Kaufman highlights, football in serious doubt?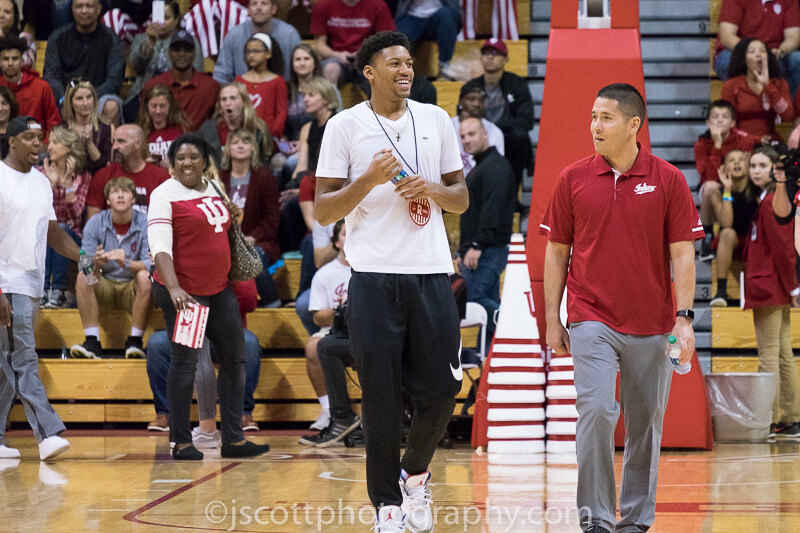 Jeff Goodman is touring college basketball leagues around the country and revealing lists of his top assistant coaches by league, as voted on by their peers.
Today's stop was the Big Ten and Indiana associate head coach Tom Ostrom was No. 4 in the conference on Goodman's list.
Ostrom graduated from Minnesota in 1997 and spent seven years at Florida — the first five as an administrative assistant/video coordinator (1998-2002) and the final two (2003-04) as an assistant. Ostrom then joined John Pelphrey's staff at South Alabama and was there from 2004-07 before going with Pelphrey to Arkansas from 2007-11. Ostrom joined Archie Miller's staff at Dayton in 2011 and went with Miller to Indiana in 2017.
Joining Ostrom in the top five were Dwayne Stephens (Michigan State), Ryan Pedon (Ohio State), Dane Fife (Michigan State) and Orlando "Bino" Ranson (Maryland).
A fresh look at 2021 target Trey Kaufman
Silver Creek's Trey Kaufman, arguably IU's top recruiting target on the board for the 2021 class, was in action last weekend for Indiana Elite.
GoldAndBlack.com, the Rivals.com affiliate which covers Purdue, posted highlights of Kaufman in action with Indiana Elite, which are available below:
Football season appears in serious doubt
While nothing has been decided at this point, the likelihood of having a college football season in the fall appears to be diminishing.
Pete Thamel of Yahoo! Sports detailed a sobering reality on Monday for college football this fall:
Take a deep breath, and begin to get comfortable with the idea there's virtually no chance of playing college football in any recognizable form this fall. Start digesting the notion that the next time we see a college football game could be in more than 13 months, as the sport remains the most unlikely of all the major sports to execute a successful return. Consider any semblance of college football prior to Week Zero of 2021 as a bonus, an improbable gift from the football gods.
In a media availability today with reporters, Indiana football coach Tom Allen said he was optimistic the season will happen and begin on time:
IU football coach Tom Allen on a Zoom call with reporters right now.

"I'm optimistic we'll start our season … I'm optimistic we'll start on time." #iufb

— Jon Blau (@Jon_Blau) July 14, 2020
TBT CHAMPIONSHIP TIPS AT 7 P.M. ET ON ESPN
Former Hoosiers Maurice Creek and Remy Abell will play for Sideline Cancer in the finals of The Basketball Tournament tonight at 7 p.m. ET on ESPN.
The tournament, which has been played exclusively at Nationwide Arena in Columbus, Ohio, will award a prize of $1 million to the winning team.
Sideline Cancer will play the Golden Eagles, which is comprised of former Marquette players.
TBT Championship GAME DAY!!!! ? pic.twitter.com/DZ44on71nc

— TBT (@thetournament) July 14, 2020
Filed to: Maurice Creek, Remy Abell, Tom Ostrom, Trey Kaufman