A closer look at the status of every Big Ten underclassmen who declared for the NBA draft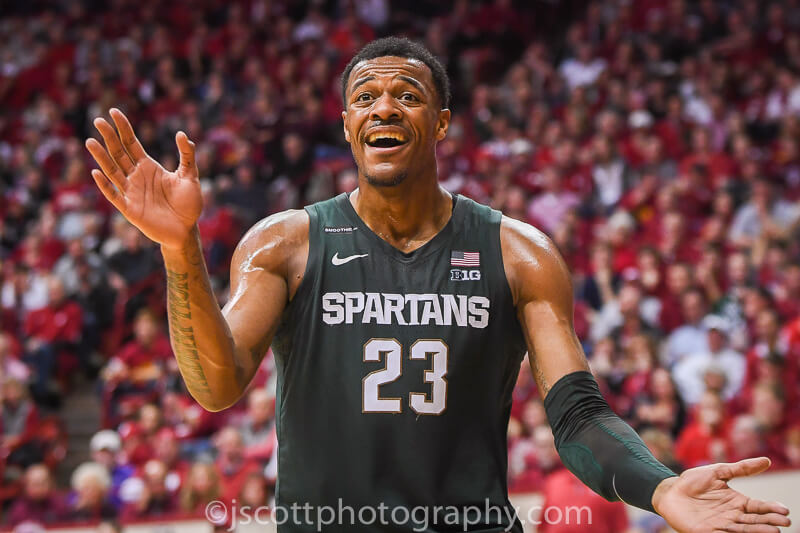 Fourteen underclassmen who played in the Big Ten last season declared for the 2020 NBA draft, which is expected to be held on October 25.
In a normal year, Big Ten rosters for next season would be set by this time as the date to withdraw from the draft and retain eligibility is typically in late May.
But this is no normal year due to the COVID-19 pandemic.
The new deadline to withdraw is now either 10 days after the combine or August 3. Since no combine has been scheduled at this time, the current assumption is that the deadline will fall on August 3.
In alphabetical order by first name, here's a look at all 14 Big Ten players who declared for the draft and their current status in terms of remaining in the draft or returning to school.
Aaron Henry, Michigan State
Henry's inclusion on the early entrant list was a surprise given his underwhelming sophomore campaign in East Lansing, but he appears to be committed to going through the pre-draft process. He's currently ranked No. 55 in ESPN's rankings for the 2020 draft and while that doesn't make him a sure thing to get drafted, it is the fourth highest ranking for a Big Ten underclassmen.
Alonzo Gaffney, Ohio State
A highly ranked prospect out of Cleveland in the 2019 recruiting class, Gaffney never found a role for the Buckeyes in his freshmen season. In addition to entering his name in the NBA draft, Gaffney's name is also in the transfer portal. Given the fact that he's not ranked on any notable big board for the 2020 draft, it appears Gaffney's best option will be transferring to another school or trying to latch on in the G-League or overseas.
Ayo Dosunmu, Illinois
Despite having no guarantee that he'll be drafted, Dosunmu sounds committed to forgoing his final two seasons of eligibility at Illinois. One of the best closers in the conference who hit numerous key shots for the Illini last season, Dosummu sits at No. 81 on the latest ESPN top 100 for the NBA draft. Even if he winds up going undrafted, he should have no problem getting a two-way deal at minimum next season.
CJ Walker, Ohio State
The Ohio State point guard wasn't in the draft pool for long as he announced in late May that he would return to Columbus. With DJ Carton's transfer to Marquette, Walker's role should grow even more next season under Chris Holtmann.
Daniel Oturu, Minnesota
Oturu's breakout sophomore season for the Gophers has him in position to be drafted in the first round and he's already stated that he intends to remain in the draft. His loss is a major blow to Minnesota's chances to be competitive in the Big Ten next season, but it's hard to see Oturu improving his stock by returning for his junior season.
Isaiah Livers, Michigan
The versatile Michigan forward is still undecided on whether he'll remain in the draft. He currently ranks No. 97 on ESPN's top 100 rankings which puts him in the unlikely to be drafted category. However, Livers is already 21 and may be ready to move on rather than returning to a Michigan program that will be in transition next season with the graduations of Zavier Simpson and Jon Teske.
Jalen Smith, Maryland
Like Oturu, Smith is committed to remaining in the draft. He's the highest ranked Big Ten prospect on the ESPN draft rankings at No. 27 overall. A former McDonald's All-American who was one of the premier frontcourt players in the country last season, Smith's versatility should allow him to carve out a lengthy NBA career.
Justin Smith, Indiana
Smith put his name on the early entrant list, but entered the transfer portal shortly after and will play at Arkansas as a graduate transfer next season. In a recent interview, Smith said he's hoping the season in Fayetteville under Eric Musselman will better position him for an NBA chance following the 2020-21 season.
Kaleb Wesson, Ohio State
The Ohio State center is staying in the draft and is going to play in The Basketball Tournament this summer, which is an interesting decision. If he plays well, it could certainly help his draft stock, which is currently a second round pick at best. But if he underwhelms or suffers an injury, it could be a decision that ends up proving costly.
Kofi Cockburn, Illinois
There's little market for plodding centers in the NBA and at 7-foot and 290 pounds with no offensive game outside of five feet, Cockburn's draft stock is limited. He did win Big Ten freshman of the year honors and can control games in the paint, but the expectation is that he'll return to Champaign for his sophomore season and be a centerpiece for Brad Underwood.
Luka Garza, Iowa
If Garza returns to school, the Hawkeyes could be the preseason favorite to win the Big Ten. He'll likely be in the mix for preseason national player of the year honors as well. But Garza is still undecided on his future as he recently told ESPN that he's still going through the process and will base his decision on what he hears from NBA teams.
Marcus Carr, Minnesota
Carr told KSTP that he's received feedback that he is a borderline second round draft pick and he is currently not ranked in the ESPN top 100 for the draft. The Big Ten leader in minutes last season, Carr's return is pivotal for Minnesota if it wants to avoid another bottom four finish in the conference standings.
Nojel Eastern, Purdue
The Chicago native has had a whirlwind of an offseason as he declared for the draft and then entered the transfer portal. Eastern opted to transfer to Michigan for his final season, but it's still unclear if he will be eligible to play next season or if he's withdrawn his name from the draft pool.
Xavier Tillman, Michigan State
Tillman is No. 49 on the ESPN rankings for the 2020 draft, but Tom Izzo speaks of Tillman as if he'll be back in East Lansing for another season. "For his long-range (prospects), I think he is better staying another year (at MSU), because I don't think there's enough definitive answers yet," Izzo told the Lansing State Journal. If Tillman returns, it would be a major deal for Michigan State's quest to stay in the top tier of the Big Ten following the graduation of Cassius Winston.
Filed to: