Big Ten Power Rankings: February 3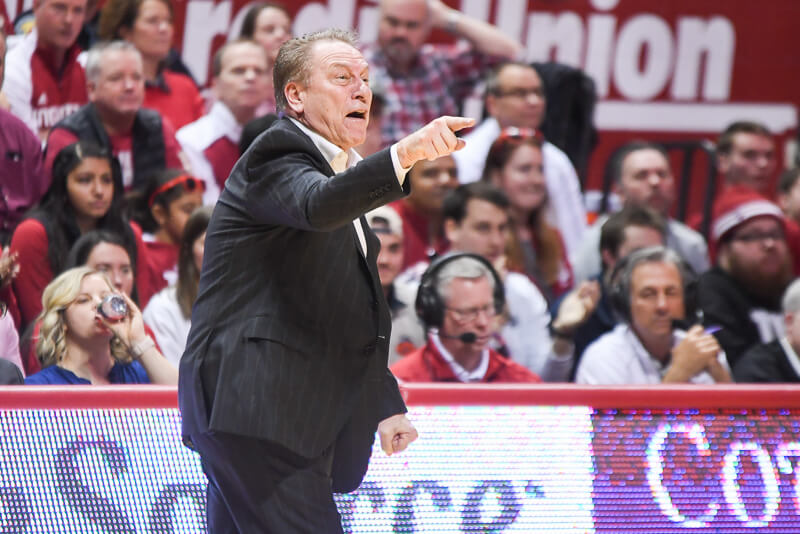 Very few Big Ten teams came out of last week unscathed, and it's making for an exciting race as we enter the last month and a half of conference play. Michigan State and Illinois still remain tied at the top of the standings with Rutgers, Maryland, Iowa and Penn State closely lurking behind.
The power rankings will run each Monday throughout the remainder of the regular season.
14. Northwestern (1-10, .940 PPP, 1.079 PPP allowed)
The Wildcats have now lost six games in a row, with their most recent win coming against Nebraska on Jan. 11. Northwestern went to Michigan State last week and lost by 19, but then followed that up with an opportunity for their second conference victory. They led Purdue with under five minutes to go at home, then allowed an 11-0 Boilermaker run to end the game and lost by three. There doesn't look to be many winnable games for Northwestern to close out the season, even on the road at Nebraska.
13. Nebraska (2-9, .975 PPP, 1.062 PPP allowed)
Nebraska's week ended with two home losses, one to Michigan and the other to Penn State. The Cornhuskers were decently competitive in both games, especially against Michigan, who was without Zavier Simpson for the game due to suspension. Nebraska trailed by five at halftime in both games but couldn't generate enough offense to keep it within single digits at the end. The Cornhuskers will get a nice week off before traveling to Iowa for their only game of the week.
12. Ohio State (4-6, 1.049 PPP, 1.038 PPP allowed)
The Buckeyes had a good week off for most of last week, which Chris Holtmann said gave the team time to get healthy. They played their only game of the week at home on Saturday against Indiana and won by nine. It marks the second-straight win for OSU, and it puts them back in a decent position in the Big Ten standings. The Buckeyes did lose DJ Carton this week as he decided to temporarily step away from the program to try and strengthen his mental health. It seems like Carton wants to return, but it's unknown when. For now, the Buckeyes have a tough stretch this upcoming week at Michigan and at Wisconsin.
11. Michigan (4-6, 1.039 PPP, 1.064 PPP allowed)
The Wolverines got two huge victories this week in hopes of getting their season back on the right track. They went on the road to defeat Nebraska by 11, and then defeated Rutgers at Madison Square Garden 69-63. Michigan elected to give up a home game to play Rutgers at MSG for their alumni, but considering Rutgers is so close, it didn't feel like a home game for the blue and yellow. Nonetheless, they were two huge victories for the sake of Michigan's season, and Simpson was reinstated for the Rutgers game. They are still without Isaiah Livers, though, as they prep for a big week at home against Ohio State and Michigan State.
10. Purdue (5-6, .959 PPP, .969 PPP allowed)
The Boilermakers remain on the bubble for the tournament after splitting the week 1-1. They went on the road and lost to Rutgers by seven, and then avoided a bad loss at Northwestern, ending the game on an 11-0 run with a last-second 3-pointer from Sasha Stefanovic to secure the victory. Despite having a 12-10 overall record, the computers love Purdue, ranking them 28th in KenPom and 37th in the NET rankings. Offense is still a concern for Purdue as they have the second-worst points per possession average in the league, only above Northwestern. They will be tasked with two tough games this week, hosting Iowa on Wednesday before going to Indiana on Saturday.
9. Minnesota (5-6, .992 PPP, 1.042 PPP allowed)
Minnesota only had one game this week, going to Illinois and losing 59-51. Daniel Oturu continued his stellar season with 20 points in the game, but the pieces around him failed to generate much offense as Illinois pulled away in the final 1:30. The Gophers were down just two in the final minute and a half, but missed shots and turnovers led to seven straight free throws from Illinois to seal the deal. With an 11-10 overall record, time is starting to run out for the Gophers in terms of postseason hope. They have two games this week, at home against Wisconsin and on the road against Penn State, and will need to start stringing together consecutive wins soon.
8. Indiana (5-6, .983 PPP, 1.032 PPP allowed)
The Hoosiers' season has quickly taken a turn for the worse after solid performances two weeks ago against Michigan State and Maryland. But the final-minute collapse against Maryland carried over in a negative way as IU suffered two road losses this week. After playing Penn State to a tie at the half last Wednesday, Indiana failed to show up in the second half and lost by 15. They followed that up with another low-energy performance, getting outworked by Ohio State in Columbus to lose by nine. The Hoosiers are still in a decent position with a 15-7 overall record, but their play was uninspiring last week. They only have one game this week, and it's at home against in-state rival Purdue on Saturday — a game that's going to mean much more than just state supremacy.
7. Wisconsin (6-5, 1.009 PPP, 1.002 PPP allowed)
Wisconsin had one of the more interesting weeks in the Big Ten. They started out with a tough road loss to Iowa, playing the Hawkeyes close 68-62. Then, off court drama ensued. Brad Davison was suspended one game for his flagrant foul against Iowa when he appeared to intentionally hit Connor McCaffery in the groin while fighting through a screen, and Kobe King announced he was entering the transfer portal, unhappy with the program. Despite not having both for a home game against Michigan State on Saturday, the Badgers stormed out to a 19-point lead, which was enough to hold off the Spartans in a 64-63 victory. Wisconsin will have two games this week as they head to "The Barn" to take on Minnesota and then host Ohio State.
6. Penn State (6-4, 1.017 PPP, 1.014 PPP allowed)
Penn State is one of the hotter teams in the Big Ten right now. Winners of four straight, the Nittany Lions got two solid wins last week as they defeated Indiana at home by 15 and then Nebraska on the road by 12. They were both games Penn State was favored to win, so it'll keep them in the AP top 25. They have all the momentum in the world heading into a huge matchup against Michigan State in East Lansing on Tuesday before returning to the Bryce Jordan Center and hosting Minnesota on Saturday.
5. Iowa (7-4, 1.106 PPP, 1.047 PPP allowed)
Iowa started the week with a big-time top 25 matchup at College Park and lost to the Terrapins 82-72. They followed it up with the lone Big Ten game on Super Bowl Sunday by knocking off Illinois at home 72-65. The Hawkeyes continue to ride the dominant play of Luka Garza, who is looking like the favorite to win Big Ten Player of the Year and maybe even National Player of Year. Iowa has two winnable games this week as they play on the road against Purdue and at home against Nebraska. Two more wins will certainly put the Hawkeyes closer to Big Ten title contention.
4. Maryland (7-3, 1.022 PPP, .974 PPP allowed)
Maryland rounded out last week tied with Penn State for most consecutive wins with four in a row. The Terrapins only had one game this week, knocking off Iowa by 10 at home. Anthony Cowan had a huge game, scoring 31 points on 9-15 shooting with six rebounds and six assists; he also made 10-11 free throws. The victory was important for their place in the Big Ten standings, and they have even more of an opportunity to move up with games against Illinois and Rutgers this week. Rutgers is at home on Tuesday while Illinois will be on the road on Friday.
3. Rutgers (7-4, 1.007 PPP, .958 PPP allowed)
Rutgers' momentum slowed down a little bit last week. Dating back to Dec. 11, the Scarlet Knights had won 10 of their last 12 games, including the victory over Purdue at home on Tuesday. They still haven't lost a game at the RAC this season, having a perfect 15-0 record so far. However, they closed out the week with a tough "road" loss to Michigan at MSG. The Scarlet Knights attempted 83 shots in that game compared to Michigan's 47 and made 27 of those attempts compared to Michigan's 22. But the Wolverines attempted 19 more free throws (16-24) than Rutgers (3-5). They have a tough road game against Maryland to start this week before what should be a 16th home win against Northwestern on Sunday.
2. Illinois (8-3, 1.008 PPP, .949 PPP allowed)
The hottest team in the Big Ten finally came down to earth yesterday suffering a 7-point loss to Iowa on the road. Prior to that loss, the Illini hadn't dropped a game since Jan. 2 at Michigan State. They were winners of seven straight, and if they had beaten Iowa, they would've been alone atop the Big Ten standings. But Illinois has plenty of time to regroup, only playing one game this week, and it's not until Friday when they host Maryland.
1. Michigan State (8-3, 1.044 PPP, .915 PPP allowed)
Michigan State split last week with a 1-1 record, defeating Northwestern at home but losing to Wisconsin on the road. In three of Michigan State's last four road games (Purdue, Indiana, Wisconsin), the Spartans have gone down by at least 16 points in each of those contests. Michigan State has a big week ahead of them to reinstate some dominance at the top of the conference with a home game against Penn State and then a road game at in-state rival Michigan. The Spartans had no trouble with Michigan earlier in the year, defeating them 87-69 at the Breslin Center. The Spartans can't afford many more slip ups if they want to end the regular season as Big Ten champs.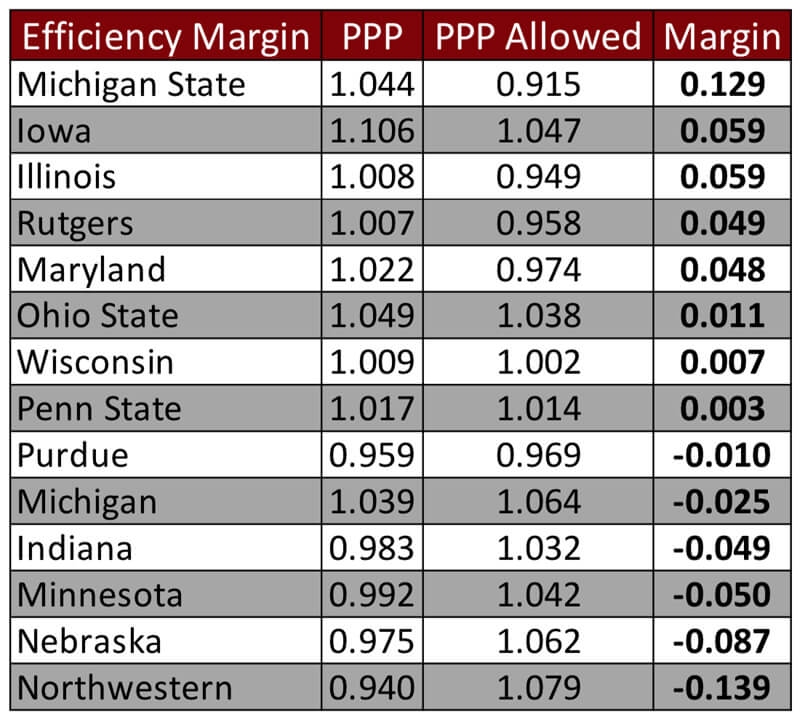 Filed to: Big Ten Power Rankings