Big Ten Power Rankings: January 27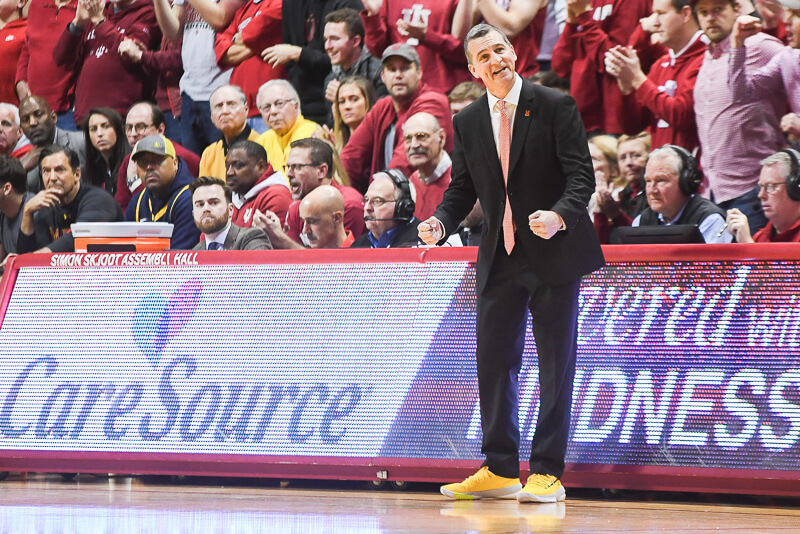 It was a strong week for road teams in the Big Ten as eight wins were recorded away from home. Michigan State and Illinois are in a tie at the top of the league standings with Rutgers and Maryland just a game back in the loss column entering this week's games.
The power rankings will run each Monday throughout the remainder of the regular season.
14. Northwestern (1-8, .958 PPP, 1.072 PPP allowed)
The losses continue to pile up for the Wildcats, who have now dropped four straight games after beating Nebraska on Jan. 11. Last week's loss to Maryland was a tale of two halves as Northwestern led by 14 at the break before the Terps took over in the second half to win by 11. Northwestern's offense is extremely limited by its inability to get to the foul line or generate second chance points. KenPom doesn't have the Wildcats favored in another game this season.
13. Nebraska (2-7, .997 PPP, 1.067 PPP allowed)
The Cornhuskers were competitive in a pair of road losses last week, falling 82-68 at Wisconsin and 75-72 at Rutgers. The loss to the Scarlet Knights was particularly disappointing as Nebraska used an 18-2 second half run to grab the lead only to be beaten by a tough jumper by Geo Baker in the game's final seconds. Nebraska has a huge opportunity for its third win in league play this week as reeling Michigan comes to Pinnacle Bank Arena on Tuesday.
12. Michigan (2-6, 1.041 PPP, 1.102 PPP allowed)
Juwan Howard's first season at the helm in Ann Arbor is quickly turning into a disaster. After beginning the season unranked in the Associated Press top 25 poll and then jumping all the way up to No. 4 following Battle 4 Atlantis, Michigan is quickly trending in the wrong direction. The Wolverines lost a pair of home games last week to Penn State and Illinois. Michigan's defense remains a mess and if Howard doesn't figure a way to change this team's momentum soon, an NCAA tournament miss could materialize.
11. Ohio State (3-6, 1.039 PPP, 1.042 PPP allowed)
The Buckeyes got a much needed road win at Northwestern on Sunday, but dropped another home game last week on Thursday to Minnesota. Ohio State hasn't beaten a KenPom top 100 team in over a month and is four games behind the league leaders in the conference standings. The upcoming stretch is pivotal for Ohio State as it hosts Indiana on Saturday before traveling to Wisconsin and Michigan.
10. Penn State (4-4, 1.029 PPP, 1.074 PPP allowed)
Penn State only played once last week and it was an opportunity seized for the Nittany Lions. Penn State went on the road for a 72-63 win at Michigan and unlikely hero Curtis Jones played a major role in the victory. Jones scored 18 points, all in the second half, as Penn State recorded its first road win in league play.
9. Purdue (4-5, .957 PPP, .962 PPP allowed)
It was an up and down week for the Boilermakers, who split a pair of home games against Illinois and Wisconsin. The Fighting Illini absolutely manhandled Purdue on Tuesday in a 79-62 win, but give the Boilermakers credit for bouncing back and routing Wisconsin 70-51 on Friday. With nine losses already and 11 regular season games to go, Purdue needs a winning streak sooner rather than later to keep its NCAA tournament hopes alive.
8. Minnesota (5-5, 1.016 PPP, 1.059 PPP allowed)
Minnesota's road win at Ohio State was impressive, but the Gophers were routed 70-52 at home by Michigan State on Sunday afternoon. Daniel Oturu scored 19 points in the loss to Michigan State, but had four turnovers and was just 7-of-14 from the field. Like Purdue, Minnesota already has nine losses and its underwhelming non-conference resume could be a detriment come Selection Sunday.
7. Indiana (5-4, 1.014 PPP, 1.033 PPP allowed)
Indiana played two of the league's top teams at home last week and earned a split in a pair of games that could have gone either way. The Hoosiers had the ball bounce their way on Thursday night in a win over Michigan State as the Spartans missed a point blank look by Xavier Tillman in the game's final seconds. On Sunday, Indiana had a chance to win in the final seconds, but a point blank look by Trayce Jackson-Davis rimmed off as Maryland won its second straight road game in league play.
6. Wisconsin (5-4, 1.033 PPP, 1.015 PPP allowed)
The Badgers have dropped two of their last three games and the road doesn't get any easier from here. Wisconsin travels to Iowa tonight before hosting Michigan State on Saturday. Wisconsin is currently the best of the second tier in the league, but the Badgers may struggle to finish as much more than a .500 team in league play.
5. Maryland (6-3, 1.004 PPP, .968 PPP allowed)
Maryland looked awful in the first half of its road game at Northwestern last Tuesday, but the Terps turned it on in the second half for an easy 11-point victory. That momentum carried over into Sunday's game in Bloomington in which the Terps made 12 3-pointers and got 29 points from Jalen Smith in a thrilling 77-76 win. Maryland is one of the league's most talented teams and it wouldn't be a surprise to see this group secure a double bye in this year's Big Ten tournament.
4. Iowa (5-3, 1.128 PPP, 1.054 PPP allowed)
Iowa is an elite offensive team and as long as that continues, the Hawkeyes are a threat to beat anyone in the conference on a given night. Luka Garza might be the biggest threat to challenge Cassius Winston for Big Ten player of the year honors. Iowa has yet to drop a home game in conference play.
3. Rutgers (6-3, 1.016 PPP, .958 PPP allowed)
The Scarlet Knights have won three of four and dropped a heartbreaker last week, 85-80, in Iowa City. Rutgers continues to defend at an elite level and its homecourt advantage at the RAC is one of the best in the conference. Rutgers has two great opportunities for wins this week as it hosts Purdue on Tuesday and then plays Michigan on Saturday at Madison Square Garden. That contest will be considered a home game for Michigan, but it may not feel like it.
2. Illinois (7-2, 1.021 PPP, .95 PPP allowed)
Illinois has won six straight and three of those wins have come on the road (Wisconsin, Purdue, Michigan). Considering this team lost to Miami at home in the Big Ten-ACC Challenge and to Missouri on a neutral court in December, it's been a stunning turnaround in Champaign. Illinois is close to lock status for its first NCAA tournament appearance since 2013.
1. Michigan State (7-2, 1.043 PPP, .931 PPP allowed)
Tom Izzo called last week a potential "separation week" for the Spartans, but a 1-1 record coupled with a 2-0 record for Illinois means the race for the regular season crown is officially on. Michigan State lost a heartbreaker on Thursday at Indiana, but bounced back to crush Minnesota on Sunday in Minneapolis. The Spartans have a daunting schedule remaining with road trips to Wisconsin, Michigan, Illinois, Nebraska, Maryland and Penn State still to play.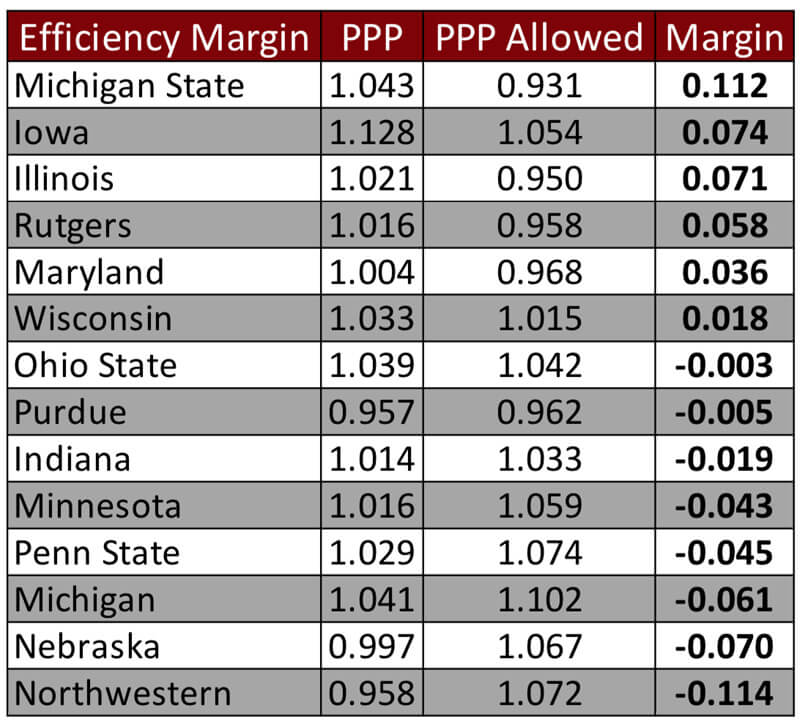 Filed to: Big Ten Power Rankings