What to expect: Rutgers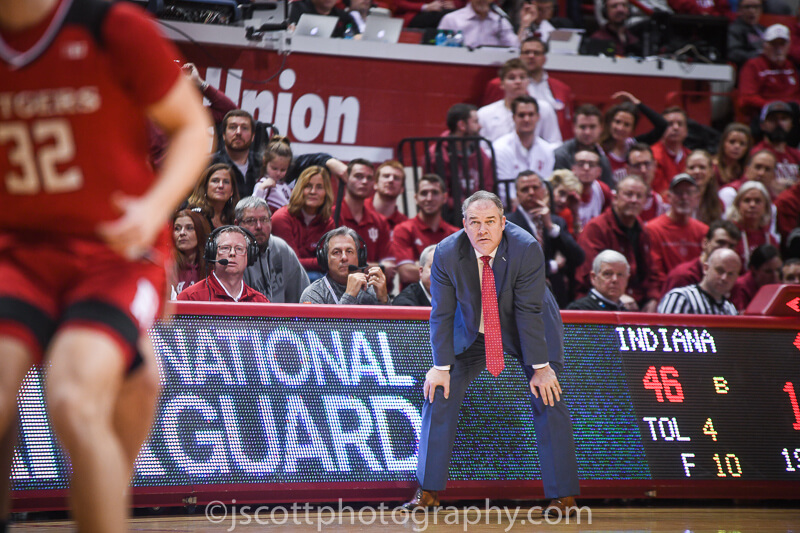 Indiana will look for its first road win of the season on Wednesday as the Hoosiers travel to Piscataway to take on Rutgers. The Scarlet Knights are 12-4 overall, 3-2 in the Big Ten and are unbeaten at home (11-0).
Wednesday's game will tip at 7 p.m. ET on BTN:
For the first time since joining the Big Ten back in the 2014-2015 season, Rutgers is relevant in men's basketball.
Steve Pikiell, now in his fourth season in Piscataway, has built a defense-first culture that is translating into wins. Pikiell, who build a consistent winner at Stony Brook in the America East before taking the Rutgers job in the spring of 2016, had a top 50 defense nationally the last two seasons, but has taken it up a notch in year four.
The Scarlet Knights currently rank 13th nationally in Ken Pomeroy's adjusted defensive efficiency metric. In Big Ten play, Rutgers owns the league's fourth best defense (.935 PPP allowed) and when combined with a homecourt advantage, there's a legitimate chance for the program's first NCAA tournament bid since 1991.
MEET THE SCARLET KNIGHTS
Rutgers has been without point guard Geo Baker (broken thumb) since December 30 and all indications are that Baker will remain out for Wednesday's game at the RAC.
In his absence, Pikiell has opted to go with a bigger lineup in the backcourt to start games with 6-foot-7 Caleb McConnell, 6-foot-4 Montez Mathis and 6-foot-6 Ron Harper Jr. with 6-foot-2 guard Jacob Young and 6-foot-6 Paul Mulcahy off the bench.
Harper Jr. is the team's leading scorer at 12.2 points per game on just 44.8 shooting from the field. In Big Ten games, he's got the 17th best free throw rate (FTA/FGA) in the conference and the sophomore is knocking down close to 80 percent of his attempts.
Harper Jr. is most comfortable from behind the 3-point line in the left corner as he's been a below average shooter from the rest of the perimeter, as the shot chart below shows: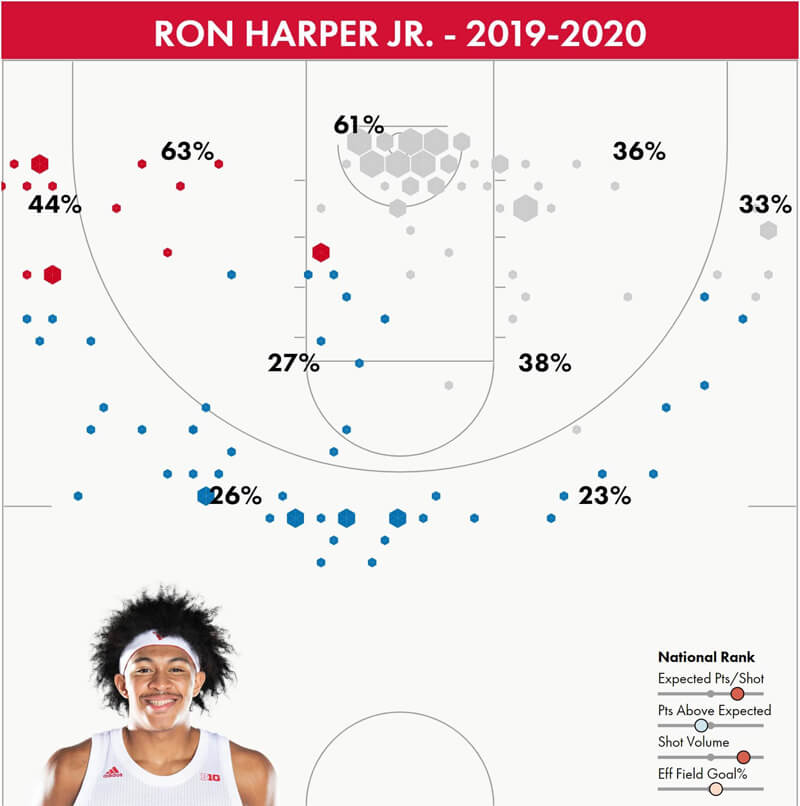 McConnell, another sophomore, has done a solid job filling in over the last three games as he's recorded 12 assists, but he's also been prone to turning it over. His eight turnovers in the last three games have his turnover rate (21 percent) higher than his assist rate (20.4) in league play. He's been the team's best 3-point shooter from a percentage standpoint (39.3) against Division I teams this season.
Mathis played a ton of minutes as a freshman and has been a major part of the Rutgers backcourt again this season despite underwhelming offensive numbers. He's averaging just 6.9 points per game, which is seventh on the team, and is making just 24.1 percent of his 2s against Big Ten opponents. Synergy Sports also grades him as the team's second worst defender with 101 points allowed on 121 defensive possessions.
Young, who sat out last season after transferring from Texas, has the fifth highest usage rate (30.1) and third highest percentage of shots taken while on the floor (31.8) in the conference through five games. In five Big Ten games, the junior from Houston has scored in double figures four times and is coming off a 16-point game at Illinois in which he splashed in four 3-pointers. Young's nine points per game are fifth on the team.
Mulcahy, a top 160 recruit in the 2019 class, is giving Pikiell solid minutes off the bench as a combo guard. In 31 minutes against Penn State, he stuffed the statsheet with four points, five assists, four rebounds, two steals, a block and no turnovers in a 72-61 win.
Myles Johnson, a 6-foot-11 sophomore center, and Akwasi Yeboah, a 6-foot-6 grad transfer from Stony Brook, are the primary names to know up front.
Johnson is an elite finisher – 71 percent on 2s in league play – that can also rebound and defend in the post. Johnson is the Big Ten's third best offensive rebounder and he's averaging 9.6 points on 71.6 percent shooting this season. As the shot chart below shows, Johnson does not operate outside of the paint offensively: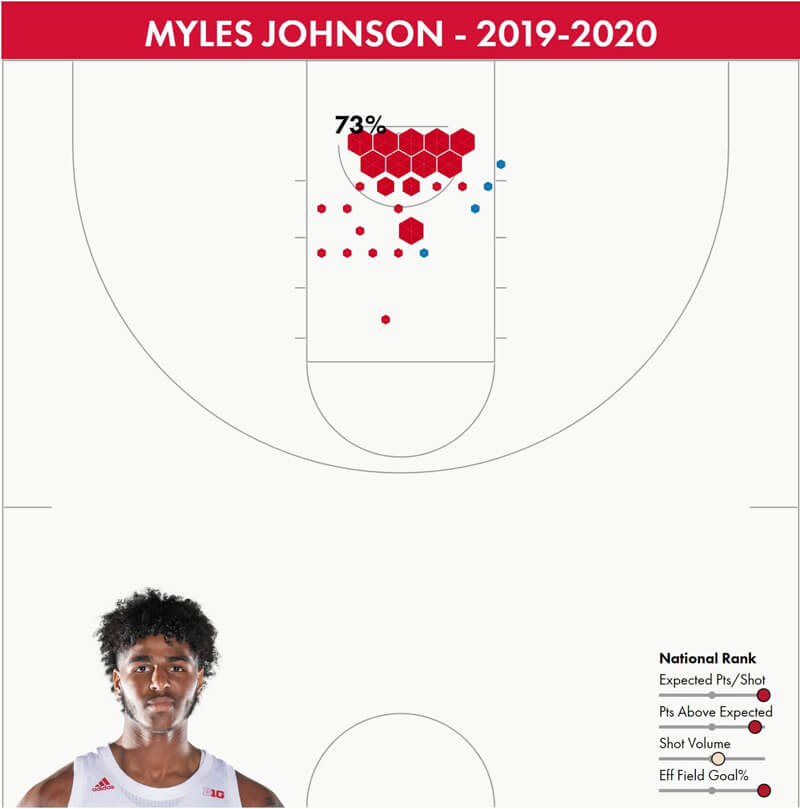 Having Yaboah in the fold was a major reason Rutgers was able to overcome the offseason transfer of Eugene Omoruyi. Yaboah has provided a steady veteran presence for Pikiell in the frontcourt. He's scoring (9.1 ppg) and can knock down the occasional 3-pointer. Yaboah is 18-for-48 from distance this season.
Shaq Carter, a 6-foot-9 senior, will see the majority of the backup minutes in the post, and is making 59 percent of his 2s.
TEMPO-FREE PREVIEW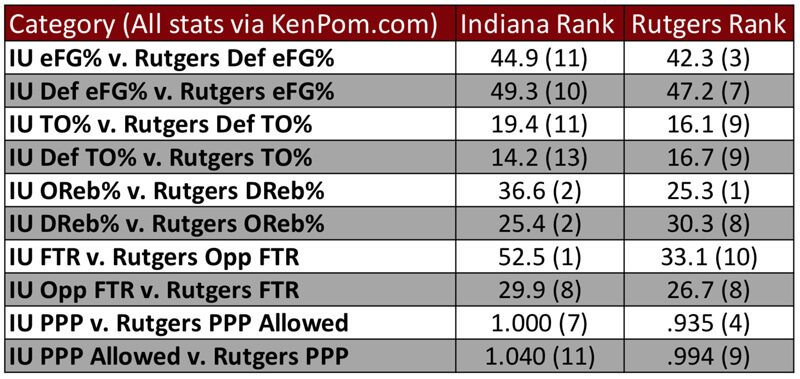 If you enjoy scoring, Wednesday's game probably won't be for you as neither team shoots or makes many 3s. Like the Hoosiers, Rutgers does not emphasize the 3-pointer as the Scarlet Knights rank just 340th nationally in percentage of points derived from from the perimeter. Indiana is 346th. The Hoosiers are shooting 31.1 percent from distance on the season and Rutgers is shooting 29.1 percent.
Rebounding and free throws are likely to determine Wednesday's outcome as Indiana is the league's second best offensive rebounding team and Rutgers is the league's best defensive rebounding team. The Hoosiers are also the Big Ten's best team in terms of getting to the foul line with a free throw rate (FTA/FGA) of 52.5 percent and Rutgers hasn't been great at keeping its opponents off the line in league play.
WHAT IT COMES DOWN TO
The KenPom projection is Rutgers by four with just a 37 percent chance of an IU victory and the Sagarin numbers like Rutgers by 3.5 points at the RAC.
Indiana is 1-1 at the RAC under Archie Miller with a 65-43 win on Feb. 5, 2018 and a 66-58 loss on Jan. 30, 2019. Wednesday's game figures to be low scoring again. From IU's perspective, the Hoosiers are looking for their first solid road performance of the season.
In previous trips to Wisconsin and Maryland, Indiana was not competitive. Additionally, the carry over from the Ohio State win can't be expected considering the Hoosiers went to Madison and laid an egg after easily beating Florida State at Assembly Hall.
Filed to: Rutgers Scarlet Knights