What to expect: Notre Dame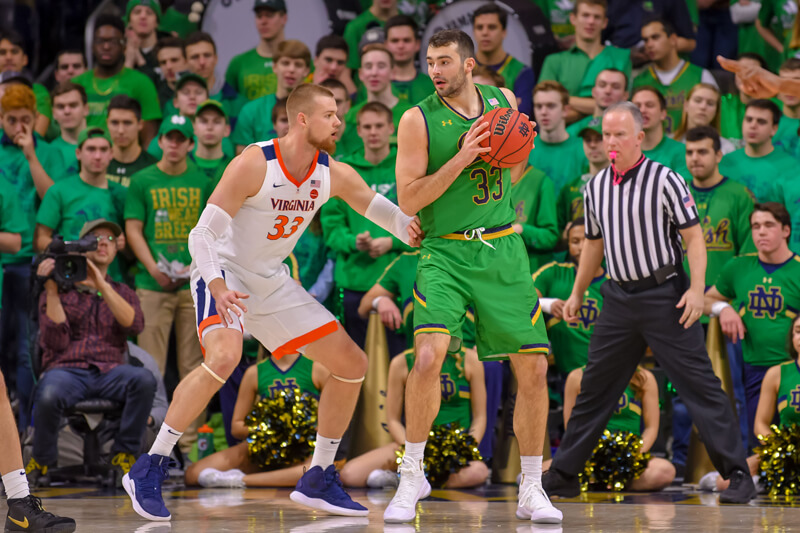 Indiana will return from a lengthy layoff on Saturday afternoon as the Hoosiers take on Notre Dame in the Crossroads Classic at Bankers Life Fieldhouse in Indianapolis. The Fighting Irish are 8-3 with just one win over a top 100 KenPom team (Toledo) and losses to North Carolina, Maryland and Boston College.
Saturday's game will tip at noon ET on ESPN with Jason Benetti and Jimmy Dykes on the call:
Prior to the 2015 Crossroads Classic, Notre Dame coach Mike Brey spoke with bravado.
His program was coming off a 32-6 season that ended in an Elite Eight loss to Kentucky. The confident Fighting Irish coach sat at 7-2 with a roster stocked full of upperclassmen.
"They should be enamored with us, quite frankly," Brey told reporters in his media availability prior to meeting Indiana in the Crossroads Classic. "We've been winning games in that damn building for a while … We're the most consistent program in this state and it isn't even close."
Days later, Notre Dame would collapse in the second half and lose 80-73 to Indiana at Bankers Life Fieldhouse.
The Fighting Irish went on to a 24-12 season and again advanced to the Elite Eight in the 2016 NCAA tournament, but haven't won a game in the Crossroads Classic since Brey's comment. Notre Dame has missed the last two NCAA tournaments and the program's direction has recently been called into question.
What has happened to Notre Dame basketball?
Injuries. Poor roster construction. And some recruiting mishaps that have left the roster void of the depth needed to sustain success. Saturday's game is important to both Indiana and Notre Dame, but it is the last chance for the Fighting Irish to get a non-conference win that could mean something come March.
MEET THE FIGHTING IRISH
An injury and a transfer have left Brey short on depth again this season. Robby Carmody, a former IU recruiting target, is out for the season after suffering a torn ACL in his left knee in Notre Dame's loss at Maryland. Little used forward Chris Doherty is transferring at the conclusion of the semester.
In its most recent game – a 75-61 beatdown of UCLA in South Bend – Notre Dame used just seven players and it played just eight guys in a narrow home loss to Boston College earlier this month.
Notre Dame's best player is senior forward John Mooney, who is averaging a double-double and is one of the best defensive rebounders in the country. Mooney's 14.8 points and 13.4 rebounds per game both lead the team through 11 games.
A career 37.9 percent 3-point shooter, Mooney is an inside-out threat who can spot up effectively and also score with his back to the basket. According to Synergy Sports, Mooney has scored 42 points on 32 spot-up possessions and 30 points on 30 post-up possessions this season.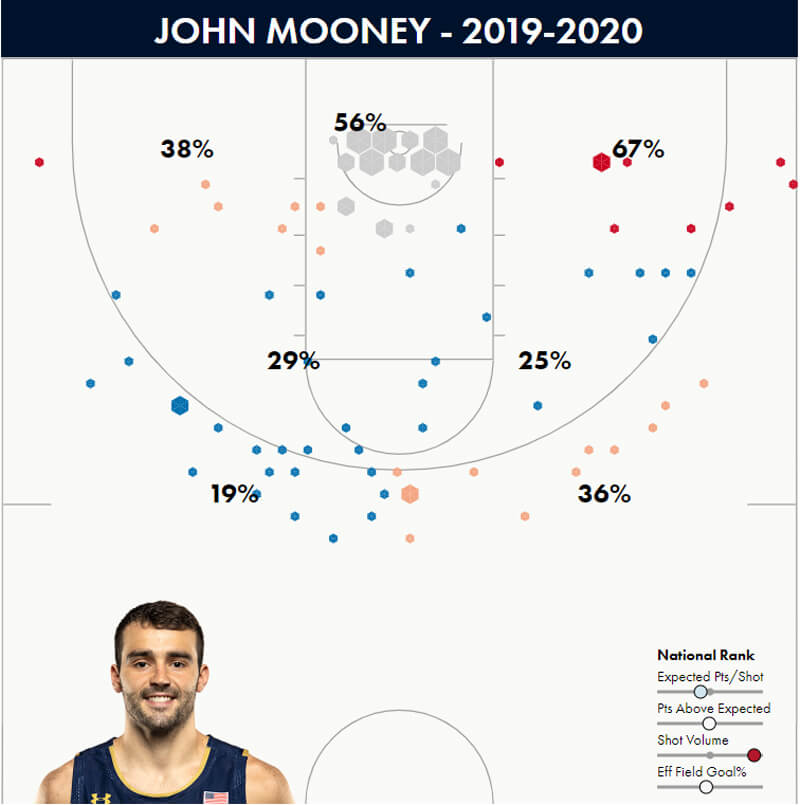 He's joined in the frontcourt rotation by Juwan Durham, a former top 50 recruit who began his career at UConn before transferring to South Bend prior to the 2017-18 season. Durham became eligible last season for Notre Dame and started six times, but is a full time starter as a senior. The 6-foot-11 Durham is ninth in the country in block percentage (14.8) and averages 8.3 points and 6.4 rebounds in 19.4 minutes per game.
Sophomore Nate Laszewski, a top 65 recruit in the 2018 class, chose Notre Dame over North Carolina and is the only regular off the bench who is taller than 6-foot-6. The 6-foot-10 Laszewski is making 60.7 percent of his 2s this season and averages a solid 7.8 points and 5.2 rebounds in 20.3 minutes per game off of the bench.
The guard and wing rotation is comprised of starters TJ Gibbs, Rex Pflueger and Prentiss Hubb with Dane Goodwin as the option off the bench.
Gibbs, a 6-foot-3 senior, is the team's second leading scorer at 12.6 points per game, but has struggled with his shooting in his final season.
Gibbs is shooting a solid 39.7 percent on 3s, but is just 13-of-53 on 2s for 24.5 percent. He's taking a healthy amount of 2-point jump shots – 27.8 percent of his overall shot attempts according to Hoop-Math.com – and is making only 14.3 percent of them. Over his last four games, Gibbs is just 3-for-19 on 2s, but he remains dangerous from beyond the 3-point line: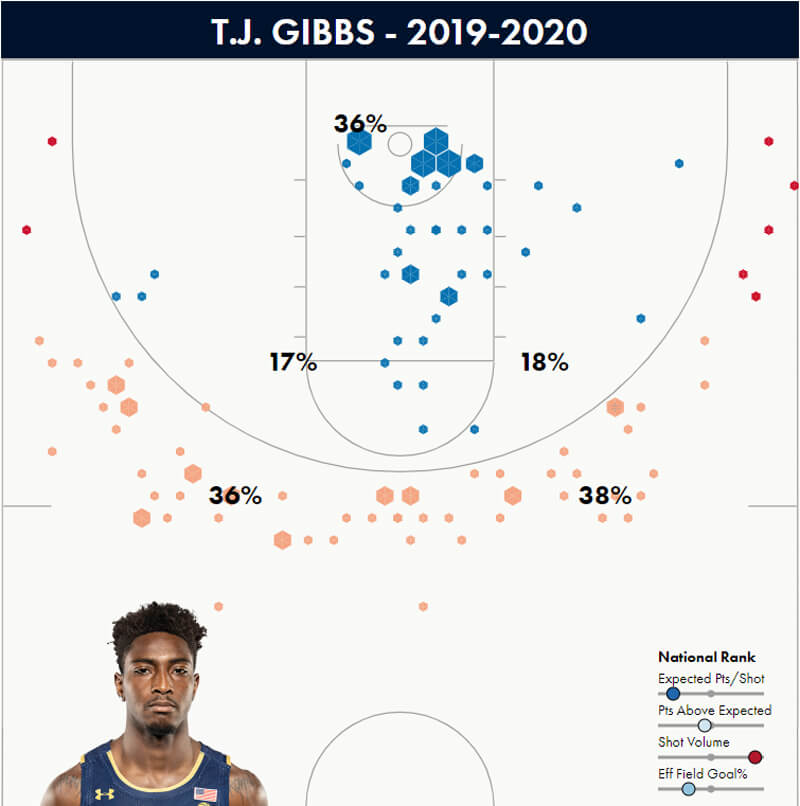 Hubb, a 6-foot-3 sophomore, was a poor 3-point shooter as a freshman (26.2 percent) who has shown improvement so far in his second season. Hubb is knocking down 37.1 percent of his shots from distance and is also the team's best distributor. His 4.7 assists per game lead the team and his assist rate of 27.2 percent is up nearly four percent from his freshman season.
As the shot chart below shows, the left-handed Hubb is most comfortable from the left side of the floor: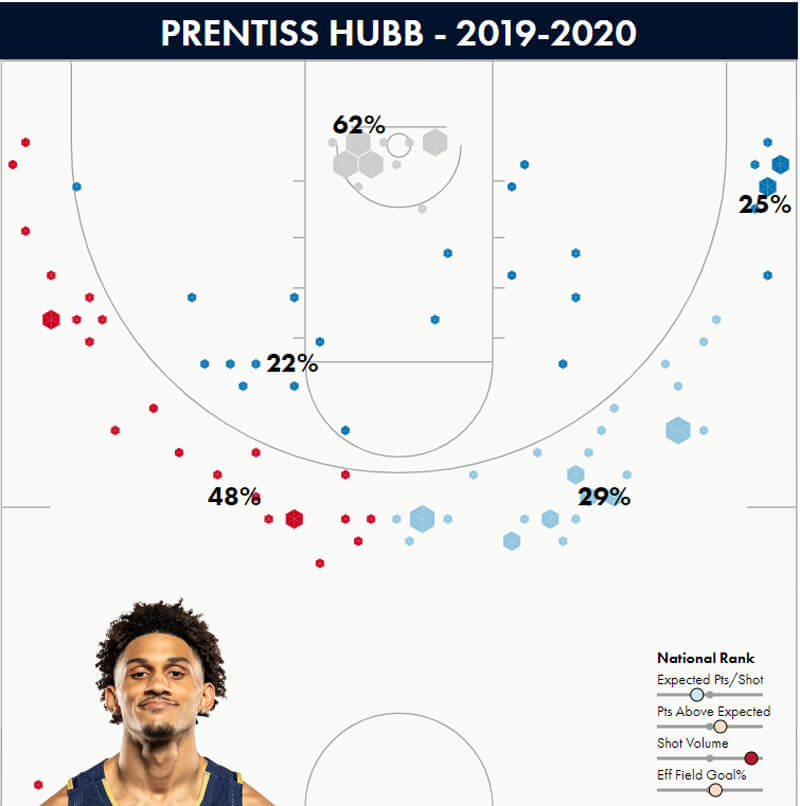 Pflueger, who played in just 10 games last season before suffering a season-ending knee injury, is a secondary offensive option who has taken more 3s than 2s in his career. Pflueger is a career 33.8 percent 3-point shooter, but is shooting just 26.3 percent from distance this season on 38 attempts.
Goodwin, an Ohio native, was committed to Ohio State, but flipped to Notre Dame following the coaching change back in 2017.
The 6-foot-6 wing is a knockdown shooter from the perimeter who is most comfortable on the right wing and corner. Goodwin is third on the team in scoring (11.7 points per game) despite playing just the fifth most minutes.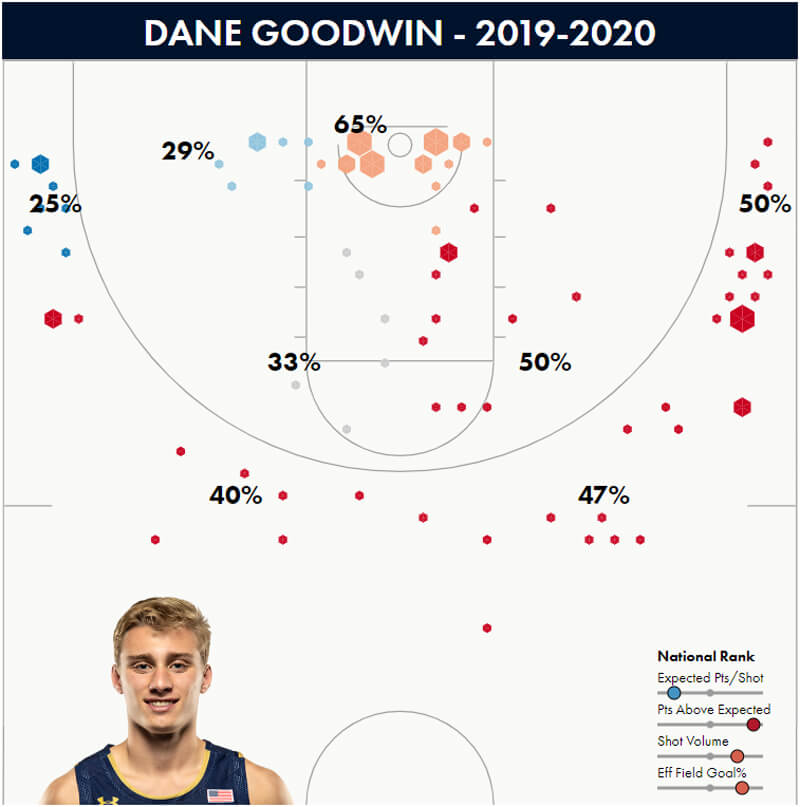 TEMPO-FREE PREVIEW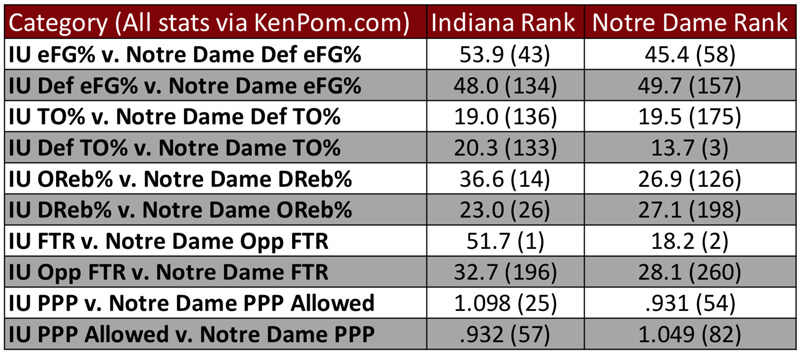 Indiana's packline defense has been susceptible to 3-point outbursts and that's a clear area of concern for the Hoosiers on Saturday.
Notre Dame doesn't turn the ball over and is generating 39.5 percent of its points from beyond the 3-point line, which is the 28th highest percentage of 3-point distribution in the country according to Ken Pomeroy. The Fighting Irish are hoisting 29.2 3-point attempts per game and are making 10 per game on average. Against UCLA, Notre Dame took 39 triples and made 15 in an easy 14-point victory.
The free throw line will also be an interesting storyline as Notre Dame ranks 2nd nationally in keeping its opponents off the line and Indiana is the best team in the country in terms of getting to the line. Given the depth issues for the Fighting Irish and its insistence on defending without fouling, the Hoosiers would be well served to pound the ball inside and force Notre Dame into defending at the rim.
WHAT IT COMES DOWN TO
The KenPom projection is Indiana by three with a 62 percent chance of a Hoosier victory and the Sagarin ratings like Indiana by four.
Indiana is 3-1 all-time against Notre Dame in the Crossroads Classic and won the last two meetings in thrilling fashion. Back in 2015, Indiana used a 17-2 run late to pull out an 80-73 victory. In 2017, late game heroics from Zach McRoberts and Juwan Morgan forced overtime and the Hoosiers edged out an 80-77 win for Archie Miller's first victory over a ranked opponent.
Saturday's meeting will likely come down to how well Indiana can guard the 3-point line and whether the Hoosiers can generate enough offense from the foul line.
Photo credit: Notre Dame Athletics
Filed to: Notre Dame Fighting Irish