What to expect: Nebraska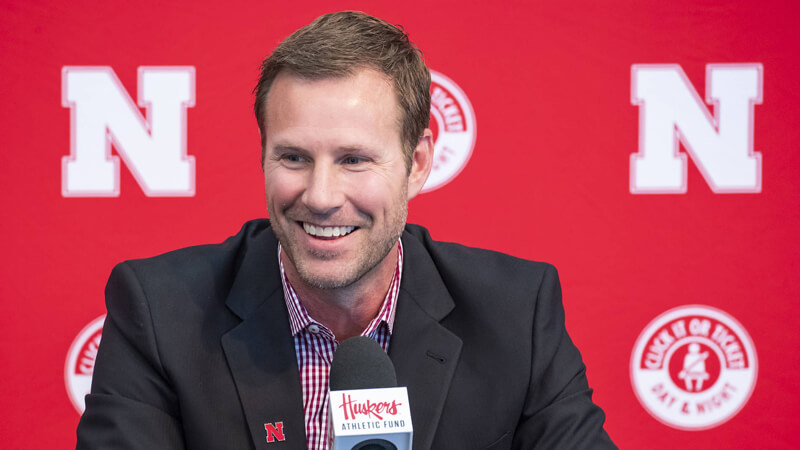 Indiana returns to Simon Skjodt Assembly Hall for its conference home opener on Friday night against Nebraska. The Cornhuskers, led by first year coach Fred Hoiberg, are just 4-5 with losses to UC Riverside, Southern Utah, George Mason, Georgia Tech and Creighton.
Friday's game will tip at 8 p.m. on BTN with Kevin Kugler and Shon Morris on the call:
The Fred Hoiberg tenure is off to a rough start in Lincoln. Struggles were expected given the coaching change from Tim Miles to Hoiberg and a complete roster gutting, but the two home losses to begin the season against inferior competition were surprising.
The Huskers close out a tough six-game stretch on Friday in Bloomington that began with three neutral court games in the Cayman Islands and road trips to Georgia Tech (Big Ten-ACC Challenge) and a rivalry game against Creighton in Omaha.
In a league as unforgiving as the Big Ten which requires talent and experience to win games, Nebraska is lacking in both departments. Long term, Hoiberg should be able to upgrade the talent in the program, but this year's reality is a hodgepodge roster that was hastily put together out of necessity.
MEET THE CORNHUSKERS
The lone holdover with experience in the Big Ten from the Miles era is 6-foot-6 sophomore Thor Thorbjarnarson, who is currently a rotation piece as one of three regulars off the bench.
The Huskers have four players averaging in double figures and all of them are 6-foot-5 or smaller. The primary ball handlers are sophomore Cam Mack and junior Dachon Burke Jr.
Mack was initially enrolled at Stephen F. Austin before going the junior college route for a year and then signing with Nebraska in the offseason. Burke Jr. transferred to Nebraska from Robert Morris in the spring of 2018 and sat out last season due to NCAA transfer rules.
The 6-foot-2 Mack is a high usage, low efficiency offensive player who can get to the foul line. Mack is second on the team in scoring at 12.3 points per game and leads the team with 5.6 assists per contest. As the shot chart below shows, he's a poor finisher at the rim and prefers the left side of the floor for his 3-point attempts. His free throw rate (FTA/FGA) of 46.8 percent is very good, but he's only connecting at a 56.8 percent clip from the line.
Burke, who is 6-foot-4, has also struggled to finish in the paint and is shooting just 33.3 percent on 3s on 33 attempts. His free throw rate is also strong (43 percent), but is shooting just 57.5 percent from the stripe. Burke's turnover percentage of 9.3 is the lowest on the team and he's been very good in transition with 32 points in 26 possessions, per Synergy.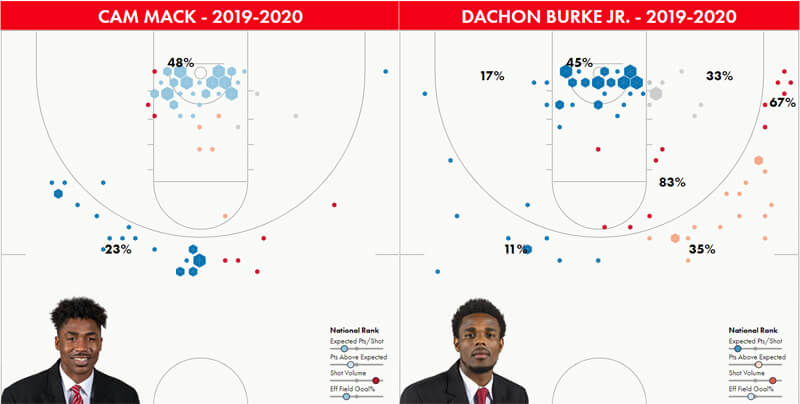 Junior guard Jervay Green, another JUCO signee, has attempted a team-high 51 3-pointers sand has connected on just 29.4 percent from distance. His 10.3 points are fourth on the team and he's scored in double figures five times. As his shot chart shows, Green is most comfortable on the perimeter from the left wing and the right corner.
Haanif Cheatham, a 6-foot-5 senior who grad transferred from Florida Gulf Coast, is Nebraska's most efficient offensive player.
Cheatham transferred to Florida Gulf Coast from Marquette after playing in just five games as a junior for the Golden Eagles. Cheatham received a waiver to play immediately at Florida Gulf Coast last season, but shut things down after just nine games due to a shoulder injury that required surgery.
An All-Big East freshman selection back in the 2015-16 season, Cheatham has legitimate high major talent and his 12.6 points per game lead the Huskers. He thrives on the break and has scored 45 points on 36 transition possessions, according to Synergy Sports. He can also bury the left corner 3-pointer if given space.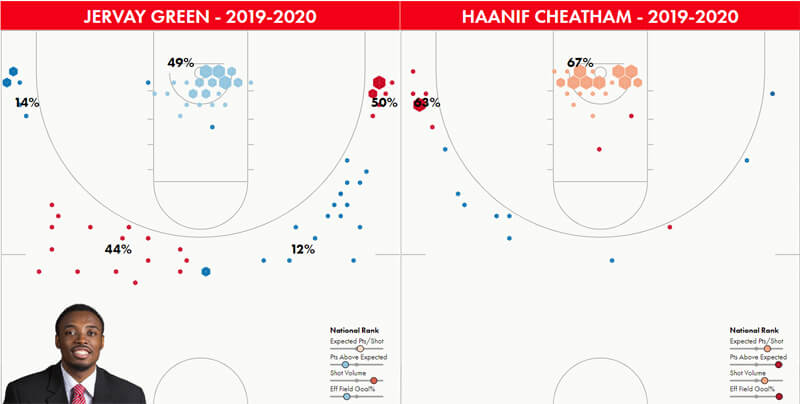 Thorbjarnarson will see the majority of the backup minutes at the three and the four and is a capable threat from the perimeter. He's connected on 10 of his 19 3-point attempts.
The three frontcourt names to know are freshman Kevin Cross, senior Matej Kavas and senior Yvan Ouedraogo.
Cross, a 6-foot-9 forward, was a late signee for Hoiberg and is fifth on the team in scoring at 7.6 points per game. He's shooting a solid 52.6 percent on 2s and an unspectacular 28.6 percent on 3s on 28 attempts.
Kavas, a 6-foot-9 grad transfer from Seattle, shot 47.7 percent on 3s last season for the the Redhawks, but hasn't been able to replicate that success for the Huskers. The Slovenian is shooting just 31 percent from distance on 29 attempts.
Ouedraogo is a 6-foot-9, 260 pound big man from France. He has a team-high 19 offensive rebounds and is the only post-up player on the roster. Ouedraogo has scored 13 points on 10 post-up possessions, per Synergy.
TEMPO-FREE PREVIEW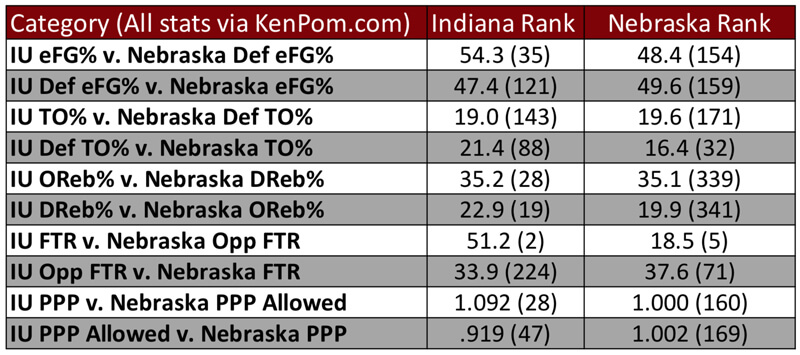 Nebraska is playing the fastest pace of any Big Ten team with an adjusted tempo of 74.2 possessions per game, according to Ken Pomeroy. The Huskers are also the league's worst rebounding team on both end of the floor. Nebraska is grabbing just 19.9 percent of its missed shots and is allowing its opponents to rebound 35.1 percent of their misses. Their lack of size, talent and experience is a major problem on the defensive glass and is something Indiana will look to exploit.
The Huskers attack the rim on offense and they've gotten to the line at a decent clip. Nebraska ranks 71st nationally in free throw rate, but is shooting just 56 percent from the line. That ranks 350th nationally.
Whether Nebraska can keep Indiana off the foul line will go a long way in determining how competitive Friday's game will be. Nebraska's opponent free throw rate of 18.5 percent is fifth in the country, but Indiana ranks second nationally in free throw rate at 51.2 percent. No team has taken more than 21 free throws in a game against Nebraska this season and Indiana has taken 25 or more free throws in seven of its 10 games.
WHAT IT COMES DOWN TO
From a win probability perspective, this is the easiest game remaining on IU's schedule. Pomeroy gives the Hoosiers a 93 percent chance to win and projects a 16-point margin. The Sagarin numbers predict a 15-point win for Indiana. Through Wednesday, Big Ten teams are 10-0 at home in league play.
Nebraska was successful against Indiana in Bloomington under Miles with three wins and the Huskers have won in their last two trips to Simon Skjodt Assembly Hall. Indiana's advantage in the frontcourt is significant and if the Hoosiers can establish offense at the rim early, this should be a favorable matchup.
While currently the Big Ten's doormat, Nebraska should be a program that makes a significant jump up the league standings under Hoiberg, who has proven himself capable of building a winner at the high major level. For now, Nebraska is a team that could be in for a long winter as Pomeroy projects just three wins in the league and no victories away from Pinnacle Bank Arena.
Filed to: Nebraska Cornhuskers