What to expect: South Dakota State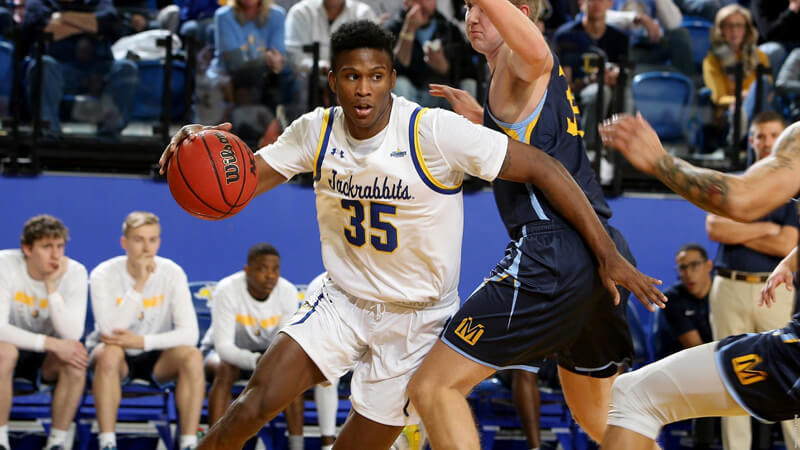 Indiana will return from a four-day layoff on Saturday afternoon as it hosts South Dakota State at Simon Skjodt Assembly Hall. The Jackrabbits have reached the NCAA tournament in five of the last eight seasons.
The game will be broadcast at 4 p.m. ET on BTN+ with Sam Niedermann, Griffin Gonzalez and Mary Kate Hamilton on the call:
Indiana's final game of the regular season against an opponent from outside of a power six conference is here.
The Hoosiers are 6-0 and have yet to face a significant challenge this month. That could change on Saturday as Summit League foe South Dakota State comes to Bloomington.
Led by first year coach Eric Henderson, the Jackrabbits have played a tough schedule this month that has already included road trips to Cal St. Bakersfield, USC, Nebraska and Arizona. South Dakota State is just 1-3 in those games, but did play Arizona tough in its most recent road game. The Jackrabbits led for a good portion of the first half and lost by just seven in Tucson.
MEET THE JACKRABBITS
South Dakota State lost four starters off of last season's NIT team, including all-time program great Mike Daum.
But the cupboard isn't entirely bare for Henderson in his first season at the helm in Brookings. The headliner for South Dakota State is 6-foot-7 junior forward Douglas Wilson, who was the NJCAA player of the year in 2018-19 and a two-time NJCAA All-American.
Through nine games, Wilson is averaging a team-high 17.8 points on 60.8 shooting. He's scored in double figures in all but one game so far and had a season-high 30 points against Samford on Wednesday. Wilson has been a force on the glass as he's scored 40 points off of offensive rebounds already, per Synergy Sports. His 7.8 rebounds per game also lead the team.
Senior Brandon Key redshirted last season, but the 5-foot-10 point guard is off to a fast start in his final season. Key's 11.7 points are second on the team and his 4.4 assists lead the Jackrabbits. Most of South Dakota State's ball screen offense comes as a result of Key, who is currently scoring .93 points per possession as the ball handler in ball screen situations, per Synergy.
Sophomore Matt Dentlinger, a rotation player last season, has jumped into a bigger role with all of the roster turnover. The 6-foot-8 big man is third on the team in scoring at 11.1 points per game and is shooting 65.5 percent from the field. His offensive rating is currently 35th in the country, although his usage rate is just fifth highest on the team (18.1 percent).
Freshman guard Noah Freidel is shooting 38.1 percent on 3s and is averaging 8.3 points in 24.6 minutes per game. He's an effective spot up shooter as he's scored 43 points on 44 spot up possessions, per Synergy.
Three others to know on the South Dakota State roster are redshirt freshman forward David Wingett, freshman forward Baylor Scheierman and sophomore Alex Arians.
Wingett, a transfer from Memphis, only played in four games last season for the Tigers before suffering a season-ending injury. He received a waiver from the NCAA to play immediately for South Dakota State and is averaging seven points. Scheierman has attempted 33 3s so far this season and has only connected on seven of those attempts. And Arians is third on the team in minutes, but is a low usage, low efficiency offensive player. Arians is shooting just 36 percent from the field and averages 6.2 points per game.
TEMPO-FREE PREVIEW

The Jackrabbits have been a poor defensive team through nine games as their adjusted defensive efficiency currently ranks 270th nationally, per Ken Pomeroy's stats.
South Dakota State is only turning opponents over on 15.4 percent of possessions and is allowing opponents to grab close to 31 percent of their missed shots. This is a game where Indiana should return to its form of the first give games in terms of taking care of the ball. The Hoosiers should also be able to use their size and athleticism to generate second chance points.
Offensively, South Dakota State is shooting a stellar 56.3 percent on 2s but just 30.9 percent on 3s. Through their first nine games, they've been an above average offensive rebounding team (32.4 OR%) and have also done a good job of drawing fouls and getting to the line (38.1 percent free throw rate).
WHAT IT COMES DOWN TO
The Pomeroy projection is Indiana by 17 and the Sagarin ratings like the Hoosiers by 17.5. The Jackrabbits lost by 18 at USC, 17 at Nebraska and seven at Arizona and have just one win so far over a team ranked in the top 250 of the KenPom ratings.
From an IU perspective, the health of Rob Phinisee is easily the biggest storyline entering the game. Archie Miller mentioned the myriad of injuries Phinisee is dealing with after Monday's win over Louisiana Tech and he's missed two of IU's last three games.
Unlike several teams across the country who have been unable to avoid upsets in guarantee games, Indiana has made it through November unscathed so far. While the wins this month will do little to move the needle in terms of building a NCAA tournament resume, Indiana couldn't afford to lose any games this month and now just one contest remains between the Hoosiers and a perfect November.
(Photo credit: GoJacks.com)
Filed to: South Dakota State Jackrabbits