What to expect: Louisiana Tech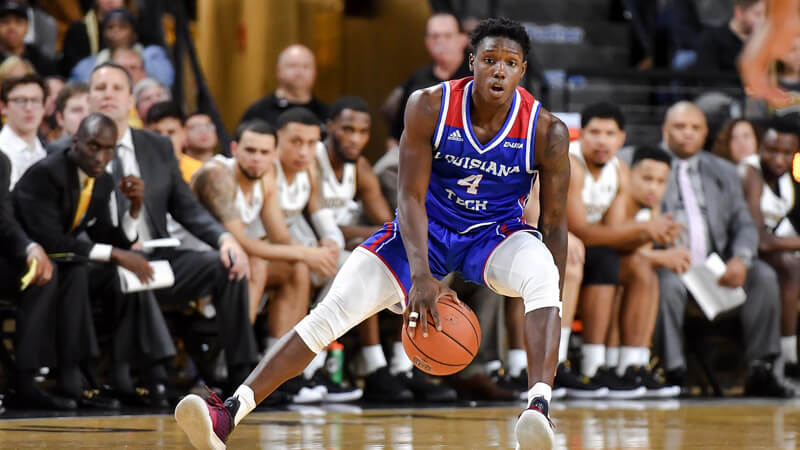 Indiana could get its first serious challenge of the season on Monday night in Simon Skjodt Assembly Hall. The Hoosiers will host Louisiana Tech, which won 20 games last season and is currently ranked in the top 90 of the KenPom ratings. The Bulldogs are 4-1 this season.
Monday's game will be broadcast at 8:30 p.m. ET on BTN with Kevin Kugler and Shon Morris on the call:
Indiana's favorable stretch of November games is over. After feasting on cupcakes over the season's first five games, the Hoosiers will close the month with a pair of home games against teams that won 20 or more games last season.
First up is Louisiana Tech, a legitimate contender for this season's Conference USA crown. The Bulldogs have already gone on the road against a major conference opponent this season in Creighton, where they held their own in an 82-72 loss.
After injuries derailed their 2018-19 campaign, Louisiana Tech is looking to challenge league favorite Western Kentucky in Conference USA and earn its first NCAA tournament appearance since 1991.
MEET THE BULLDOGS
Senior guard DaQuan Bracey is Tech's leading returning scorer and was named to the 10-man preseason all-Conference USA team. The 5-foot-10 guard from Baltimore is one of four Bulldogs averaging between 10.2 and 11 points per game, but it is Bracey that makes things happen for Tech.
He had the third highest usage rate of any Conference USA player last season in league play and averaged a team-high 15.5 points while also boasting an assist rate that ranked in the top 100 nationally.
Joining Bracey in what is essentially a four-guard lineup for Tech are 6-foot-5 redshirt junior Jacolby Pemberton, 6-foot-2 senior Derric Jean and 6-foot-3 redshirt junior Kalob Ledoux.
Jean, who played in just nine games last season due to injury, is second on the team in minutes at 26 per game and is a career 38.1 percent 3-point shooter. Pemberton is shooting 62 percent on 2s and is averaging a team-best 11 points through five games. And Ledoux, who transferred from McNeese State, shot 38 percent from distance for the Cowboys back in the 2017-18 season. However, Ledoux is off to a rough start from the perimeter for Louisiana Tech as he's knocked down just nine of his 34 attempts this season.
Mubarak Muhammed is the team's undersized center at 6-foot-7 and 220 pounds. Muhammed is nearly averaging a double-double through five games at 10.2 points and 9.8 rebounds per game.
Three other players to know on the roster are 6-foot-3 junior Amorie Archibald, 6-foot-6 freshman Isaiah Crawford and 6-foot-10 junior Andrew Gordon.
Archibald averaged 10.8 points last season and shot close to 36 percent on 3s. Crawford is averaging seven points off the bench as a freshman. Gordon, who was granted a waiver from the NCAA to compete this season, transferred from West Virginia and gives coach Eric Konkol a frontcourt player with legitimate size.
TEMPO-FREE PREVIEW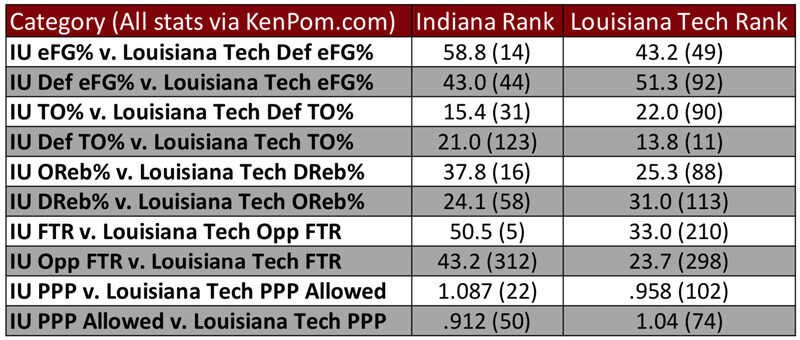 Indiana has some key areas in this game that it is going to need to exploit if it hopes to win comfortably.
Louisiana Tech is a poor 3-point shooting team (28.4 percent) that also fails to generate much, if any, offense at the free throw line. Thus far, the Bulldogs are 321st nationally in terms of point distribution from the free throw line with just 12.5 percent of their points per game coming from the stripe, according to KenPom's stats.
Indiana, meanwhile, is generating 24.5 percent of its points per game so far at the free throw line. Given its size advantage in the frontcourt, look for the Hoosiers to try to go inside frequently to exploit mismatches.
Louisiana Tech is an effective offensive team in transition that doesn't turn the ball over. The Bulldogs rank in the 67th percentile nationally in offensive efficiency in transition according to Synergy Sports and are turning the ball over on just 13.8 percent of their possessions, which ranks 11th nationally.
WHAT IT COMES DOWN TO
The KenPom projection is Indiana by 10 with an 82 percent chance of victory and the Sagarin ratings like the Hoosiers by 10.5. The Vegas line, as of Sunday evening, favors Indiana by 11.
This is the third of four games for Indiana in its exempt tournament that will wrap up Saturday with South Dakota State in Bloomington.
After a November slate that has yet to present a formidable challenge, Louisiana Tech has the pieces and the experience to give Indiana a game. Bracey is a challenging cover in the backcourt and right now, Louisiana Tech looks like the second best team in Conference USA.
Indiana is coming off of two straight strong performances against Troy and Princeton and should have its full complement of guards available for the second straight game. With better competition coming to Bloomington this week and just a little over a week until the Big Ten-ACC Challenge, we're about to find out what this group of Hoosiers is made of.
(Photo credit: LaTechSports.com)
Filed to: Louisiana Tech Bulldogs