Big Ten Power Rankings: Preseason edition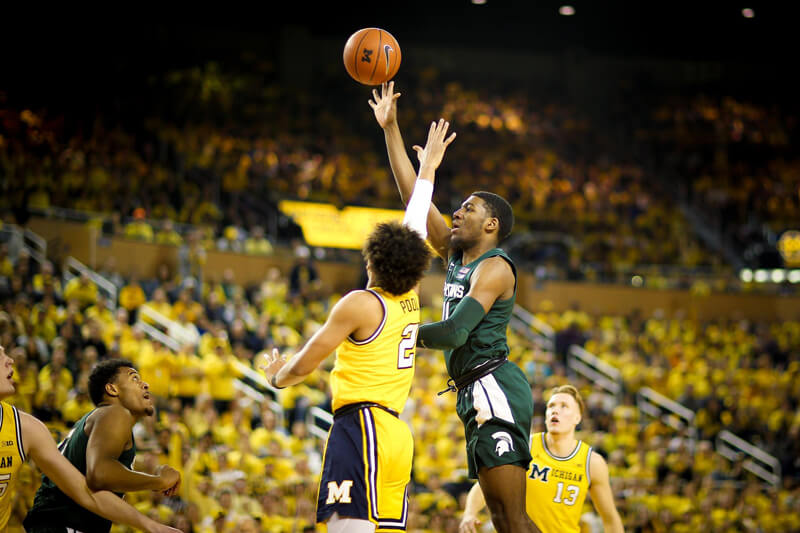 The start of the college basketball season is less than two weeks away and it is time for our preseason Big Ten power rankings.
Before we dig into our projections, here's a look at an aggregate table of preseason projections put together last month by UMHoops that includes data from several preseason magazines:

With all league teams beginning exhibition play next week, here's our current forecast for this season's Big Ten race:
14. Northwestern
KenPom preseason ranking: 87
KenPom projected Big Ten record: 6-14
As impressive as Northwestern making the NCAA tournament back in 2017 was, that season is now a distant memory. Chris Collins has a lot of work to do to get the Wildcats back into the mix in the Big Ten and this season looks like a rebuilding effort after Vic Law and Dererk Pardon both graduated.
13. Nebraska
KenPom preseason ranking: 96
KenPom projected Big Ten record: 5-15
We know little about the rotations that Fred Hoiberg will deploy in Lincoln, but the Huskers will be an uptempo team that should be fun to watch. Nebraska returns basically nothing from last year's team, but given how quickly Hoiberg turned things around at Iowa State, the Huskers should be moving up the conference hierarchy soon.
12. Minnesota
KenPom preseason ranking: 81
KenPom projected Big Ten record: 6-14
Minnesota has a solid sophomore duo in Daniel Oturu and Gabe Kalscheur, but the lack of a proven point guard is a major question mark. Minnesota also got tough news recently as Eric Curry suffered a season-ending knee injury.
11. Rutgers
KenPom preseason ranking: 63
KenPom projected Big Ten record: 8-12
The Scarlet Knights are no longer the league's doormat, which is a huge credit to the job Steve Pikiell has done over the last three seasons. Rutgers has been a top 50 defensive team nationally the last two seasons and if the offense continues to improve, this could be an NIT team.
10. Penn State
KenPom preseason ranking: 43
KenPom projected Big Ten record: 10-10
Lamar Stevens will put up major numbers once again, but it is hard to predict more than mediocrity for the Nittany Lions until proven otherwise. This will be the ninth season at the helm for Pat Chambers and Penn State has two postseason appearances in his tenure (CBI in 2014, NIT in 2018).
9. Iowa
KenPom preseason ranking: 41
KenPom projected Big Ten record: 10-10
Is Jordan Bohannon going to play? It is a question that we still don't have answered and until we do, it is hard to forecast where Iowa belongs in Big Ten projections. Joe Wieskamp looks primed for a breakout sophomore season, but Bohannon is the engine that makes the Hawkeyes go. If he's healthy and able to play, Iowa could be an NCAA tournament team.
8. Indiana
KenPom preseason ranking: 34
KenPom projected Big Ten record: 10-10
Indiana is another team that is difficult to project because of uncertainty surrounding an injury. Redshirt freshman Jerome Hunter, who missed all of last season due to an undisclosed leg injury, has been cleared and played 14 minutes in the team's closed scrimmage against Marquette. The health of Rob Phinisee and Devonte Green is also worth watching. Neither player in the Hoosier Hysteria scrimmage or the team's closed scrimmage against Marquette last Sunday.
7. Illinois
KenPom preseason ranking: 35
KenPom projected Big Ten record: 10-10
We didn't buy Illinois in the offseason and KenPom's computer also has questions about the Illini. The returning nucleus is very good with Ayo Dosunmu, Trent Frazier and Giorgi Bezhanishvili, but will any of the problems on defense be fixed?
6. Wisconsin
KenPom preseason ranking: 45
KenPom projected Big Ten record: 9-11
Perhaps we are too high on the Badgers after the graduation of Ethan Happ, but there's still plenty to like about this roster. The junior trio of D'Mitrik Trice, Brad Davison and Nate Reuvers has a ton of experience and Wisconsin owned the league's best defense last season.
5. Michigan
KenPom preseason ranking: 21
KenPom projected Big Ten record: 11-9
Juwan Howard still hasn't revealed anything about the style the Wolverines will play, but Zavier Simpson is one of the best point guards in the country because of his ability to impact games defensively. The wrist injury to Franz Wagner is a concern, but he's expected to be back by the time league play rolls around.
4. Purdue
KenPom preseason ranking: 7
KenPom projected Big Ten record: 14-6
The Boilermakers are KenPom's second pick in the Big Ten, which is a bit surprising given the loss of Carsen Edwards. However, Matt Painter has successfully overcome the losses of several key starters in past seasons, which is a testament to Painter as a coach and the program's ability to develop players.
3. Maryland
KenPom preseason ranking: 16
KenPom projected Big Ten record: 11-9
The Terps are probably the league's second most talented team and will go seven or eight deep easily. If Anthony Cowan can improve his efficiency offensively and Jalen Smith takes a major leap forward as a sophomore, Maryland could be a factor in the Big Ten title race.
2. Ohio State
KenPom preseason ranking: 11
KenPom projected Big Ten record: 13-7
The Buckeyes beat Louisville 80-69 in a scrimmage last week, but freshman point guard DJ Carton reportedly went down with an ankle injury in the process. Fortunately for Chris Holtmann, Ohio State can be cautious with Carton as CJ Walker is more than capable of playing a bulk of the point guard minutes.
1. Michigan State
KenPom preseason ranking: 1
KenPom projected Big Ten record: 16-4
Michigan State is still the clear favorite to win the league, but the loss of Joshua Langford is a significant blow in the backcourt. Look for freshman Rocket Watts to take on a bigger role with Langford out of the lineup until at least January. Despite the loss of Langford, Tom Izzo still boasts three of the league's top 15 players in Cassius Winston, Xavier Tillman and Aaron Henry.
Filed to: Big Ten Power Rankings