Announcement primer: 2020 guard Anthony Leal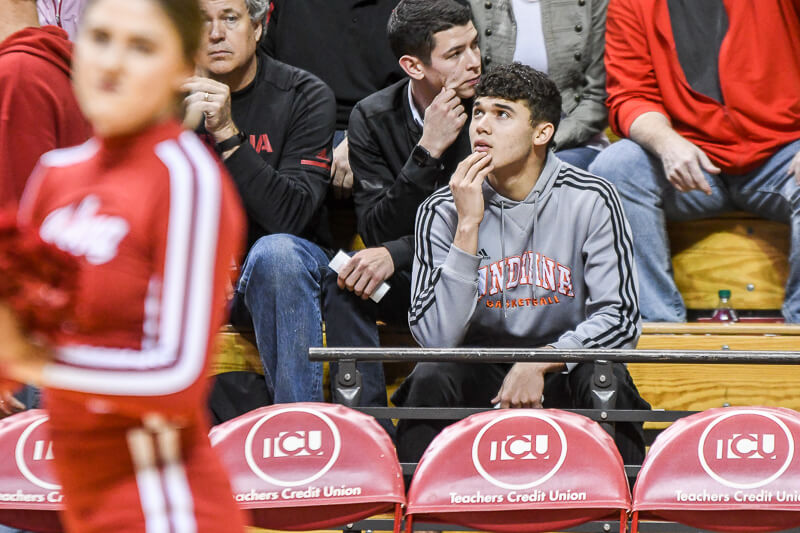 On Friday, class of 2020 Bloomington South guard Anthony Leal will announce his college decision. The announcement is expected to come at approximately 4:30 p.m. ET via Leal's Twitter account.
Here's our primer for the announcement with everything you need to know:
The essentials
Guard, 6-5, 200-pounds, Bloomington South, Indiana Elite
247Composite: 4-star (96); 247Sports: 4-star (113) ESPN: (NR); Rivals: 4-star (113)
Numbers to know
Averaged 19.9 points per game as a junior at Bloomington South as the Panthers finished 24-4 and advanced to the Class 4A semi-state. Leal was one of six players to be named to the core Indiana junior all-stars. On the adidas Gauntlet circuit for Indiana Elite, he shot 50.9 percent on 2s and 35.3 percent on 3-pointers, according to Open Look Analytics.
The primary contenders
Leal amassed a strong list of scholarship offers over the last year including Indiana, Stanford, Ohio State, Northwestern, Butler, Xavier, Iowa, Maryland, Evansville, Toledo and Bradley. Rather than trimming his list to a large number of schools, which seems to be a common trend in recent years, Leal went to a final two of Indiana and Stanford on July 25. On Tuesday, Leal revealed that he would announce his decision on Friday, August 9.
· The Indiana recruitment: The Indiana coaching staff has put a heavy emphasis on landing the best in-state prospects and with a few exceptions, the Hoosiers have dominated recruiting inside the state borders since March of 2017. Since taking over the job two years ago, Archie Miller has landed Romeo Langford, Trayce Jackson-Davis, Rob Phinisee, Damezi Anderson and Trey Galloway. With Leal, Indiana kept a close eye on him since his sophomore year at Bloomington South and extended a scholarship offer in late April following the lone spring evaluation period. There is a ton of familiarity with IU for Leal as both of his parents work at the school and he has been on campus numerous times throughout the years.
· The Stanford recruitment: Academics are a huge focus for Leal and in that regard, it is hard to top the Cardinal. Leal took a junior year official visit to Palo Alto back in the spring after landing a scholarship offer last winter.
The timing
Leal could have opted to extend the process and take fall official visits, but with the school year starting at Bloomington South and a senior season to prepare for, is opting to make his decision now and focus on his final year of high school. Given that July recruiting is now in the rearview mirror, this is the time of year when many prospects begin to announce list cuts, schedule visits and make decisions.
The fit
· At Indiana: It is no secret that Indiana has struggled with its perimeter shooting the last two seasons and while Leal can be streaky, he is an above average shooter who can space the floor. Beyond basketball, there is value in attending IU as a prospect from inside the state. Many former IU players have gone on to have successful careers in business and other fields after graduation.
· At Stanford: Coach Jerod Haase is entering his fourth season at the helm and hasn't had much success thus far. Stanford is just 48-49 thus far under Haase and it is clear the Cardinal need to upgrade their talent to move up the hierarchy in the Pac 12. Leal would give the Cardinal a top 100 recruit to start building out its 2020 class, which currently does not have a commitment.
The player on both schools
· On Indiana: "It's a blessing. It's so special to know that they believe in me. It was mostly just a conversation about how they admire what I have to offer as far as shooting the ball, competing and winning. They emphasized that to be able to do what they want to do at IU, they're going to need shooter on their team. They really emphasized that and how I could fit in there." – Leal to Inside the Hall after landing a scholarship offer from the Hoosiers.
· On Stanford: "I'm in great contact with their head coach and their assistant coaches. I'm working on the application right now because you have to be accepted by admissions before the scholarship can actually mean anything, so I'm doing that. I've been talking with their coaches. I've been getting closer with Tyrell Terry, who is a good friend of mine." – Leal to Brian Snow of 247Sports.
Leal highlights
How to follow the announcement
The best way to follow will be via Leal's Twitter account – anthonyl3al. We will also post any pertinent updates on our Twitter account.
In closing, please remember to adhere to the comment standards that have been set forth over the past 12 years here on Inside the Hall regardless of the outcome of Leal's decision.
Filed to: