6-Banner Sunday: Summer recruiting heats up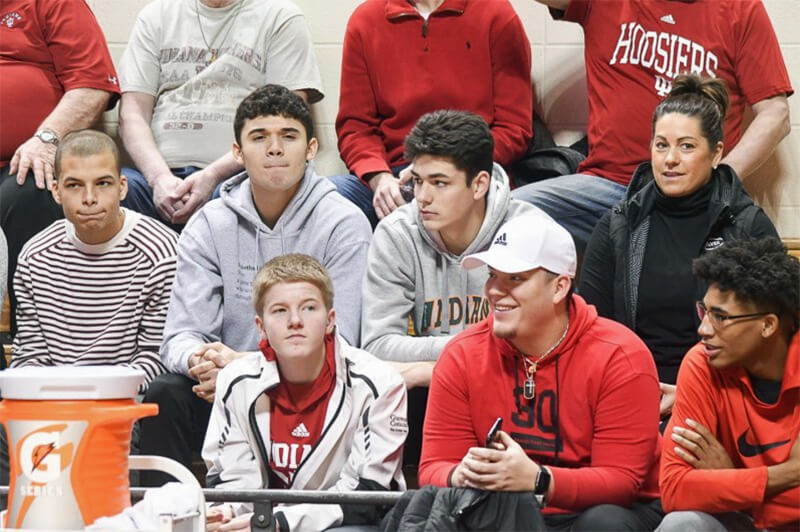 6-Banner Sunday is Inside the Hall's weekly newsletter in partnership with The Assembly Call. More than 6,500 Indiana fans receive the newsletter each week. In addition to appearing each week on the site, you can also opt to receive 6-Banner Sunday by email. A form to subscribe via email is available at the bottom of this week's 6-Banner Sunday.
Welcome to another edition of 6-Banner Sunday, a joint production between The Assembly Call and Inside the Hall where we highlight where we highlight the five most essential IU basketball stories of the past week plus take a look at how the other IU sports teams are doing.
In this week's edition:
• IU stays active on recruiting front
• AC Radio: Galloway scouting report & commitment reaction
• Phinisee ready to drive the bus
• Jordan Sperber on Podcast on the Brink
• Morgan signs Exhibit 10 contract
• Hoosier Sports Roundup
Banner #1
IU stays active on recruiting front
After adding Trey Galloway to its 2020 recruiting class last week, Indiana has remained active in recruiting players from Indiana and elsewhere. Class of 2020 combo guard DJ Steward narrowed his list of school choices to eight this week, including Indiana among Illinois, DePaul, North Carolina, Duke, Iowa State, Louisville, and Kentucky.
The Hoosiers also extended a scholarship offer to 2021 big man Javonte Brown-Ferguson, a bruising 6-foot-11 Canadian center playing his high school ball in Baltimore.
Meanwhile, Corey Evans of Rivals.com took the temperature of seven 2020 prospects, including IU targets Matt Cross and Anthony Leal.
Banner #2
Trey Galloway scouting report and commitment reaction
Galloway's announcement a week ago was a major development for the IU basketball program – he is the first player in his class to commit to the Hoosiers – and therefore received similarly major coverage from the Assembly Call Radio crew, who spent nearly an hour diving into the implications of the addition and how Galloway might fit into IU's rotation.
The show also includes Jerod's Banner Moment and the panel's favorite stories from the past week, as well as a series of listener questions.
Subscribe and listen to every episode of the Assembly Call here.
Banner #3
Phinisee ready to 'drive the bus'
Last month, Rob Phinisee fired off a simple tweet: "Let me drive the bus." This week at the Athletic, Dustin Dopirak shed light on the meaning of Phinisee's message, the role he could play next season, and the mindset of a young man stepping into the driver's seat.
From his rapid burst on the scene to an untimely concussion to Phinisee's background as a player, Dopirak winds through Phinisee's unusual freshman year, identifies what the point guard must do to improve as a sophomore, and examines why he might be uniquely suited to make those improvements.
Banner #4
Jordan Sperber on Podcast on the Brink
On this week's episode of Podcast on the Brink Jordan Sperber, one of the best basketball analysts alive, joins Jerod Morris and Alex Bozich to discuss a wide range of topics, including the role of analytics in basketball analysis, what he's seen on the court from Indiana, the nuances of three-point defense, and much more.
Sperber also runs the Hoop Vision HQ newsletter and owns one of the most insightful basketball-related accounts on Twitter. Follow him to improve your knowledge of the game, and subscribe to every episode of Podcast on the Brink to stay up to date on the most important IU basketball news and analysis.
Banner #5
Morgan signs Exhibit 10 contract
The Utah Jazz signed Juwan Morgan this week to an Exhibit 10 contract – a one-year minimum deal with no compensation protections. Morgan played well for Utah's Summer League team and has a chance to stick on the NBA roster, or else the franchise's G-League affiliate.
This doesn't guarantee Morgan an NBA roster spot, but it essentially promises him a training camp invitation. Should the Jazz cut him prior to the season, he'll become an unrestricted free agent and not be entitled to $1.5 million that comes with a minimum deal.
While his jumpshot is the most important swing skill for Morgan, it won't necessarily make or break his NBA career. Given the proliferation of shooting threats in the NBA over the last half-decade, most teams can place at least four shooters on the floor at a given moment, which would allow the Jazz to theoretically configure lineups with Morgan as the only non-threat on the court.
We're a long way from projecting his place in a potential title contender's rotation, but Utah would be an interesting place for Morgan to try and make it work.
Banner #6
Hoosier Sports Roundup — yet again, more swimming success
This content was contributed by Aaron Shifron (twitter @ashifron).
For the fourth week in a row, Swimming and Diving competed in a major off-season meet. Outside of that, a few other stories occurred and the Hoosiers are just one week away from their first games of the athletic season.
• IU Men's Swimmers and Divers medaled at a major event yet again as Zach Apple and Blake Pieroni won a second gold medal at the FINA World Championship. Also Andrew Capobianco won a bronze at the Pan Am games.
• On the women's side, former IU star and Olympic Champion Lily King was victorious again and received a second and third gold medal at the FINA World Championship.
• Men's Soccer's Jack Maher was placed on the MAC Herman Trophy watch list. This award was won by former Hoosier Andrew Gutman last year and goes to the top player in college soccer.
• Men's Golf had several players named All-American Scholars.
• Cross Country and Track and Field had their recruiting class grow. The women added 17 recruits while the men got 14.
Thanks for your continued support for The Assembly Call. We'll be back next weekend with a new roundup.
Now go enjoy yourself a 6-banner Sunday.
Filed to: