NBPA Top 100 Camp Q & A: Dawson Garcia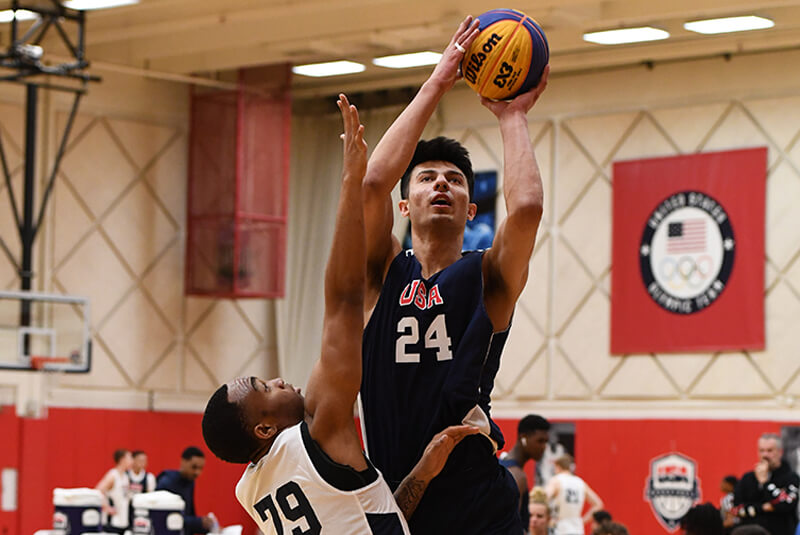 Prior Lake (Minn.) and D1 Minnesota center Dawson Garcia is one of the top frontcourt prospects in the country in the class of 2020.
The 6-foot-11 big man is rated the No. 29 prospect nationally in the latest 247Composite rankings and has a slew of high major schools chasing him, including Indiana.
Inside the Hall caught up with Garcia last week at the NBPA Top 100 Camp in Charlottesville, Virginia to get his thoughts on the Hoosiers and much more.
Our full Q & A is available below:
Recruiting-wise, who's the most involved with you right now?
"Honestly, all the schools that have offered me have been doing a great job of recruiting me so far, as well as the ones that are showing interest."
What's Indiana's pitch been to you so far?
"They've had players in the past that play the way I do, and they were able to have success at the next level."
Is that a school you could see yourself going to?
"Yeah, for sure."
What do you like most about them?
"I like the coaching staff a lot. I'm probably going to take a visit soon there, just kind of check out the facilities and all that."
What coaches are you talking to most from Indiana?
"Probably Archie (Miller) and (Tom) Ostrom."
Where have you been and where do you plan on going?
"So far, I've been to Marquette, Texas, Baylor, taken some to Minnesota, of course. I don't have any planned right now, but definitely in the future, I'll probably talk that out with my parents sometime soon."
Where do you want to get to (for a visit)?
"I don't know yet. I'm still talking it over with my parents and all that."
Do you have a timeline for a decision?
"No. I don't have a specific timeline, but we'll see. Maybe in the fall or something like that."
Have you heard from Michigan since Juwan Howard got the job?
"I've heard from coach (Saddi) Wash(ington) a lot, he's been texting me, calling me here and there. But I haven't heard from coach Howard yet."
Is that a school you're going to be interested in?
"Yeah, definitely. It's a great program."
What's the appeal of staying home in Minnesota?
"Well, obviously, being close to my family and all that. They can go to all my games as well as I can really go to the gym whenever I want, play open runs, just kind of being with the coaches. So it's just cool that it's close to my house and all that. They've been having some success here in the past couple years, so that's appealing as well."
What are you trying to get out of an experience like this (at the NBPA top 100 camp)?
"I'm just trying to be the best version of myself. Come out here, show people what I can do and help my team win."
And what are you working on the most right now in your game?
"When I get back, I'm going to be in the weight room a lot. Just getting bigger, stronger, faster, all that."
What are you hearing from Texas?
"I'm not hearing from them as much lately. I hear from Neill Berry once in a while, but I'm not hearing from them as much lately. But I'm still definitely very interested in them."
Filed to: Dawson Garcia