Indiana All-Stars dominate Kentucky to complete sweep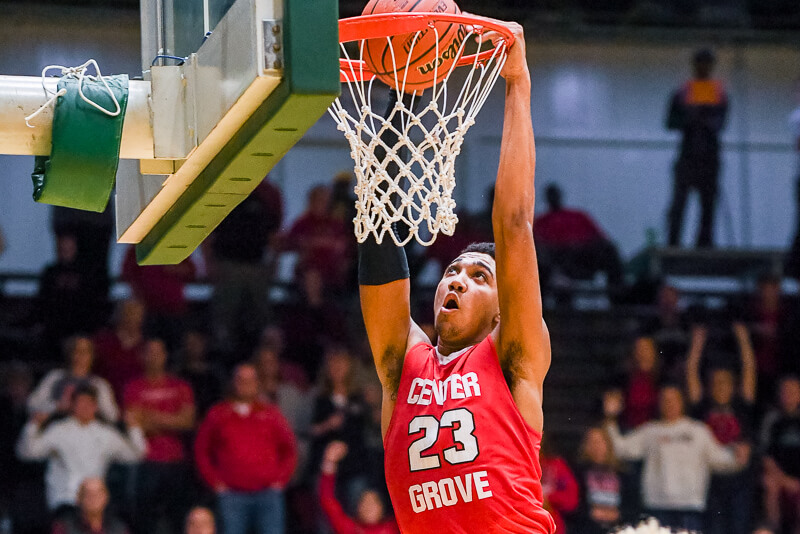 INDIANAPOLIS — IU basketball commit Trayce Jackson-Davis constantly found himself in the air, head and shoulders above every other player on the court at Bankers Life Field House Saturday night.
The Center Grove product's high-flying act began early on in the second contest of the two-game series between the Indiana and Kentucky All-Star teams. On one of the first possessions of the game, Lawrence Central's Jake LaRavia wormed his way into the paint and floated up a one-handed alley-oop lob that was quickly met by the awaiting palms of Jackson-Davis for a two-handed slam.
Less than a minute later, Jackson-Davis was now on defense, hovering in the air yet again as he effortlessly swatted away Reid Jolly's futile attempt of a floater out of bounds.
That was the beginning of a profound performance for the 2019 Indiana Mr. Basketball, finishing with 17 points, eight rebounds and three blocks and leading the Indiana squad to a 120-74 blowout victory, securing the series sweep over their Kentuckian counterparts.
"I think everybody plays off of Trayce when he plays the way he's capable of playing," Indiana coach Criss Byers of Warren Central said. "He had played that way Monday and Tuesday in practice and I texted Archie (Miller) and Tom (Ostrom) told them how active he was, how athletic he was and what a great job he had been doing for us."
Indiana pushed the lead to double digits early in the first half and never let Kentucky mount much of a comeback from there.
Jackson-Davis served as the cog in the middle of everything Indiana did on both sides of the floor, leading the way with 11 points, eight rebounds and two blocks by halftime.
Meanwhile, Jackson-Davis' fellow IU commit in Armaan Franklin of Cathedral High School walked out on the floor to start the game with his future Hoosier teammate but just saw shorts spurts of playing time from there. Despite struggling to get much of an offensive rhythm going early on, Franklin still managed to hound Kentucky's guards on defense with his noticeable quickness and nailed a big three-pointer with 30 seconds left to give Indiana a 49-36 lead at the half.
From there, Jackson-Davis, Franklin and the other starters got a bit more rest after blowing the lead open to over 30 points early in the second half. Despite the limited time on the court to close out the night, it didn't faze Jackson-Davis as he led a chattering of cheers for his teammates from the bench, screaming in celebration after Jalen Windham managed to score five straight points before a timeout and when Ben Davis' 300-pounder in Dawand Jones got loose for a goal-rattling dunk.
"Their director said this was their best team in 20 years, so that put a chip on our shoulder and we just kept saying we were just as good as them," Jackson-Davis said. "We wanted to bring it to them and I think that really brought us energy and how we play together as a team."
While Jackson-Davis' big night spurred the victory for the Indiana squad, Franklin finished with seven points, four rebounds and four assists of his own.
Windham, a Creighton commit was next for Indiana with 16 points, followed by Carmel's John Michael Mulloy, a Butler commit, with 12 as the team's 46-point victory marked the second largest deficit the Indiana All-Stars had ever won by.
"Last night, I think we caught them off guard," Jackson-Davis. "But I think tonight proved we were the more-prepared team. It showed all the work we've been putting in in practice paid off."
Filed to: Armaan Franklin, Trayce Jackson-Davis