6-Banner Sunday: Miller speaks at Huber's, freshmen arrive on campus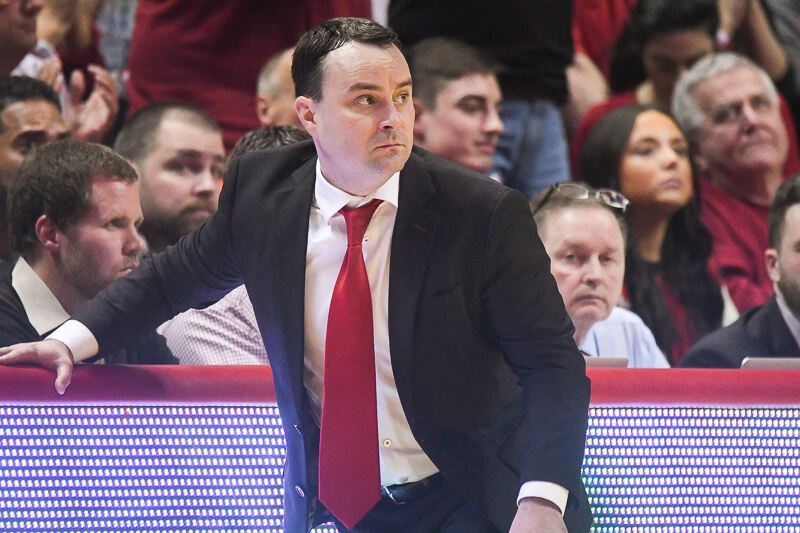 6-Banner Sunday is Inside the Hall's weekly newsletter in partnership with The Assembly Call. More than 6,500 Indiana fans receive the newsletter each week. In addition to appearing each week on the site, you can also opt to receive 6-Banner Sunday by email. A form to subscribe via email is available at the bottom of this week's 6-Banner Sunday.
Welcome to another edition of 6-Banner Sunday, a joint production between The Assembly Call and Inside the Hall where we highlight where we highlight the five most essential IU basketball stories of the past week plus take a look at how the other IU sports teams are doing.
This time of year marks (roughly) the beginning of the upswing that leaves last season behind and begins to focus attention on next season. New coaches have been hired, most transfers have made their decisions, and some new faces have arrived on campuses. Official workouts and practices haven't yet begun, but the time to start working has.
This week, new faces have gotten into the gym while familiar ones decided to come back. Two notable alumni could take big steps forward, and Archie Miller even dispensed some insight into the state of the program.
In this week's edition:
• Archie Miller addresses fans, media at Huber's
• Freshmen begin preseason workouts
• Assembly Call Radio: Draft stocks & play styles
• Board of Trustees voting opens
• Anunoby eyeing NBA Finals return and Juwan Morgan add to his workout schedule
• Big Ten title for IU Baseball and other happenings across athletics
Banner #1
Miller addresses fans, media at Huber's
Archie Miller spoke to fans and media last Wednesday at Huber's Winery, discussing the state of the Hoosiers and looking ahead to next season. Chief among the topics he addressed was the remaining two scholarship spots Indiana has on its roster, which Miller says the team plans on using to expand its 2020 recruiting class. He added that IU would only add to its current roster if it could find "an impactful player."
"We're going to be very smart," Miller said. "To have a bigger 2020 recruiting opportunity is very exciting to us."
Miller also said that redshirt freshman Jerome Hunter, who missed all of last season with a leg condition, has made progress in his recovery but is "far, far away from any final decision" regarding his status for next season.
As for the two most important players Indiana lost this offseason, Miller briefly discussed the NBA futures of Juwan Morgan and Romeo Langford, speaking highly of each's character and the opportunity the two players will have to contribute at the next level.
"Juwan had a great two-year run with us in terms of his productivity," Miller said. "He'll be greatly missed, but that's a great opportunity for other guys to step up.
"Romeo's freshman season, although everyone wants to nitpick it apart, he did some amazing things. His productivity stacked up against the college basketball world really looks good."
For more analysis on Langford and Morgan's pro prospects and Miller's comments at Huber's, tune into this week's episode of Podcast on the Brink.
Banner #2
Freshmen begin preseason workouts
As two centerpieces of IU hoops depart for the NBA, two potential new ones arrived on campus.
Trayce Jackson-Davis and Armaan Franklin, the first and fifth-ranked in-state recruits in the class of 2019, began offseason workouts earlier this week, per the IU Basketball Twitter page. Neither Miller nor any of their teammates appeared to be present in this video, but the fact that the two newcomers have begun getting summer work in serves as an exciting reminder of next season's eventual arrival.
IU strength coach Clif Marshall has become well-known for developing players' bodies in short order during offseasons. And while both Franklin and Jackson-Davis enter their college careers seemingly able to compete physically in the Big Ten, refining and increasing their strength and conditioning will bode well for their fitness in both the short and long terms.
Both freshman ought to have an opportunity to make impacts early in their careers. Franklin could contribute earlier than expected due to his ability to shoot and space the floor, while his size should allow him to fit into three-guard lineups alongside IU's returning backcourt members. Jackson-Davis, meanwhile, will compete for minutes in a crowded frontcourt but has the skill and instincts to fit next to other bigs – even if it compromises the team's spacing.
Banner #3
Assembly Call Radio: Draft stocks & play styles
On this week's Assembly Call Radio, Jerod Morris and Ryan Phillips were joined by Assembly Call and Inside the Hall intern Ben Ladner to discuss Miller's appearance at Huber's, evaluate Langford and Morgan's draft stocks, and answer listener questions.
Over the course of an hour, the three break down the strengths and weaknesses of IU's potential draftees, go into which styles of play are most effective to win at the highest levels of college basketball, and recall their favorite games in Assembly Hall.
Subscribe and listen to every episode of the Assembly Call here to stay up to date with the most important IU basketball news and analysis.
Banner #4
Voting opens for Board of Trustees election
Voting is underway for the open slot on the IU Board of Trustees. You can cast your ballot and read our candidate statements online here:
https://dataforms.iuf.iu.edu/trustee-election/vote
Banner #5
Anunoby eyeing NBA Finals return
The Toronto Raptors protected their home court in Game 1 of the NBA Finals and will hope to do the same on Sunday night. And while OG Anunoby has yet to play in these playoffs due to an emergency appendectomy, he told media ahead of Game 1 that he hopes to return to the court sometime during the Finals.
Anunoby's size, length, and defensive intelligence could prove crucial against Golden State's constant flow of cuts, screens, and jumpers, particularly if Kevin Durant returns during the series or Kawhi Leonard remains hobbled. But whether the second-year forward can contribute in that sort of role remains to be seen.
Already a creaky offensive player, Anunoby will undoubtedly have rust to shed, and the NBA Finals are no time to play one's way back into shape. Expect Nick Nurse to give Anunoby a go as soon as he can, but with a willingness to pull the plug early if necessary.
Meanwhile, on the NBA Draft front, Juwan Morgan added workouts with several teams to his schedule ahead of the draft. While it would come as a surprise if Morgan heard his name called on draft night, it would also be shocking if he weren't an NBA Summer League participant in July and G-League player next season.
Morgan is one of the smartest and most skilled bigs in the draft class, and even categorizing him as such sells short his versatility. Still, the jumper remains the key for Morgan. Improving his jump shot and organizational fit will make the difference in when his NBA career takes off.
Banner #6
IU Baseball in NCAA Tournament and other news.
This content was contributed by Aaron Shifron (twitter @ashifron).
This week is highlighted by IU Baseball competing in the NCAA tournament and fighting for their proverbial lives at the time of this publication. However, several other stories happened across IU Athletics as well.
• For baseball, IU headed to the NCAA tournament in the Louisville Regional. Assembly Call is on site all weekend with coverage and those with a subscription to the Assembly Call Community can read about it. IU lost the opener to Illinois State 8-7 before rebounding with a 9-5 win vs. Illinois-Chicago on Saturday to move onto another elimination game on Sunday at 12pm against the loser of Illinois State and Louisville.
• Men's and Women's Track and Field sent nine more athletes to the NCAA Championship last Sunday. Also Coach Ron Helmer was named Men's Coach of the Year for Great Lakes Region.
• Rowing competed on day one and two of the NCAA Tournament.
• Football announced a change in its ticket pricing structure and released several kickoff times for next season.
• Women's Soccer announced the addition of two recruits this week.
• Men's Soccer announced its schedule for next year.
• Field Hockey added a new assistant coach this week.
• Wrestling prepares for the U23 Nationals and had an athlete make the Greco World Team.
• Women's Tennis added a grad transfer.
• IU announced 117 athletes earned All-Academic Honors this spring for Big Ten.
And with that, the joy of hanging Banner #6 is now one week closer.
Thanks for your continued support for The Assembly Call and Inside the Hall. We'll be back next weekend with a new roundup.
Now go enjoy yourself a 6-banner Sunday.
Filed to: