NBA draft combine rewind: Romeo Langford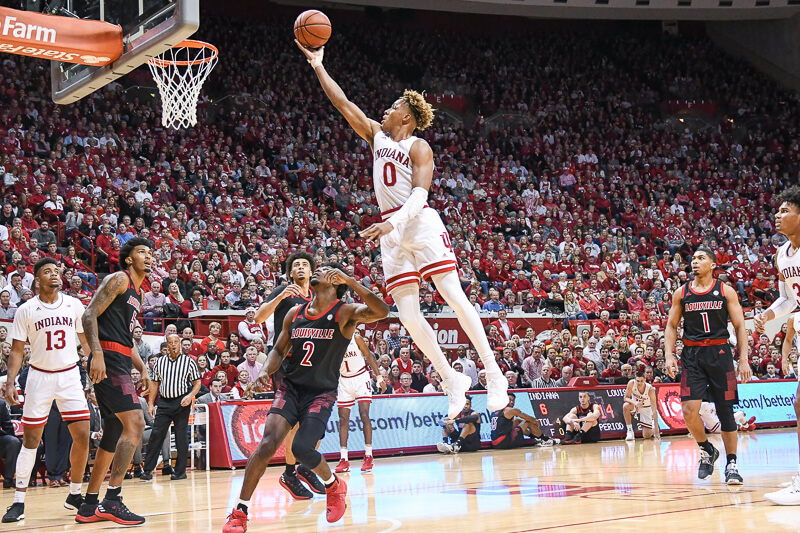 Indiana guard Romeo Langford, a potential lottery pick in next month's draft, attended the NBA draft combine in Chicago over the weekend.
Langford, who is still wearing a cast on his right hand, didn't participate in much outside of getting some measurements and interviewing with teams and media.
Here are Langford's official measurements from the combine:
Hand length (inches): 9
Hand width (inches): 9
Height without shoes: 6'4.5″
Height with shoes: 6'6″
Standing reach: 8'7″
Wingspan: 6'11"
Langford did not have his weight or body fat measured, according to the NBA's database.
Here's a roundup of some of the interviews Langford did at the combine:
Romeo Langford (@IndianaMBB) discussed the injuries that have kept him out at the #NBACombine and how soon he will get back to action. #Hoosiers pic.twitter.com/z9iS96THgi

— Stadium (@Stadium) May 17, 2019
Breaking down film at the NBA Draft Combine with Indiana's Romeo Langford. pic.twitter.com/p2g92s5bPg

— Mike Schmitz (@Mike_Schmitz) May 17, 2019
Rod Beard of The Detroit News profiled Langford, who could be a potential target for the Pistons at No. 15:
Before his freshman season, Langford was regarded as one of the top NBA prospects in the country. But with Indiana's struggles and the thumb injury — in addition to a back injury that has gotten better — there are questions about whether those early projections were a mirage or whether he might be one of the hidden gems in a draft stocked with wing options.
David Wilson of The Miami Herald also took a closer look at Langford, who could be a potential target for the Miami Heat at No. 13:
Another focus of his in his one college season was to prove himself as a defender. Coach Archie Miller, Langford said, challenged him to be one of the best two-way players in the Big Ten Conference and let him guard some of the league's top wing players all season.

Langford measured in at 6-foot-4 1/2 without shoes and his 6-11 wingspan was the second longest measured among guards at Quest Multisport. He has the physical tools to guard guards and small forwards if he can refine some of his defensive technique.
Alex Kennedy of HoopsHype.com also spoke with Langford in advance of the combine for a Q & A, which is definitely worth a read:
There were some people who questioned your motor or aggressiveness last season. Teams will likely ask you about that since it's been mentioned. What's your response for people who say that?

RL: I mean, I don't do all of that extra yelling and stuff that most people with "great motors" do, I guess. But once you're on the court and once you play against me, you'll see how much of a motor I have and how hard it is to guard me and how hard it is just to keep up with me on the court. You'll realize that I am very active. Also, my teammates all know about my motor, with how much I practice and how much work I put in during game and practices.
Filed to: Romeo Langford