IU basketball's APR score rises in Miller's first season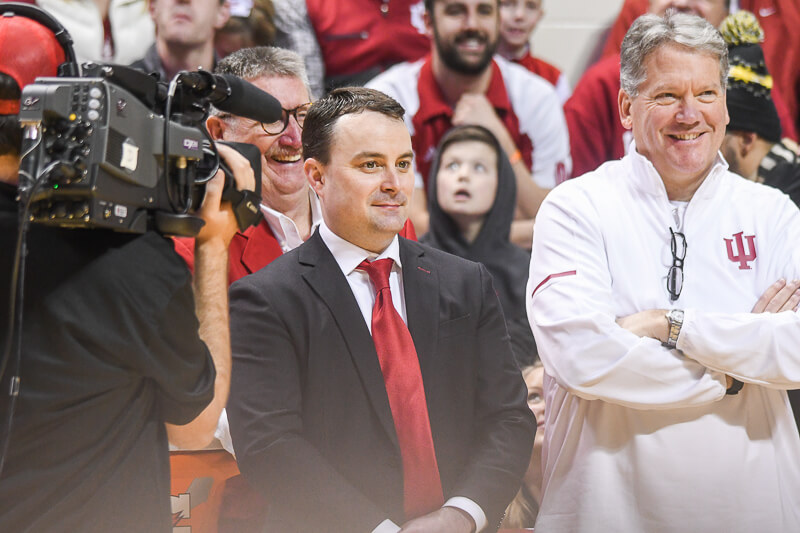 After falling for three consecutive years, Indiana basketball's multi-year Academic Progress Rate (APR) rose slightly for the 2017-18 academic year.
Indiana basketball's multi-year APR score released Wednesday is 944, which is up slightly from last year's 943.
The Hoosiers had a single year score of 980 for 2017-18, which is up significantly from a 920 in 2016-17. Tom Crean was Indiana's coach for the 2016-17 season and was on the job until late March when Archie Miller took over for the last several weeks of the academic year.
The multi-year score released Wednesday includes the 2014-15 and 2015-16 academic years, the 2016-17 academic year in which both coaches were on the job and Miller's first full season on the job, 2017-18.
IU basketball's multi-year APR score ranks in just the 10th to 20th percentile nationally among all men's basketball programs.
Among Big Ten men's basketball programs, Ohio State has the lowest multi-year APR score at 940. Academy Progress Rate is a real-time measure of eligibility and retention of student-athletes competing on every Division I sports team.
According to the NCAA:
To compete in the 2019-20 postseason, teams must achieve a 930 four-year APR. NCAA members chose the 930 standard because that score predicts, on average, a 50 percent graduation rate for teams at that APR level. Additionally, teams must earn at least a 930 four-year APR to avoid penalties.
Historical APR data is available in the NCAA's database. Full APR numbers for each of IU's athletic programs are available below:
IU Athletics Program – 2017-18 APR/Multi-Year APR (2014-15 through 2017-18)
Baseball: 971/974
Men's Basketball: 980/944
Women's Basketball: 1000/981
Men's Cross Country: 1000/990
Women's Cross Country: 1000/996
Field Hockey: 1000/1000
Football: 967/972
Men's Golf: 1000/1000
Women's Golf: 1000/986
Rowing: 1000/990
Men's Soccer: 990/981
Women's Soccer: 1000/995
Softball: 989/994
Men's Swimming and Diving: 1000/986
Women's Swimming and Diving: 1000/997
Men's Tennis: 971/969
Women's Tennis: 1000/1000
Men's Track and Field: 956/973
Women's Track and Field: 1000/991
Volleyball: 1000/995
Water Polo: 1000/981
Wrestling: 977/985
Filed to: Academic Progress Rate