6-Banner Sunday: Offseason now in full swing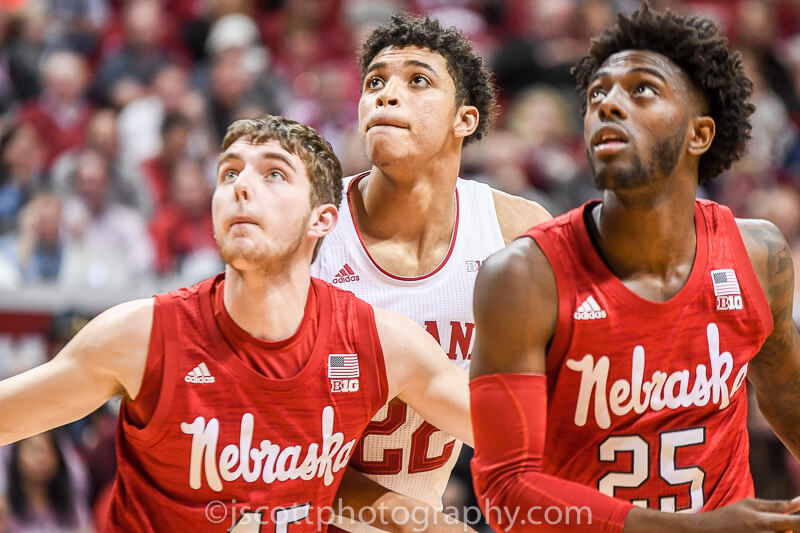 6-Banner Sunday is Inside the Hall's weekly newsletter in partnership with The Assembly Call. More than 6,000 Indiana fans receive the newsletter each week. In addition to appearing each week on the site, you can also opt to receive 6-Banner Sunday by email. A form to subscribe via email is available at the bottom of this week's 6-Banner Sunday.
Welcome to another edition of 6-Banner Sunday, a joint production between The Assembly Call and Inside the Hall where we highlight the six most essential IU basketball stories of the past week.
Indiana's offseason is nearly a week old, yet the program remains busy. Amid transfers, recruiting news, and looking ahead to next season, there is little room to rest for players, coaches, and even fans.
Recent events have left the program with flexibility moving forward, and it still has significant questions to answer before the start of the 2019-20 season.
Fortunately, this newsletter exists to catch you up on the important happenings around IU basketball. Let's run through what's happened since Indiana's season concluded.
In this week's edition:
• Moore, Blackmon to transfer
• Jackson-Davis wraps up high school career at McDonald's All-American Game
• Five questions for Indiana to answer this offseason
• IU managers headed to Final Four
• Hoosiers in the NBA
• Update on spring sports season
Banner #1
Moore, Blackmon to transfer
Both Clifton Moore and Vijay Blackmon announced their intent to transfer from Indiana this week.
Moore, who averaged one point and 1.4 rebounds in 24 games over two seasons, announced his decision and expressed his gratitude for the IU program on Twitter on Friday.
"I am grateful for my experience and opportunity to grow as a student, an athlete, and an individual here at IU," Moore said. "Thank you to the fans of Hoosier Nation. It has been an honor to be a Hoosier for the last two years."
Blackmon played just seven games in one year at IU, averaging one point per game and earning Academic All-Big Ten honors this season.
Banner #2
Jackson-Davis wraps high school career at McDonald's All-American Game
The most highly-ranked recruit of Indiana's 2019 class saw his high school season end a few weeks ago, but he was one of 24 high school players in the country selected to play in the McDonald's All-American Game in Atlanta this week.
Jackson-Davis played a game-low 14 minutes, but had seven points and five rebounds and shot 3-of-4 from the field in a 115-100 victory for the East squad. He also teamed up with Anthony Edwards for a second-half flush.
Jackson-Davis is expected to play a major role for the Hoosiers next season. Between Juwan Morgan's departure and Clifton Moore's transfer, he'll have ample opportunity to earn significant playing time.
Banner #3
Five questions for Indiana to answer this offseason
With the end of the season came the end of an era. Juwan Morgan will depart the program and leave a significant void behind him, Romeo Langford's likely exit for the NBA creates a similarly-sized hole, and the arrival of potential impact freshmen could give the Hoosiers a vastly different look next year.
Zach Osterman of the Indy Star dove into some of the most pressing questions facing Archie Miller and Indiana heading into the offseason, including who carries the team's offensive load, how the frontcourt might shape up, and whether the team's 3-point shooting will improve.
Banner #4
IU managers headed to Final Four
Although the IU men's basketball team won't be participating in this year's Final Four, the Indiana managerial basketball team has been voted to compete in the Manager Final Four tournament in Minneapolis next week, and have started a fundraiser to help cover the trip for members of the squad.
In addition to being some of the hardest-working people in college basketball, the IU managers are legitimately good at basketball. Having bested most of their opponents this season, they have established themselves as one of the best units in the nation and have a real chance to solidify their place as the premier managerial basketball team in college basketball.
Banner #5
Hoosiers in the NBA
Thomas Bryant continues to pleasantly surprise for the Washington Wizards. The center has emerged as a legitimate rotation player, and hit two clutch shots in a win over Phoenix on Wednesday.
The second-year big man's 3-point shooting has dipped after a hot start, but he remains one of the most efficient two-point shooters in the league. Check out Candace Buckner's dive into Bryant's place on the Wizards in The Washington Post.
OG Anunoby remains one of the most important X-factors going into the playoffs, which begin in just over a week. The Raptors' mysterious combo forward is still finding his rhythm and his place in the rotation, but possesses the sort of defensive versatility that could make Toronto elite on that end in the postseason, provided he can shoot well enough to justify Nick Nurse playing him major minutes.
Eric Gordon had a sizzling month of March, averaging nearly 17 points on over 45 percent shooting from deep, and will hope to carry that hot streak into April as the Rockets make another run at the conference finals.
At his best, Gordon is a dynamite third playmaker next to James Harden and Chris Paul that most opponents don't have the perimeter defense to contain. He has become a savvy driver and finisher inside and is a capable shooter off the dribble. Houston is rounding into form at just the right time; having this version of Gordon has a lot to do with it.
All stats current through March 29.
Banner #6
Update on spring sports season
contributed by Aaron Shifron
Basketball may be over, but many other IU sports are still going on. As IU likes to say: they are 24 sports. 1 team. This section provides an update on the other 23 sports besides basketball.
Baseball, Softball, Track and Field, Women's Tennis, and Swimming and Diving all competed recently:
• Baseball has had an up and down season. After starting 7-8 with a tough schedule and a struggling offense the team picked it up and won 8 straight with suddenly resurgent bats. However, the last 2 games have not gone as well and last night the offense disappeared again in a 2-0 loss to Maryland.
• Softball had a very strong start to the season with wins over powers Georgia and LSU running out to a 23-4 record. However after their pitching was really strong early they have struggled of late losing 6 of 8 before besting a struggling Michigan State team.
• Track and Field is competing in Gainesville, Florida and Stanford, California.
• Women's Tennis won 5-2 at Nebraska to improve to 13-7.
• Men's Swimming and Diving won the Big Ten Championship and sits at no. 2 in the country. Under Coach Ray Looze the program has been resurrected over the last few years to become very close to as great as under the glory days of Mark Spitz. They currently sit at third at the National Championships with one day left.
• Women's Swimming and Diving also won a Big Ten Championship and finished no. 9 nationally last week. They were led by famous Olympian and senior Lily King.
And with that, the joy of hanging Banner #6 is now one week closer.
Thanks for your continued support for The Assembly Call and Inside the Hall. We'll be back next weekend with a new roundup.
Now go enjoy yourself a 6-banner Sunday.
Filed to: