Five takeaways from Indiana's win over Arkansas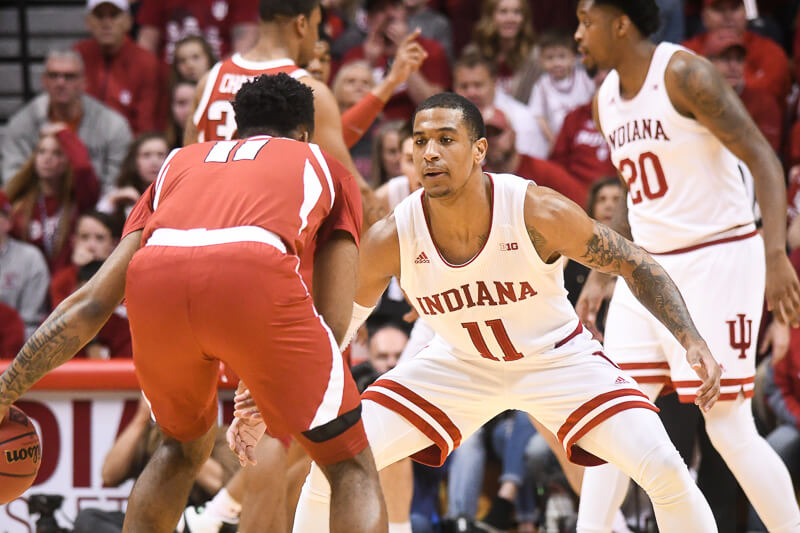 Indiana advanced to the quarterfinals of the National Invitation Tournament on Saturday with a 63-60 win over Arkansas at Simon Skjodt Assembly Hall. The win improved the Hoosiers to 19-15 overall.
Here's a look at five takeaways from the win over the Razorbacks:
· Green continues late season surge: Devonte Green is showing why he will be one of the most important pieces for next season as he concludes his junior year in Bloomington.
Green has now scored in double figures in six straight games. In Saturday's win against Arkansas, he had a double-double with 18 points and 11 rebounds.
The New York native is now shooting 41.8 percent on 3s this season and will likely finish the season as the team's third leading scorer.
"He's good. He's our most important sort of cog in the wheel right now," Archie Miller said. "He's making a lot of plays. He's shooting the ball extremely well with great confidence."
Green's play has been unsteady throughout his three seasons in Bloomington, but he deserves credit for how he's played to close out the season. With Green, Al Durham Jr. and Rob Phinisee, Miller has a solid nucleus for what could be an experienced and very effective backcourt next winter.
· Hoosier Nation shows out: After drawing just 5,431 fans for Tuesday's win against Saint Francis (Pa.), Indiana fans had a much stronger presence on Saturday.
The official attendance number on Saturday was 12,225 and it made for a solid atmosphere inside Simon Skjodt Assembly Hall. With free parking and general admission seating for $20, it marked another opportunity for many fans to see a game for the first time.
"Can't thank our fans enough," Miller said. "The environment in there was as good as we've had, the fans that are coming here want to be here, and our players really benefitted from it today."
· Indiana does a better job with Arkansas pressure: In the first meeting between the two teams in Fayetteville, Indiana committed 18 turnovers for a 23.7 turnover percentage.
Miller said handling the pressure would be a key in Saturday's rematch. Although Indiana wasn't great in terms of taking care of the ball, it was a much cleaner performance.
The Hoosiers had 13 turnovers in Saturday's win for a turnover percentage of 19.4. It was the second lowest turnover percentage for an Arkansas opponent in the last nine games for the Razorbacks.
· It might be the NIT, but credit Indiana for its continued fight: Many teams that make the NIT as No. 1 seeds bow out of the event quickly. In fact, in the last three seasons, just one No. 1 seed has advanced to the semifinals in New York City.
Indiana still has to win another game to make it to Madison Square Garden, but the Hoosiers have a chance to write a positive ending to their once promising season.
The Hoosiers are now 6-1 in their last seven games and even with Romeo Langford sidelined with a back injury, this group is engaged and looks ready to keep fighting.
"We are a game away from New York and when you are in this thing, you try to win it," Miller explained. "We will either have Clemson or Wichita State, which both teams are really good, and it'll be a really hard game on the next one, as well, but we're really thankful to win."
· Langford's status remains uncertain: Indiana's leading scorer, Romeo Langford, missed his second consecutive game on Saturday due to a back injury.
Miller said before the NIT that Langford wasn't shutting things down for the season and Langford himself said in Chicago that he intended to play in the NIT.
However, on Saturday, Miller said that Langford won't play until he "feels great" while adding that he hasn't practiced.
"He's had more doctors' appointments here in the last couple days, we're getting him some more clarity, some X-rays, some MRIs and some things just to make sure we're good," Miller said. "And I think that we feel good that he's making progress and he's feeling better. But until he says I feel great, we're not going to play."
Filed to: 2019 National Invitation Tournament, Arkansas Razorbacks