6-Banner Sunday: Hoosiers advance in NIT, Big Ten dominant in Big Dance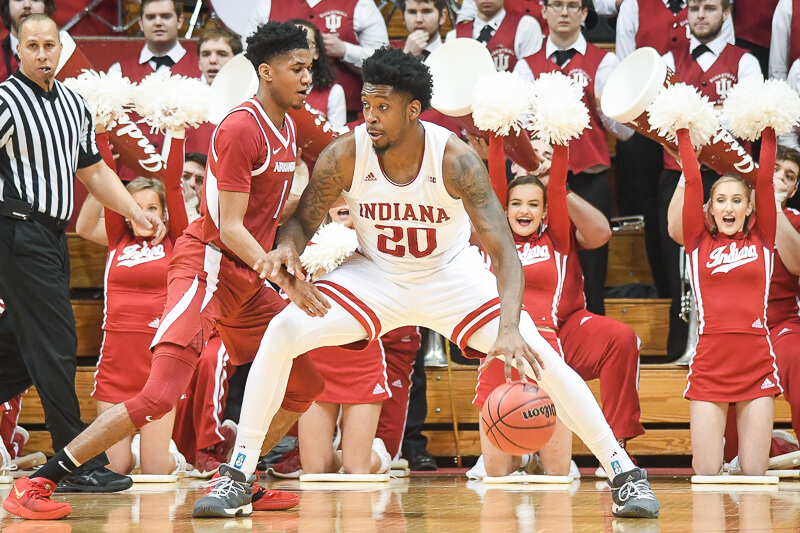 6-Banner Sunday is Inside the Hall's weekly newsletter in partnership with The Assembly Call. More than 6,000 Indiana fans receive the newsletter each week. In addition to appearing each week on the site, you can also opt to receive 6-Banner Sunday by email. A form to subscribe via email is available at the bottom of this week's 6-Banner Sunday.
Welcome to another edition of 6-Banner Sunday, a joint production between The Assembly Call and Inside the Hall where we highlight the six most essential IU basketball stories of the past week.
Despite missing the NCAA tournament for a third straight year, Indiana has a chance to cap its season off with an NIT title. And the Hoosiers moved one step closer to achieving that goal on Saturday with a nail-biting victory over Arkansas.
So even while IU isn't in the Big Dance, there is plenty going on in and around the program in late March. This is a handful of the most notable stories.
In this week's edition:
• Hoosiers keep rolling in NIT
• Big Ten thriving in March
• IU Women's basketball advances to round of 32
• 'Martha the Mop Lady' galvanizes effort to supply tickets for hundreds of IU fans
• Indiana state finals update
• Hoosiers in the NBA
Banner #1
Hoosiers keep rolling in NIT
Indiana kept its season alive for at least another three days with a 63-60 win over Arkansas on Saturday. The Hoosiers will play again on Tuesday against either Wichita State or Clemson, who face off today.
The #1-seeded Hoosiers will host the NIT quarterfinal game, making it the final game in Assembly Hall for Juwan Morgan, Zach McRoberts, Evan Fitzner, Johnny Jager, and Quentin Taylor … and perhaps Romeo Langford, if he is able to suit up.
On Saturday, the Hoosiers battled through offensive struggles to come up with timely stops and buckets down the stretch to stave off Arkansas' early and late pushes. With Langford out with a back injury for the second straight game, Devonte Green and Indiana's other guards picked up the slack.
Check out postgame reactions from Archie Miller and his players at Inside the Hall, and catch up on the Assembly Call's analysis on the postgame show.
Like Indiana, Clemson fell just outside the NCAA tournament bubble after posting a 19-13 regular season, and sits at #30 in KenPom's adjusted efficiency rankings — 17 spots ahead of Indiana. Led by Marcquise Reed, the Tigers tout one of the best defenses in college basketball and have a pair of wins over NCAA tournament teams, Syracuse and Virginia Tech. If they can beat Wichita State, they will be a formidable and battle-tested foe on Tuesday night.
Banner #2
Big Ten thriving in March
The Big Ten had an impressive showing in the opening round of the NCAA tournament, going a combined 7-1 on Thursday and Friday (Wisconsin being the only losing team). On Saturday, Michigan, Michigan State, and Purdue all won convincingly while Maryland and Minnesota were eliminated (though Minnesota's loss was to MSU).
Per BTN's John Crispin, this year is the 12th in a row that the Big Ten has sent multiple teams to the Sweet 16 — the longest active streak of any conference.
The Big Ten has been arguably the deepest and best all-around conference in America all season, and the conference solidified that claim this weekend. Michigan and Michigan State could both be national title contenders, and no one is going to want to face Purdue and Carsen Edwards after what they did to the defending champs last night.
Banner #3
IU Women's Basketball advances to round of 32
The IU women's basketball team knocked off 7-seed Texas on Friday night to earn a shot at #2 Oregon in the second round of the tournament. It was the first time since March 19th of 2016 that an IU basketball team won an NCAA tournament game.
While the Ducks ought to be heavy favorites on Sunday, Indiana has one of its best teams in years, and should be a perennial tournament team in the coming seasons. The trio of Ali Patberg, Brenna Wise, and Jaelynn Penn is one of the most formidable in the Big Ten, and all three will be back next season.
Banner #4
'Martha the Mop Lady' galvanizes effort to supply tickets for hundreds of IU fans
Over the last week, the Twitter account Martha the Mop Lady has collected and distributed tickets for IU's NIT games to fans across the state to attend games in Assembly Hall. With the assistance of Big Brothers Big Sisters of South Central Indiana and donations from IU fans, the account managed to give away 275 tickets for Saturday's game against Arkansas.
The crowd at the game was indeed dense and vociferous, as many visitors of Assembly Hall got to experience the building for the first time. For as dour as IU fans had a right to be at certain points this season, and despite the disappointment that comes with missing the NCAA tournament, the Indiana fan base has retained much of the same spirit and passion that makes it unique.
Cheers to Martha the Mop Lady for helping to spread it as far as she can.
Banner #5
Indiana state finals update
The Indiana high school basketball state finals were held at Banker's Life Fieldhouse in Indianapolis on Saturday and featured some of the top high school talent in the state.
In the Class A championship, Fort Wayne Blackhawk Christian defeated Barr-Reave, 60-43. IU target Caleb Furst scored 16 points, grabbed 10 rebounds, and dished three assists in the win.
Andrean topped Linton-Stockton, 59-54, in the 2A finals.
In the second session of the day, Silver Creek edged out Culver Academies, 52-49, in the Class 3A title game for the school's first state championship. Trey Galloway had 13 points and 11 rebounds in a losing effort while Trey Kaufman had four points, 12 boards, and six assists for Silver Creek.
In the 4A final, Carmel topped Ben Davis, 60-55, to wrap up the night's festivities.
Banner #6
Hoosiers in the NBA
As the NBA season draws nearer to the playoffs, Eric Gordon has finally rounded into form for the Rockets, averaging 18 points per game on over 45 percent shooting from deep in 10 games. Houston, who has crept into third place in the West, has lost just six games since February 1, with James Harden playing like an MVP while Gordon, Clint Capela, and Chris Paul provide high-level support.
OG Anunoby is also playing his best basketball of the season, though his play has been inconsistent all year. The sophomore's defense will keep him on the floor in the playoffs, but his tendency to go cold from beyond the arc could cause his game-to-game playing time to vacillate in the postseason. Still, Toronto has a high playoff ceiling, and lineups with Anunoby, Kawhi Leonard, and Pascal Siakam in the frontcourt could be some of the most devastating defensive units in the league.
Cody Zeller's Charlotte Hornets are not sitting quite as pretty as the Raptors or Rockets at the moment. Charlotte has fallen to 10th in the East — still just three games out of eighth — as Kemba Walker has struggled to keep an alarmingly mediocre roster above water. Zeller fits under that label, though only because of the role in which he's cast. The big man is an excellent fifth starter on teams that thrive on continuity and balance, but on a team like this year's Hornets he can't do quite enough to lift the team out of mediocrity.
Thomas Bryant still leads all NBA players in true shooting percentage, albeit on fairly low usage. He has filled nearly every gap Washington could ask him to, hitting spot-up threes, finishing dunks out of the pick-and-roll, and helping to free space for Bradley Beal with screens and sound ball movement. On the defensive end, Bryant leaves much to be desired. His lateral quickness and awareness are both below average, and while he shows flashes of rim protection, he isn't quite sharp enough to anchor a defense yet.
Yogi Ferrell's minutes seemingly grow fewer by the week, as he plays sporadically in Dave Joerger's rotation. Ferrell's place in the Kings' future remains murky. He isn't on the same timeline as Marvin Bagley, Harry Giles, and De'Aaron Fox, but could serve as a valuable piece in second units behind those players if he proves solid enough as a playmaker and shooter.
All stats current through March 22.
And with that, the joy of hanging Banner #6 is now one week closer.
Thanks for your continued support for The Assembly Call and Inside the Hall. We'll be back next weekend with a new roundup.
Now go enjoy yourself a 6-banner Sunday.
Filed to: