Notebook: Indiana uses second-half push to keep its season alive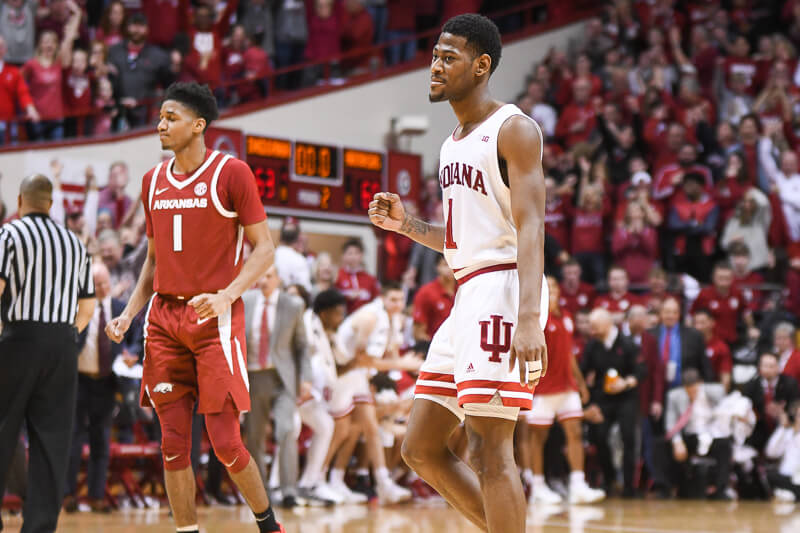 After 32 minutes of sloppy, lackadaisical basketball, Indiana made one final, desperate push on Saturday to keep its season alive. Fortunately for IU, Arkansas' similarly apathetic approach kept the game just out of the Razorbacks' reach.
In a second half that featured out-of-control, messy play from both teams, Indiana did just enough to keep its opponent at bay, hitting timely shots and recovering loose balls in order to stave off a late push from Arkansas.
The Hoosiers were far from perfect. IU struggled to bring the requisite intensity to a noon game and, early in the contest, appeared to have little interest in continuing their season. Indiana shot 37.5 percent and committed eight turnovers in the first half and nearly all of its eight first-half turnovers were a result of carelessness. In a game in which few players shone in a positive light, the efforts of Devonte Green and Juwan Morgan stood out for IU. With Romeo Langford out for the second consecutive game, Morgan was again the bedrock of Indiana's offense, centering possessions with touch and tenacity in the post.
Arkansas did its best to deny Morgan his touches by fronting him in the post and sending multiple bodies his way when necessary, and Indiana struggled to get him the ball early on. Morgan labored his way to 15 points on 5-of-9 shooting nonetheless, with seven rebounds to boot, and helped give IU a 30-10 scoring advantage in the paint. Defensively, Indiana limited the Razorbacks to 4-of-14 shooting at the rim, capitalizing on the absence of Arkansas center Daniel Gafford and forcing as many difficult 3-point attempts as possible.
"We knew that their guards really dominated a lot of their shots and they did that efficiently," said Morgan. "And we just wanted to take that away and limit the guys in the paint as much as possible so they had to beat us by the three, and I think our guards did a good job to limit those too."
In the first round of the NIT, Langford's absence made way for Al Durham to have his best game of his career. On Saturday, it was Green who filled most of that void with one of his most complete games of the season with 18 points on 6-of-12 shooting, a career-high 11 rebounds, three assists, and three steals. He and Phinisee grabbed a combined 18 boards, which helped limit Arkansas to just four offensive rebounds (excluding team rebounds) and give IU a 37-34 edge on the glass.
The team has asked more of Green, Durham and Rob Phinisee with Langford on the sideline, and while no single player can entirely replicate Langford's game or role, each has been tasked with slightly more responsibility, and Green seized the opportunity in IU's last three games by picking up slack in nearly every facet of the game. More of the offense runs through him than any other single guard while his shooting and defense have boosted the team significantly in two of the last three games.
"I think Devonte's done an unbelievable job stepping up offensively, but also defensively," said Evan Fitzner. "I think Devonte's really been the one that's kind of filled into that role and brought support."
Davis and Fitzner big off the bench
The three-man frontcourt rotation of Morgan, Fitzner, and De'Ron Davis was all Archie Miller needed in the second half, as Justin Smith spent all but the opening 2:15 on the bench, and the game began to turn in earnest with roughly 15 minutes to play in the second half, when Zach McRoberts joined Green, Morgan, Phinisee, and Davis in a unit that got Indiana back within striking distance.
That momentum seemed to carry Indiana the rest of the way. Fitzner provided a lift in 12 minutes off the bench while Phinisee, Green, Durham, Morgan, and Davis made a key run to stretch the IU lead to six before the under-four media timeout.
In a game that lacked for flow and rhythm, the combined playmaking of Morgan and Davis in the frontcourt helped Indiana settle into an offensive groove in the second half, while Fitzner helped space the floor and bend Arkansas' defense to make way for others.
"De'Ron does a really good job of moving the ball," Fitzner said. "Against a team like that who's kind of scrappy, they get out of place a little bit, so you've got to be able to make the open pass, and that's what I think he did for the most part."
Davis also shot 10 free-throws, and while he missed six of those, his relentlessness inside helped IU establish its presence where it most wants to: at the basket. Though he isn't a shooter or particularly versatile defender, Davis anchored Indiana on both ends of the floor and complemented any lineup in which Miller played him. Without Langford, Indiana lacked for size on the perimeter, but the length and ball pressure of Phinisee, Green, and Durham helped the Hoosiers overcome that height discrepancy and that trio's versatility gives the team multiple weapons at once.
"It's a versatile group, we've got three great guards and two great bigs," Durham said. "It's just great players making great plays."
Rob Phinisee, the catalyst
Phinisee helped galvanize the Hoosier offense by getting downhill and allowing Indiana to attack against a spread defense in transition. After consecutive assists to Morgan and Davis, Phinisee converted a fast-break layup, sunk a pair of free throws, and found Morgan for a transition dunk on consecutive possessions to stretch the IU lead to four.
"[Miller] wants me to be aggressive, even off ball screens, getting downhill," said Phinisee. "Hit the shooters, hit the big guy off the rolls, too. So I feel like when I get downhill it opens up a lot of things."
Though the freshman has yet to break out in the same way Durham and Green have in recent games, his steadying two-way presence remains equally crucial. Phinisee isn't the type to take full control of a game, but rather affects winning in more understated ways. He keeps the ball moving even against tight defensive pressure and moves the defense so that teammates have clearer lanes to attack, all while containing opposing offenses at the point of attack. Phinisee played a team-high 37 minutes on Saturday and was the only starter whose time on the floor resulted in a positive scoring margin for IU.
Phinisee has an entire career ahead of him to help steer Indiana back in the right direction. As for this season, the team must retain the sense of urgency it displayed down the stretch of the regular season and of Saturday's game. Win or lose, Tuesday will be the final time Morgan, Fitzner, and McRoberts play in Assembly Hall, and the team has rallied in attempt to preserve its season beyond that.
"My last season of college basketball is coming to an end," Fitzner said. "There's definitely some urgency that I feel as far as trying to go out on the right note. Not many teams get to say they won their last game, and we have an opportunity to do that."
Filed to: 2019 National Invitation Tournament