Five takeaways from Indiana's win over Rutgers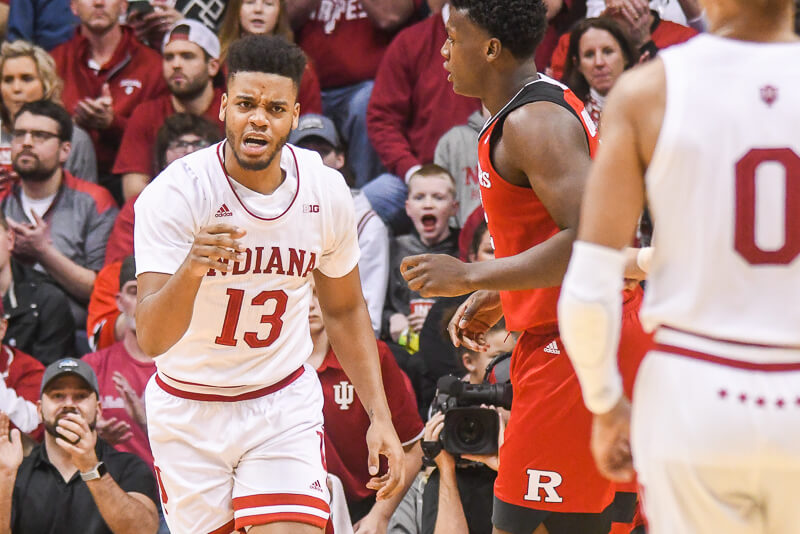 Indiana won its fourth straight game on Sunday, blitzing Rutgers 89-73 on senior day at Simon Skjodt Assembly Hall. The win improved the Hoosiers to 17-14 overall and clinched the No. 9 seed for IU in the Big Ten tournament this coming week in Chicago.
Here's a look at five takeaways from the win over the Scarlet Knights:
· Offense powers IU to another win: Indiana followed up Thursday's 1.38 points per possession performance at Illinois with another stellar offensive effort on Sunday.
The Hoosiers scored 1.27 points per trip against Rutgers and shot 67.5 percent on 2s, their highest mark of the season against a Big Ten foe.
Credit Indiana's willingness to make the extra pass and take care of the ball for its recent offensive surge. The Hoosiers have had a turnover percentage of 13.4 percent or less in each of their last three games. On Sunday, IU had a season-low 8.6 turnover percentage.
· Hoosiers come through at the free throw line: Poor free throw shooting has been an Achilles heel all season for Indiana. But on Sunday, their efficiency from the line was a strength.
Indiana not only did a good job of getting to the line with a free throw rate (FTA/FGA) of 50 percent, the Hoosiers knocked down 23 of their 29 attempts for 79.3 percent.
As the stakes continue to rise this month, being able to knock down free throws looms large for a team that expects to be in close games as early as Thursday afternoon. Archie Miller called IU's performance from the line on Sunday, particularly in the first half when IU went 15-for-18, a "big deal" for this team.
· Morgan shines in what could be his final home game: Unless the Hoosiers are back in Bloomington for the NIT, Juwan Morgan went out in style in his final game in Simon Skjodt Assembly Hall.
It would have been hard to script a better ending for Morgan in front of the IU fans who have watched him grow over the last four years into an All-Big Ten caliber player.
The Waynesville, Missouri product poured in a game-high 25 points on 11-for-13 shooting despite playing only 22 minutes due to foul trouble. In a season that has featured plenty of ups and downs, Morgan has consistently delivered strong performances for Indiana.
"You know, seniors do one of two things," Miller said. "They either run away because it's too hard and it's on them, or they just fight. And Juwan is a fighter. Fighters fight. He's given us unbelievable toughness on the backboard these last four or five games where we need to rebound and he's given us presence this week in particular around the rim where he scored the ball."
· A quiet 20-point afternoon for Romeo Langford: Morgan was the star of Sunday's matinee in Bloomington, but Langford delivered another stellar performance on both ends of the floor.
Langford has grown into a very good defender on the perimeter and he notched his seventh conference game of 20 or more points on Sunday.
The 6-foot-6 guard finished his freshman season in the Big Ten averaging 16.4 points against conference foes on 75.6 percent shooting from the foul line, 47.9 percent on 2s and 32.1 percent on 3s. For a player that didn't have much consistent help offensively throughout the season, those numbers look worthy of Big Ten freshman of the year accolades.
· Another win keeps postseason hopes alive: As the Hoosiers continue to record wins, the probability of an at-large NCAA tournament berth continues to increase.
Sunday's win over Rutgers likely didn't move the needle much with the selection committee, but the Hoosiers simply couldn't afford a loss.
Indiana will have a chance to add to its resume on Thursday in Chicago when it meets fellow bubble team Ohio State, which has dropped three straight and six of its last eight. A win Thursday alone may not be enough to get Indiana into the NCAA tournament, but it would set up an opportunity for a third win over Michigan State.
"We're going to have to win," Miller said. "We're going to have to win, not one game, not two games. We're going to have to try to win as many games as we can, and that's how you control your own deal, and that's pretty much what we're focused in on right now."
Filed to: Rutgers Scarlet Knights