What to expect: Rutgers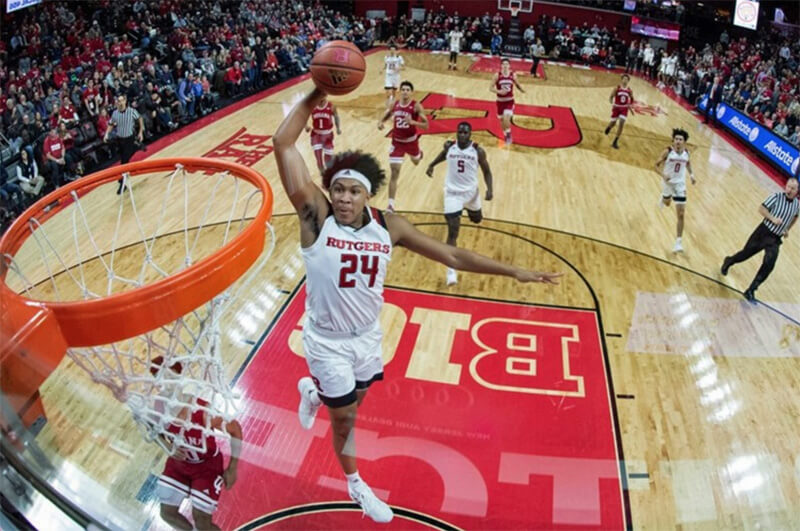 Indiana will look to extend its winning streak to four games as it hosts Rutgers on Sunday afternoon at Simon Skjodt Assembly Hall. The Scarlet Knights are 14-15 overall and 7-12 in Big Ten play.
Sunday's game will tip at noon ET on BTN with Brandon Gaudin and Jess Settles on the call:
After Thursday's 92-74 throttling of Illinois in Champaign, Indiana's chances for an at-large NCAA tournament bid are real.
The Hoosiers may not be on the right side of the bubble yet, but have a winnable Sunday contest against Rutgers before tipping off next week's Big Ten tournament in Chicago. While a win on Sunday won't punch a ticket to the tournament for Indiana, a loss would likely push them to "need to win the Big Ten tournament" territory.
Rutgers is 3-3 in its last six games and already owns Big Ten road wins this season against Penn State, Northwestern and Iowa. The Scarlet Knights are no longer the Big Ten's doormat and can avoid playing on Wednesday in Chicago with a win over the Hoosiers.
THE FIRST MATCHUP
Indiana's loss at Rutgers back on Jan. 30 is in the conversation as the season's lowest point along with an early January home loss to Nebraska and a mid-February loss at Minnesota.
It was a truly abysmal offensive performance from Indiana, which managed just .843 points per possession against the Scarlet Knights at the RAC. At the time, it was the worst offensive performance of the season by a Big Ten opponent against Rutgers and if not for Northwestern managing just .834 points per trip on Feb. 13, it would still be in the cellar.
The game also featured a 22-0 scoring run by Rutgers that allowed the Scarlet Knights to take complete control of the contest. At the time, it looked like the season was spiraling out of control as a road trip to Michigan State loomed just a couple of days later.
The heroes of the first game for Rutgers were sophomore guard Geo Baker, junior forward Eugene Omoruyi and freshman wing Ron Harper Jr.
Baker is a fearless guard who was able to get into the lane often against IU in the first matchup and get to the foul line. Eight of Baker's team-high 16 points came from the free throw line in the win over the Hoosiers and he also dished out a team-high five assists. He's coming off his worst performance of the season as he went scoreless in 35 minutes in Wednesday's home loss to Penn State.
Omoruyi posted a double-double with 14 points and 10 rebounds in the first contest and also had two blocked shots while Harper Jr. hit a pair of 3-pointers and finished with 10 points.
Omoruyi more than held his own on Wednesday in a matchup against Penn State's Lamar Stevens as he finished with a team-high 23 points. Harper is 6-for-11 on 3s over the last two games and is shooting 36.4 percent from distance in league play.
TEMPO-FREE PREVIEW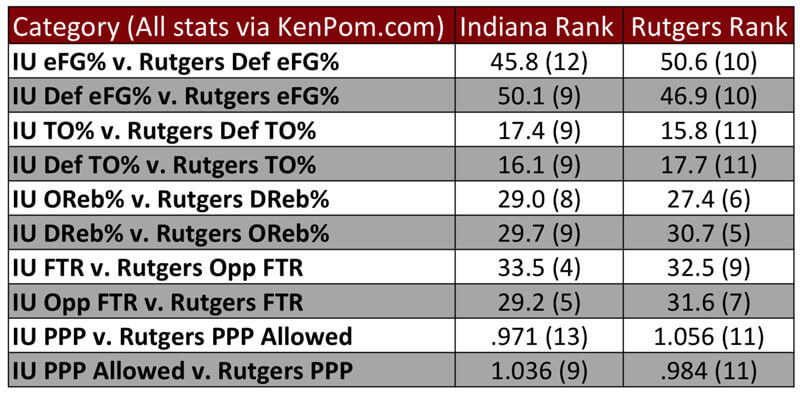 Both Indiana and Rutgers enter Sunday's regular season finale ranked in the bottom six of the conference in both offense and defense.
The Scarlet Knights are an aggressive offensive rebounding team and do a decent job of getting to the foul line, but rank just 10th in the league in 3-point shooting percentage, 12th in 2-point shooting percentage and 13th in free throw shooting percentage.
Indiana, meanwhile, is coming off of its best offensive performance of the season on Thursday in Champaign as Rob Phinisee and Devonte Green combined for 11 assists and no turnovers. The Hoosiers will need to continue to get stellar point guard play if they hope to continue their winning ways and claim a spot in the NCAA tournament field.
WHAT IT COMES DOWN TO
The Ken Pomeroy projection favors Indiana by seven and the Sagarin ratings favor the Hoosiers by nine.
Sunday is senior day at Simon Skjodt Assembly Hall and outgoing players Evan Fitzner, Juwan Morgan, Johnny Jager, Zach McRoberts and Quentin Taylor will be honored postgame on Branch McCracken Court.
A little over two weeks ago, it looked as if Indiana would just play out the regular season and move into the offseason with plenty of questions to answer. The Hoosiers, however, have played well in their last five games despite only having three wins to show for it.
A win on Sunday against Rutgers sets the Hoosiers up to play meaningful basketball next week at the United Center in Chicago. In a season that featured a stretch in which this team lost 12 of 13 games, the fact that Indiana is even in the tournament conversation right now speaks to the continued fight of this group and the overall strength of the Big Ten.
Filed to: Rutgers Scarlet Knights