News and notes from Archie Miller's radio show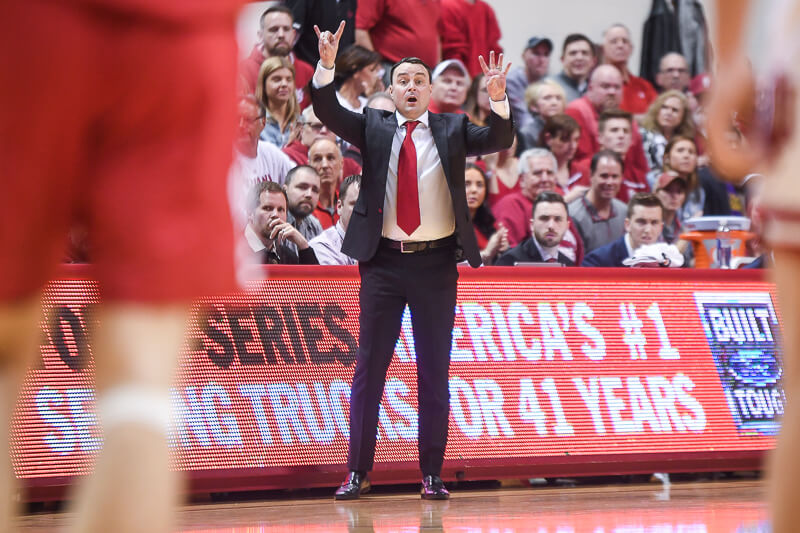 Archie Miller joined Don Fischer for the penultimate radio show of the season on Monday. They discussed several topics with Indiana entering the last two regular season games, including IU's wins over Wisconsin and Michigan State, the upcoming game against Illinois and where Indiana's postseason resume stands.
Here are some of the highlights:
• On the improved effort over the last few weeks: "Our guys haven't really blinked. The last two weeks, we've had a good disposition about us. I think we believe again in how we do things. Our effort level's, obviously, way up right now, our defense has given us some confidence. This past week, for the first time in a while, some shots went in from the perimeter, and it freed us up to either keep the gap there or hold a lead for the first time in a while. It's a simple game, and sometimes when the ball goes in it makes it a little easier." Miller went on to praise IU's defense and rebounding and how that set up their offense.
• Miller said the difference in Indiana's wins last week compared to other close losses was stepping up in key moments, whether it was coming up with a big defensive stop or sinking important buckets late. "It's like one possession a game. It seems like it just takes one possession to get you over the hump."
• Miller said the Michigan State game was bizarre. "If you look at the stat sheet, it would say that you lost that game." He said for most of the game, IU was only good enough to hang around rather than make a run at the lead. He credited Devonte Green's shots and improved defense down the stretch for kicking the Hoosiers into the next gear.
• On the "drastic changes" after the Minnesota game, Miller said the biggest change was a more united team. He said airing out the problems made it easier to solve them.
• Miller said Indiana has been able to rely on its intangibles such as toughness and resilience, which were key aspects of its success early in the season, in the last few weeks, and that's led to the recent resurgence.
• On Michigan State's ball screens, Miller said the Spartans set "No less than two, no more than four" per play. "You've got to really be on it. We were good at times, but we weren't good at times. And then late, we got good, and that was a big part of why I thought the last 4:30-6 minutes was better." He singled out Juwan Morgan, Justin Smith and De'Ron Davis for the way they improved at defending ball screens late in the game.
• On Rob Phinisee: "You don't find very many freshmen as good as him defensively, and it started really on day one. We learned early in the season that he was going to be a capable guy. You add in the experience that he's now gotten with minutes and you add in the confidence that he has in him, he's a guy right now that is as good as any on the ball at dealing with somebody one-on-one. He's as good as there is, I think, in our league — mind you, the age — but as a freshman, it's impressive." He added that Phinisee has played much better since fully recovering from his injury.
• Miller gave Green credit for deflecting some key passes defensively and how he was able to turn those into big plays on the other end. "The thing about Devonte (is) when he gets going, he's really talented. He has confidence… All of his baskets were really, really important in the second half."
• Miller said Indiana's improved rebounding has been a team effort. He said IU has been better at boxing out.
• On Justin Smith: "His energy level's up, his concentration's back, and he's got a great attitude right now. He's not worried about mistakes, not worried about what's going wrong, he's worried about 'What can I do right now'" He added that Smith's effort on the offensive glass has been important.
• Miller said it's hard not to think about where they'd be if they had picked up a few extra wins earlier in Big Ten play. He said the Illinois and Rutgers games are "Just as important as the Michigan State game was." He said he doesn't know how many wins will be required for Indiana to get back into the NCAA tournament field, but that they "still control what we can control right now. We're not out of the woods." He cited Indiana's strength of schedule and number of Quadrant 1 wins in discussing IU's resume. "Every game's been difficult for us, but we're playing hard right now. I think we're playing in a way that can give us a chance."
• Miller said IU's awareness and intensity in practice has been increased.
• At the end of the first overtime against Wisconsin, after Al Durham air-balled a deep 3 at the buzzer off an in-bound with two seconds remaining, Miller said Durham could have gotten a little closer. He said with two seconds, you have time for two dribbles. He tried to emphasize that to Durham after the play.
• Miller said Davis didn't practice before Michigan State. He said Phinisee missed five days of practice with the flu before the Minnesota game.
• Miller said Morgan is IU's best screener.
• Miller said every Big Ten team is playing hard right now, which could make the Big Ten tournament crazy and could lead to success in the NCAA tournament. "There aren't many days off in this league, so when you get to the tournament, you're tested."
• Miller said Illinois may be the Big Ten's most improved team since the beginning of January. He credits freshmen Ayo Dosunmu and Giorgi Bezhanishvili, along with sophomore Trent Frazier, for the Illini's improvements. "They're way more confident. If you ask me, they're as dangerous as anybody."
• He said two keys against Illinois are ball security and rebounding.
Filed to: Archie Miller