Big Ten Power Rankings: Purdue surges to the top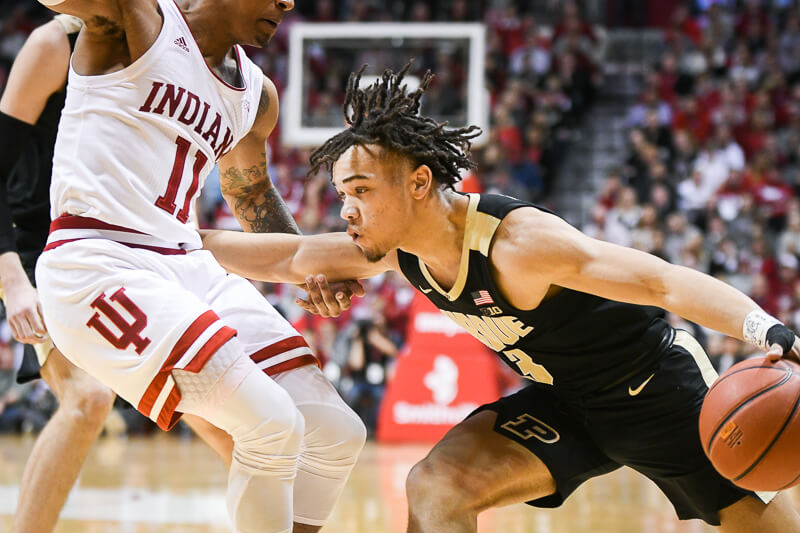 After another chaotic week in the Big Ten, the conference remains as strong as ever, with all 14 teams in the top 75 of KenPom's adjusted efficiency rankings. Here's where things stand entering the final week of conference play.
14. Northwestern (3-15, .906 points per possession, 1.017 points allowed per possession)
After Penn State's recent surge, the Wildcats are alone in the cellar of the Big Ten, with little recourse in front of them. They have lost nine in a row, with Ohio State and Purdue still remaining on their schedule. Northwestern's offense ranks outside of the top 200 in the country and Vic Law will graduate at the end of the year. There simply isn't anyone outside of Law and Dererk Pardon capable of doing much offensively, and while the Wildcats boast one of the better defenses in the conference, their inability to score costs them in every game.
13. Rutgers (7-11, .986 points per possession, 1.061 points allowed per possession)
At present, Rutgers is slated to avoid a Wednesday evening contest in Chicago, a fact that should make us all question basic reality. With Penn State and Indiana remaining on the schedule, Scarlet Knights have a legitimate chance of finishing two games over .500 for the first since 2006, and even if they drop both games, could still dodge the first round of the conference tournament. Steve Pikiell and company deserve genuine, all-jokes-aside credit for their success this year, particularly in close games, but the Scarlet Knights aren't quite as good as even their 7-11 conference record suggests.
Rutgers is the only team in the Big Ten with a bottom-three offense and defense in conference play, and it lacks the sort of individual talent to make up for those shortcomings. It has played comparatively well in close games, but has just one win over a top-six team in the Big Ten. An offense that relies so heavily on making difficult shots is bound to struggle against a well-prepared defense, and the Scarlet Knights lack the elite defenders to contain the best players in the conference.
12. Nebraska (5-13, .993 points per possession, 1.080 points allowed per possession)
The Cornhuskers have lost 10 of 12 games since a 15-point blowout in Indiana's building, and with Isaac Copeland out for the season, haven't been able to break out of their spiral. James Palmer Jr.'s efficiency has plummeted under an even heavier workload as Isaiah Roby and Glynn Watson Jr. haven't picked up enough slack. Nebraska takes care of the ball and forces enough turnovers to generate plenty of extra possessions over the course of a game, but that 13th-ranked defense isn't overcoming any offensive dry spells, of which there have been many lately.
11. Illinois (7-11, 1.008 points per possession, 1.051 points allowed per possession)
Illinois snapped a three-game skid on Sunday and will host Indiana Thursday night in a game that may well decide who escapes a Wednesday appearance in the Big Ten Tournament. With a compelling mix of young talent, the Illini are capable of beating nearly any given team on a given night, but a long stretch of poor play at the start of the calendar year outweighed a four-game stretch that included wins over Michigan State, Ohio State, and Nebraska. Still, their offense has figured some things out since the last time it went against Indiana – that game looms large for both teams at the moment. Trent Frazier and Ayo Dosunmu will need to carry heavy burdens the rest of the way for Illinois to have much of a chance in the conference tournament.
10. Penn State (5-13, .997 points per possession, 1.031 points allowed per possession)
Lamar Stevens has gotten his numbers, which, lately, has resulted in wins for the 12-17 Nittany Lions, but their schedule is dotted with enough L's that even a resounding home win over Maryland can't salvage an 0-10 start to the conference schedule. Stevens has been inefficient all season despite what his raw numbers might indicate. Josh Reaves is a genuinely exciting defender and Rasir Bolton's offensive production has been a boon, but Mike Watkins' early season injury left Penn State thin on both ends. Myles Dread comes and goes. The Lions have two legitimately impressive wins and have taken care of the teams they should since the start of February. Each of their remaining two games is winnable, but will have a hard time pulling itself out of a deep, deep hole.
9. Ohio State (8-10, .992 points per possession, 1.025 points allowed per possession)
The Buckeyes are living the consequences of being a mediocre team in the Big Ten. All but two of their losses have come against clearly superior teams while none of their wins have been particularly surprising. OSU's win over Indiana last month was an important one against another middling Big Ten team, and a recent 20-point victory over Iowa showed what this team can be on the right night. Most nights, however, are simply ordinary, which usually works against the Buckeyes.
8. Indiana (6-12, .948 points per possession, 1.031 points allowed per possession)
Indiana probably isn't the eighth-best team in the Big Ten. Its season has been confusing and largely miserable, but given the Hoosiers' season-defining wins over Wisconsin and Michigan State last week and the recent struggles of Iowa, Minnesota, and Ohio State, this spot is theirs by default this week. If power rankings are meant to capture the current quality of each team, no squad in the middle of the pack has played better basketball than IU in the last week.
Indiana has fought back onto the edge of the bubble and remains an exceedingly frustrating team to evaluate. They have played well enough to win in seven of their last eight games, but could just as easily have dropped any of those that resulted in wins. Still: IU's résumé includes five extremely high-quality wins, even if the rest of the season was shrouded in overwhelming disappointment. The Hoosiers must still close the season strong, but they have given themselves life once again, with not a moment to spare.
7. Minnesota (8-10, 1.02 points per possession, 1.05 points allowed per possession)
Jordan Murphy and Amir Coffey do as much as they can to pull a top-heavy roster toward competence, and largely succeed. But much like Ohio State, the Golden Gophers are a team of little variance, bouncing around the middle of the conference without breaking into either extreme of the spectrum. They have almost literally no shooting (only Gabe Kalscheur shoots above 31 percent from deep on the season), yet scrape out the sixth-best offense in the conference by relentlessly attacking the basket. But that leaves nearly all creative duties to Murphy and Coffey, who are 85 percent as good as a team would want its best players to be. The Gophers have Purdue and Maryland before traveling to Chicago, where they'll hope to finally break free from the middle of the pack.
6. Iowa (10-8, 1.090 points per possession, 1.098 points allowed per possession)
It's difficult to tell how good the Hawkeyes really are. Tyler Cook and Jordan Bohannon are legitimate all-conference candidates leading one of the best offenses in the nation. But Iowa's porous defense offsets much of that production and the team hasn't had a resounding win since January. Late-game heroics have been enough to overcome that, but consecutive bad losses to Ohio State and Rutgers should serve as a reminder of this team's vulnerability and inconsistency.
5. Maryland (12-7, 1.034 points per possession, .998 points allowed per possession)
The Terrapins' 17-point loss to Penn State is alarming, but they have otherwise performed as expected over the last month, with two losses to Michigan and one at Wisconsin. Bruno Fernando has solidified his place on the all-Big Ten first team and Anthony Cowan is a near-perfect sidekick for the big man. Maryland remains one of the 25 best offenses and defenses in the country despite being shellacked on Wednesday and the second-best three-point shooting team in the Big Ten during conference play. It was the last team to defeat Purdue. The Terps undoubtedly have things yet to figure out, but they can hang with any team in the conference, and that's an encouraging place to be this time of year.
4. Wisconsin (12-6, 1.006 points per possession, .943 points allowed per possession)
Wisconsin has yet to lose a game by more than nine points this season and, its loss to IU notwithstanding, has been one of the most consistent teams in the Big Ten this season. Ethan Happ is a first team all-Big Ten lock and every Badger seems to fit precisely in his role. This team touts a top-10 defense in the country and nets over a point per possession on the other end of the floor. Complaints of the Badgers', um, proclivity for drawing charges are fair, but they are a sight to behold on offense, flanking Happ with shooters and slashers who benefit from the senior making the correct read most every time he touches the ball. Happ's feel for the game, array of post moves, and passing acumen are unrivaled among college big men and Wisconsin has remained steady because of its ability to ground everything it does in Happ.
3. Michigan (15-4, 1.059 points per possession, .932 points allowed per possession)
The Wolverines proved their mortality in February, but are still a force to be reckoned with in this conference. Ignas Brazdeikis keeps improving while Jordan Poole has sneakily been one of the best perimeter players in the Big Ten. Zavier Simpson and Jon Teske bookend an elite defense, and Michigan's lack of weak links in its rotation ensure that it always has the horses, no matter the game. Charles Matthews' ankle injury hurts (and leaves Michigan in a tough spot as well), but the Wolverines still won without him on Sunday, staving off the feisty Terrapins in College Park. The team's offense has succeeded with its balance. Remove Matthews, a crucial piece of that unit, and that equilibrium can become disrupted. Michigan ought to take its time and have him right for the Big Ten tournament, but will have to reintegrate him in short order.
2. Michigan State (14-4, 1.117 points per possession, .963 points allowed per possession)
The Spartans are battered at the moment with Nick Ward and Josh Langford out and Matt McQuaid dealing with a bum ankle. Even Cassius Winston can only do so much by himself. Yet there is rightfully little panic over Michigan State's 63-62 loss to IU this weekend – a game whose outcome is infinitely more meaningful to Indiana than it is to MSU. The Spartans still rank in the top 10 nationally in both offensive and defensive efficiency and, upon getting Ward and McQuaid back to full health, will have one of the deepest and most imposing teams in college basketball. Winston is one of three players in the discussion for Big Ten player of the year and Xavier Tillman is a downright terror to deal with. The guard rotation runs slightly thin on shooting and playmaking, but Winston does more than enough to compensate. MSU will waltz to a top-three seed in the NCAA tournament and may even boogie its way through the whole darn thing.
1. Purdue (15-3, 1.125 points per possession, .998 points allowed per possession)
Purdue's fifth national ranking in offense reads like a misprint given the talent on its roster (non-Carsen Edwards category). But watch Matt Painter's offense for five minutes and the reason becomes clear. The Boilers run the prettiest halfcourt offense in the Big Ten, employing so much movement and off-ball action it's a wonder any team manages to stick with them for a full game (and lately, no team has). Edwards is the thread that ties it all together, using his lethal jumper to open up the rest of the game for himself and teammates alike. The threat of him pulling up ignites panic in the hearts of opponents, who in turn sell out to take eliminate that risk. It's then that Edwards capitalizes by rushing toward the rim, spraying the ball to shooters, or diming up rolling bigs. Ryan Cline's gravity makes things easier on his backcourt buddy while Nojel Eastern's funky ball-handling and menacing defense gives Purdue more threats than its opponents know what to do with.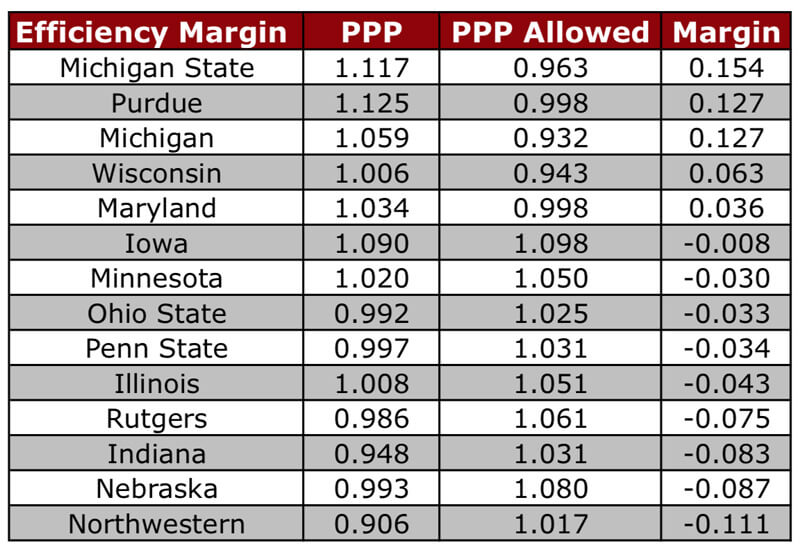 Filed to: Big Ten Power Rankings