What to expect: Michigan State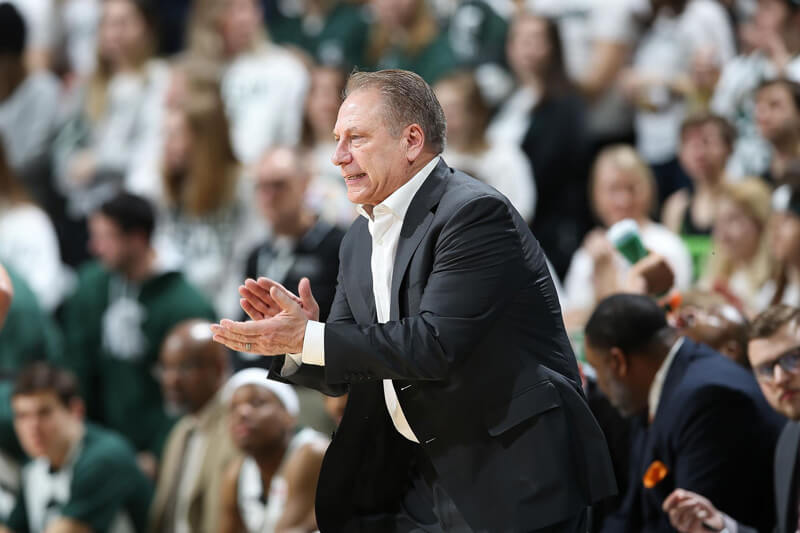 Indiana will look to complete a season sweep of Michigan State on Saturday afternoon at Simon Skjodt Assembly Hall. The Hoosiers won the first meeting between the two teams, 79-75 in overtime, on Feb. 2 in East Lansing. Michigan State is 23-5 overall and 14-3 in the Big Ten.
Saturday's game will tip at noon ET on Fox with Gus Johnson, Jim Jackson and Lisa Byington on the call:
The regular season Big Ten title race is going down to the wire.
Michigan State and Purdue sit one game ahead of Michigan in the league standings with three games to play for the Spartans and Boilermakers and two to go for the Wolverines.
Indiana, of course, is fighting just to avoid having to play on Wednesday of the Big Ten tournament later this month, but the Hoosiers do have a chance to play spoiler on Saturday while also keeping their slim postseason hopes alive. Michigan State comes to Bloomington on a five-game winning streak and looking to avenge its early February loss to the Hoosiers at the Breslin Center.
The Spartans are also a wounded group with Joshua Langford out for the season (stress fracture) and Nick Ward currently sidelined with a left hand injury. Senior guard Matt McQuaid is also battling a sprained ankle, but is expected to play according to comments made by Tom Izzo on Thursday.
THE FIRST MATCHUP
Indiana snapped its seven-game losing streak with a stunning 79-75 overtime win over Michigan State back on Feb. 2. The win was stunning for several reasons.
First, Indiana played the majority of the contest without Juwan Morgan, who injured his shoulder after diving on the floor for a loose ball. Second, it was the only home loss of the season to date for Michigan State. And third, it was a performance that seemingly came out of nowhere from an Indiana team that in the midst of a putrid stretch of basketball.
So how did Indiana win the first contest?
The Hoosiers made 3-pointers, they owned the glass and corralled most of the 50-50 balls. Indiana shot 10-for-20 on 3s in East Lansing, rebounded 43.5 percent of its missed shots and generally just played harder than the Spartans.
What went wrong for Michigan State? The Spartans shot just 8-for-22 from the free throw line, including a dreadful 1-for-9 performance from Ward, who will not play on Saturday.
It's ridiculous to suggest that Michigan State is a better team without Langford and Ward, but the Spartans have proven they can win without them. Just five days ago, Michigan State stormed into Ann Arbor and whipped Michigan 77-70 despite shooting just 5-for-20 on 3s.
Behind a 40-minute gem of a performance from Big Ten player of the year favorite Cassius Winston, Michigan State scored 32 points in the final 14:31 at the Crisler Center last Sunday. Winston went for 27 points and eight assists as the Spartans made 19 of their 28 2-point field goal attempts in the win.
TEMPO-FREE PREVIEW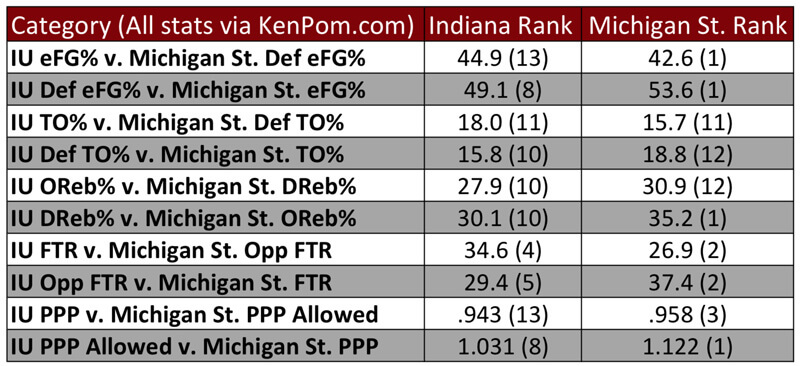 WHAT IT COMES DOWN TO
The numbers suggest that this is a mismatch for the Hoosiers, but if IU can replicate its effort and confidence it has shown over the last three games, this could be another thriller.
Michigan State has the Big Ten's best efficiency margin, but the Spartans are not without their weaknesses. Depth is a definitely question mark right now for Michigan State and it would serve Indiana well to try to force the Spartans to go deep into their bench. Michigan State turns it over a lot, doesn't force many turnovers and has been a poor defensive rebounding team.
Indiana will likely need to make 3-pointers to win, which is something it hasn't been able to do with any consistency all season. The Hoosiers will also need stellar performances in the paint from Morgan, De'Ron Davis and Race Thompson, who will be tasked with keeping up with Xavier Tillman and Kenny Goins, both of whom are coming off of strong performances at Michigan.
WHAT IT COMES DOWN TO
The KenPom prediction is Michigan State by eight and Sagarin's ratings favor the Spartans by 7.5.
Indiana has been close in many of its recent home games, but the Hoosiers are just 1-5 over their last six contests in Bloomington.
The Hoosiers are going to need to replicate the effort they've shown over their last three games to have a chance to emerge with a win.
Keeping Winston from becoming too comfortable is also pivotal, but is easier said than done. No Big Ten guard is better at creating offense for his teammates than Winston, who just ripped through the league's best defensive guard Zavier Simpson in his last game. If Indiana can't defend the pick-and-roll, it will be a long afternoon for the Hoosiers.
Both teams have plenty to play for on Saturday as Michigan State controls its own destiny to get a share of the regular season Big Ten title and the Hoosiers desperately need a win to keep any slim postseason chances intact.
Filed to: Michigan State Spartans