What to expect: Wisconsin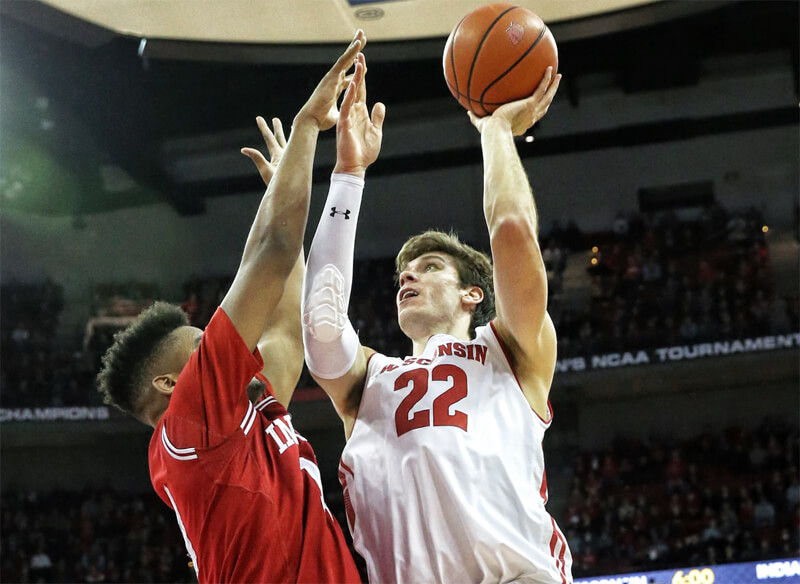 Indiana returns home for two games this week at Simon Skjodt Assembly Hall. Up first is Wisconsin, which is 19-8 overall and 11-5 in the Big Ten.
Tonight's game will tip at 9 p.m. ET on ESPN with Dave Flemming, Dan Dakich and Molly McGrath on the call:
Indiana's season looks beyond repair at this point, but the Hoosiers still have four regular season games to go and at least one game next month in the Big Ten tournament in Chicago.
It's hard to fathom, but Indiana has now dropped 12 of its last 13 games and won't be favored again until the regular season finale against Rutgers at Simon Skjodt Assembly Hall.
Wisconsin, meanwhile, is in the mix for a top four seed in the NCAA tournament and has put together a very solid year after missing the postseason altogether last season.
MEET THE BADGERS
The Wisconsin scouting report begins and ends with Ethan Happ, who is one of the best players in the country and in the conversation for Big Ten player of the year. Michigan State's Cassius Winston is likely to win that award, but Happ and Purdue's Carsen Edwards also deserve consideration.
Happ leads Wisconsin in points per game (17.7), rebounds per game (10.2) and assists per game (4.7) and is one of the most difficult one-on-one matchups in the country. Play Happ straight up and he'll abuse you in the paint with his vast array of spin moves. If you choose to double, he'll find his teammates who move well without the ball for open looks.
The 6-foot-10 center is a bit of an oddity in that his game is fundamentally sound in many ways, but he can't shoot outside of seven or eight feet. Happ is a poor free throw shooter and has only made one 3-pointer in his career. In Big Ten play, he's shooting just 34.3 percent from the free throw line, so there's a solid case to send him to the line if he has a clear path to the basket.
The Badgers have two other players averaging in double figures in sophomore guards D'Mitrik Trice and Brad Davison. Trice, the younger brother of former Michigan State guard Travis Trice, played in just 10 games last season due to an injury but has bounced back in a major way for Greg Gard. He's shooting 43.4 percent on 3s, which is 10 percent higher than he's shooting on 2s (33.3 percent). Trice is second on the team in scoring at 12.6 points per game.
Davison is the latest Wisconsin player that opposing fanbases love to hate and he's earned the reputation in many ways. Like Trice, he's a solid marksmen from the perimeter (40.7 percent) and averages 11.5 points per game.
Senior wing Khalil Iverson is an elite athlete who isn't finishing well in his final season. After shooting 62.2 percent on 2s last season, Iverson is shooting just 51.5 percent on 2s this season. Sophomore Nate Reuvers is an elite shot blocker (9.1 block percentage in Big Ten games) who can also step out and hit the 3-pointer. Reuvers is shooting 39.4 percent from distance this season.
Junior guard Brevin Pritzl provides shooting off the bench (48.4 percent on 3s in Big Ten play) while freshman wing Kobe King can also hit the occasional triple (36.1 percent for the season). Sophomore forward Aleem Ford has struggled this season as his 3-point shooting percentage has dropped by 12 percent and most of his minutes have been taken by Reuvers.
TEMPO-FREE PREVIEW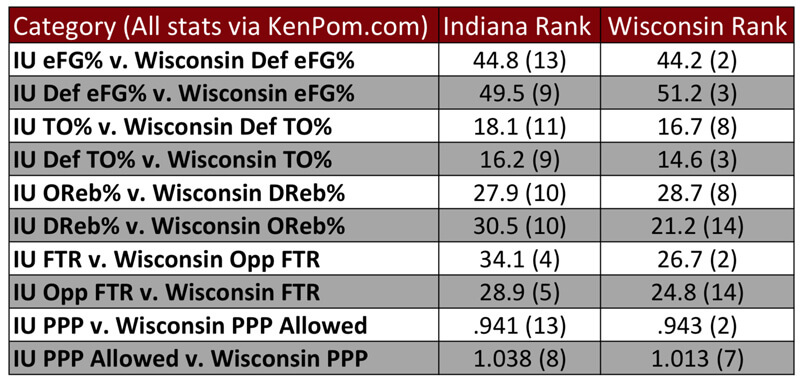 There's no secret to what Wisconsin looks to do and while it may not be much fun to watch, it's a system that has yielded very good results over a long period of time.
The Badgers control the pace as well as any team in the country and methodically run their offensive possessions late into the shot clock. Wisconsin doesn't crash the offensive glass at all and doesn't draw many fouls, so much of its success offensively comes down to creating and making shots in the half court. The Badgers are the Big Ten's second best 3-point shooting team and with Happ anchored in the post, Wisconsin spaces the floor and waits for the defense to make a mistake before capitalizing.
"It's a typical Wisconsin team," Archie Miller said on his radio show Monday night. "They don't beat themselves, they play great defense … they can beat anybody."
WHAT IT COMES DOWN TO
The Vegas line favors Wisconsin by 2.5 while the KenPom projection is Wisconsin by three. The Sagarin ratings also like Wisconsin by three.
The Happ matchup obviously looms large in any game against Wisconsin, but this game will likely come down to whether Indiana can take care of the ball and make shots in the half court. The blueprint on how to guard the Hoosiers was established early in the conference season and it's pretty simple: Overplay on Juwan Morgan and Romeo Langford and make others beat you.
Indiana played well enough to win in its last two contests, but there are no moral victories when you've dropped 12 of your last 13 contests. As the losses continue to mount up, it's fair to wonder: Will this group of Hoosiers win again?
Filed to: Wisconsin Badgers