News and notes from Archie Miller's radio show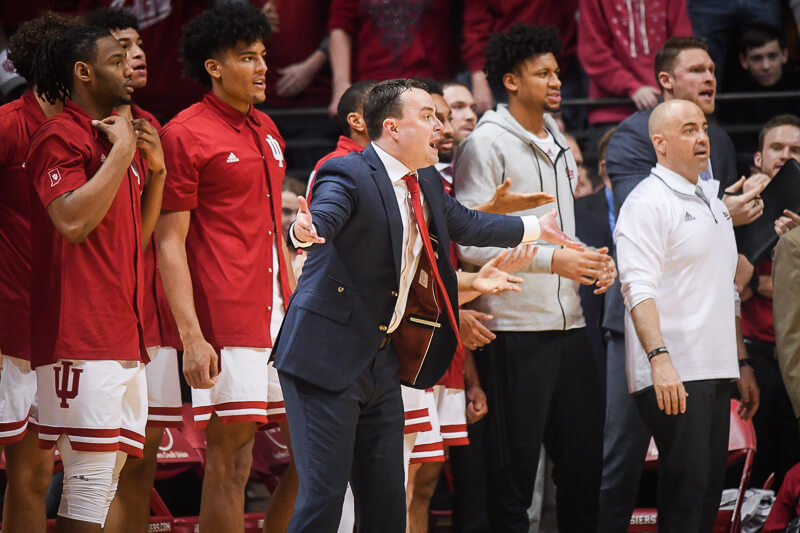 Monday night's conversation between Archie Miller and Don Fischer spanned from IU's recent stretch of losses to its rigorous upcoming schedule, and everything in between. Romeo Langford even dropped by to chat about the team, his freshman year at IU, and his days as a high school star in Indiana.
Here are some of the highlights from the show:
On the last couple of games:
Miller reiterated that Purdue was one of the most physical games he's been in, saying that both teams played hard and showed both mental and physical toughness in the 40-minute slog. "It was a throwback sort of a game," Miller said. "Purdue really just throws the kitchen sink at you."
"We battled really hard and we competed," he continued. "We had opportunities to close it out and we couldn't."
The team's approach stayed the same going into the Iowa game, Miller said, and he liked the offensive improvement his team showed, particularly against the Iowa zone. The Hoosiers moved the ball more crisply and made plays out of the high post, which Miller said "broke the game open in the second half" and forced Iowa to go back to man defense.
Evan Fitzner was a key in breaking that zone, and Miller hopes that his 11-point outing will help get the grad transfer back on track for the remainder of the season.
"Evan's a guy that just hasn't been able to get in that rhythm," Miller said. "He's one of our shooters."
Ultimately, Indiana saw the game slip away as Jordan Bohannon once again sank clutch shots to down the Hoosiers.
"Good players make tough shots," Miller said. "Some of the shots that he takes, there's very few guys that can take them and make them."
"We had our chances to make our own breaks in that game," he added. "We just didn't have the ability to seal that thing."
With only four games left on IU's regular-season schedule, Miller stressed that his team must continue playing with the same intensity, focus, and commitment it has shown in the last two contests, saying that the Hoosiers' competitiveness must be "at an all-time high" in order to close the year strong. He added that IU's fortunes could change if it could hit shots at a consistent rate, and believes, eventually, its open looks will fall.
"At times it is difficult [to find motivation play hard]," Miller said. "The only thing we have right now is each other and how hard we're going to play."
On players returning from injury:
De'Ron Davis has emerged as one Indiana's most crucial pieces since returning from an ankle injury in the middle of the season, playing a larger – and different – role than he did early in the year. Miller said that Davis' attitude and intensity it practice have both improved as he's become healthier, and cited his start to the Iowa game as a reason IU managed to get out to an early lead.
"[He is] as good as he's been since I've been here," Miller said. "By far and away he's at his best right now."
The head coach said similar words of Rob Phinisee, who finally looked himself against Iowa after taking a few games get up to speed after returning from a concussion. He defended Bohannon as well as any Hoosier could have, nabbed four steals, got to the basket, and gave IU's offense a stronger outside presence.
"He was as good as he's been," Miller said. "He brought the energy level that we needed."
Race Thompson, meanwhile, has given Indiana spot minutes off the bench in recent games. The redshirt freshman is returning from a concussion, and while he is physically able to play, Miller noted that Thompson's conditioning isn't where it needs to be due to his inability to practice while he was out.
Still, Thompson is a physical presence who isn't afraid to mix it up, and Miller likes what he has given the team.
"His year last year, him being with us every day, he knows what he's doing and he knows how to do it," Miller said.
On the team's offensive structure:
Miller revealed that he and the coaching staff are trying to tweak the team's offense by integrating more off-ball movement and screening in attempt to give players the ball with a head start already generated.
He added that players are reading the floor and making plays more acutely, and that the team has emphasized pushing the ball up the floor quickly to work as often as possible against an unset defense.
On Wisconsin:
With a big meeting with Wisconsin Tuesday night, Miller outlined some of IU's keys to slowing the Badgers' efficient, methodical attack: control the tempo by running selectively and being patient in the halfcourt; pack the paint and make Ethan Happ's shots difficult; take good shots on offense; and avoid fouls on defense.
Wisconsin prefers to limit the amount of possessions its opponent gets, thus increasing the value of every trip down the floor. "If you take quick shots against them it's like turning the ball over," Miller said.
Happ is one of the smartest, craftiest, and most skilled players in college basketball. He'll post up from nearly anywhere on the floor and has a wide arsenal of moves he uses to keep opponents off-kilter. The senior is an elite passer and scorer capable of punishing the defense for almost any choice it makes, and Indiana must strike a delicate balance between smothering him in the post and closing out on shooters.
"It's a catch-22 a little bit of what you want to give up against them," Miller said. "[Happ] is such a unique cover."
"He is a first-team All American," Miller added.
Wisconsin also features two dangerous guards in Brad Davison and D'Mitrik Trice, while Nate Reuvers complements Happ in the frontcourt and fortifies the team's defense.
"It's a typical Wisconsin team," Miller said. "They don't beat themselves, they play great defense, … they can beat anybody."
On OG Anunoby, Thomas Bryant, and Jared Jeffries being around the team last week:
Miller said that Jeffries spoke to the team last week about the importance of staying confident and enjoying the college basketball season, even in the midst of the tough times IU is experiencing.
"He had a great message for our guys," Miller said. "Take a deep breath and relax. This is a small part of your life, and you want to enjoy your college basketball days."
Miller added that Bryant and Anunoby both spent time with the group, and while they didn't speak formally to the team, their presence was valuable.
On Jerome Hunter:
Hunter isn't yet practicing with the team, but has participated in individual on-court training sessions. He obviously will not play this season, but Miller is happy with his progress through the rehab process.
Finally, Romeo Langford spoke with Fischer and, reticently, discussed life at IU, the ups and downs of his freshman season, and the team camaraderie.
"I've really enjoyed myself. In the beginning it was really difficult [relative to] what I've expected," Langford said. "Now I feel like I've been here my whole life."
He said that he felt an immediate connection with the coaching staff and Juwan Morgan, who helped him get acquainted with the program and life and IU in general.
While the team has dropped 12 of its last 13 contests, Langford remains focused on closing out the season rather than looking back at IU's struggles.
"I hope everybody doesn't anticipate losing as many games as we did in a row," he said. "You've just got to push through it."
"We don't just give up. We're still playing hard and getting better. … As long as we're playing hard that's all we can do and just get better each and every day."
Miller feels that Langford himself has improved significantly since the start of the season, particularly on defense. His focus is sharper, and his feel for the game has developed as he's seen so many different defensive schemes. He feels the freshman's contributions have been slightly overlooked, and expects Langford to raise his game even further over the final games of the season.
"Romeo has had a fantastic freshman year," Miller said. "Big time players at some point in time they raise their level when it matters the most."
Filed to: Archie Miller