News and notes from Archie Miller's radio show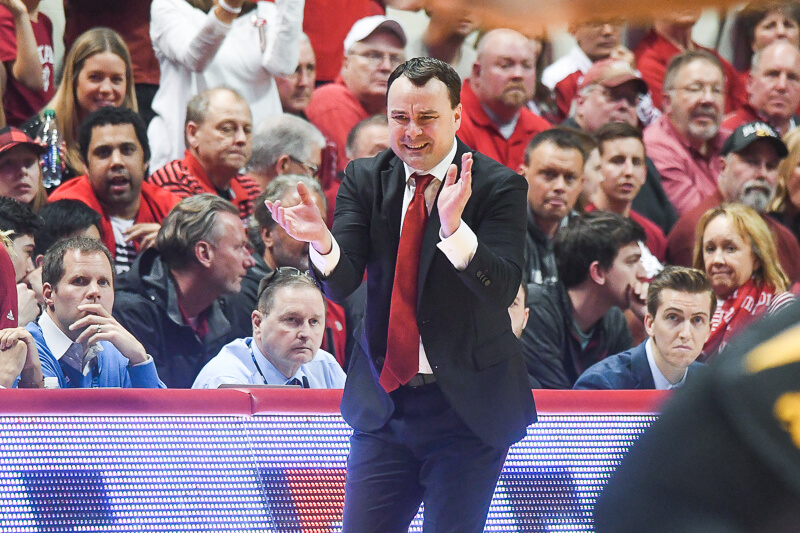 Inside IU basketball with Archie Miller was live Monday night from the Holiday Inn in Bloomington on the eve of Tuesday's matchup with Purdue.
Miller joined host Don Fischer to discuss IU's struggles, Saturday's loss at Minnesota and much more. Here's our weekly recap with news and notes from Miller's comments:
• On the team's lack of response in the Minnesota game: "It's mental more than it is physical. It's the approach that we had that wasn't right. And you know, part of it is, you know, whether it's feeling sorry for yourself if you want to paint it that way or it's, you know, confidence in many ways. It's a combination of things. But we're not taking the floor with the competitive spirit that we needed to. And I think, you know, honestly, as you're a player, you look back on it and you can remember like it was yesterday when things like that happened to you or a team you were on. And really at the end of the day, it's about guys sticking together. It's obviously about guys continuing to play the right way and when something's not going well for you individually or if you guys aren't playing particularly well, however you want to view it, you can't just suck the air out of the process."
• Miller talked about three things that are important moving forward this season: "I'm hopeful that we'll be able to number one, be a lot tougher, and number two, a lot more confident. And I think the third thing is obviously, it's about the winning. It's not about how you're playing. If we can just kind of hang in there a little bit here each day by day, there's a lot of great stories and messages about teams that fight through it, find a way, whether it's early in the season or late and they have a chance to, to make something out of it."
• Miller said that spirit and encouragement "wasn't there" for Indiana in the loss at Minnesota.
• Miller called the performance at Minnesota "one of the worst, if not the worst" of the season.
• On IU's offensive struggles: "At the end of the day the shot selection and some of the things that teams are doing to us has, has really shaken confidence. And it's not just one guy. We have a laundry list of guys here in our bad moments here that aren't shooting it particularly well. And at the end of the day, confidence plays a big role into that. And it steamrolls you as a player. And if you have multiple guys really not shooting the ball well, it can really kind of be a thing that just, 'hey, we can't make a shot. We can't make a shot.' And that's all you worry about. And it's funny, you play as hard as we played in some of our games and you may have shot poorly, but you just don't remember it.
"You know, it always goes back to the thing that you want to talk about the most. And the thing that this team has to be talking about right now isn't, 'am I shooting the ball real well?' It is 'Am I doing everything I'm being asked to do as hard as I possibly can and am I giving my teammates my best effort all the way around.'
"And when that starts to happen, it's easy to say, but more shots will go in. And when you play the right way, especially on offense, when you move the ball, you share the ball a little bit better. We had five, six possessions that as we showed our team at Minnesota, probably five or six possessions where two guys are guarding one and you don't get rid of the ball properly on the read. You're just not reading the defense. You're thinking about something else rather than making the correct play."
• Miller said communication on the floor is not a strength for this team and that IU is a "quiet team in general."
• On the "drastic changes" this team needs to make: "Well, I think part of is the drastic change needs to come with our communication. It can't be a team that doesn't talk to one another, that has to change drastically. Ket's get settled in. And let's talk a little bit here as a group. Let's have the players talk in front of the coaches in front of the team. Let's talk. What's the problem, so to speak?
"And you know, whatever is said, is said, and whatever isn't said, isn't said, but I think at the end of the day it alleviates the elephant in the room that everyone is thinking the same thing right now. And part of it is, how does it change?
"Well, it doesn't just change with the light switch. It's got to change with some other things. And part of it is right now our group has to embrace not the hard times that we've been through what we're doing … they have to embrace the path that's sitting in front of them right now.
"The realization is, this is the part of college basketball that goes the fastest. It just goes by by in a blink, it'll be over in three weeks. And when you paint a small picture for a guy like Juwan (Morgan) to say Juwan, you know, you're only guaranteed right now, six regular season games left. We only have 14 practices left in the rest of your regular season career. If you break it down to that, you mean to tell me you can't have the best 14 practices you've ever had in your life? And then if you explain it maybe a little bit differently in some of these terms for these guys to understand that like, 'hey look, we can control who we want to be right now. Nobody else can. So what are we going to do about it?' And you know, I think they, to their credit, took the floor on Sunday afternoon and did a great job."
• On the practice Indiana had on Monday: "It felt real good about each other because we had about as good of a practice as we've ever had in terms of guys really competed. Guys talked, guys were playing to win. I think everybody on the team was engaged and you know what, that's what it's about right now. Can we continue with that? We'll see."
• On Zach McRoberts and his struggles to stay healthy this season: "Zach has been very frustrated. We've all been frustrated. You watch him over the course of last season impact as many different games with so many different effort plays. He's the sort of guy that you trust so much because you know he'll play so hard. He hasn't gotten a fair shake. From Day 1 to now, he's been a shell of himself, physically."
Filed to: Archie Miller