Big Ten Power Rankings: Three teams vying for regular season crown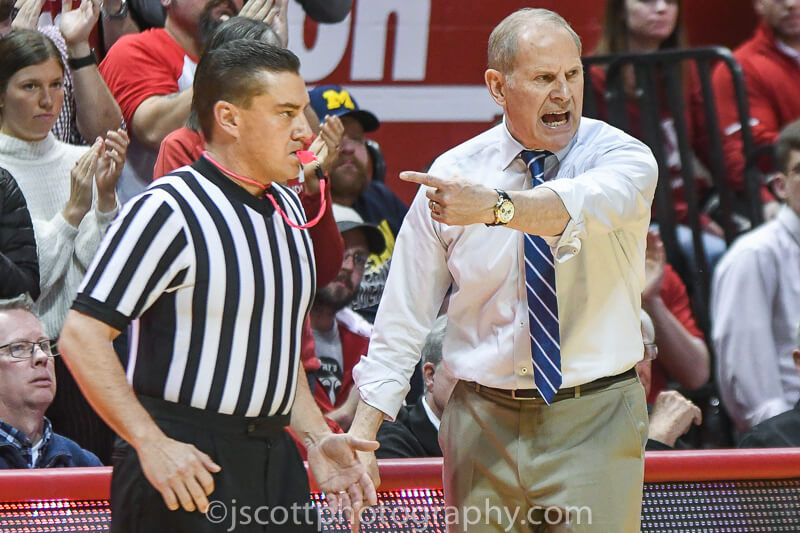 Big Ten play is hitting the home stretch and three teams have created separation at the top of the league. Michigan, Michigan State and Purdue are two games clear in the loss column from the rest of the pack and with just five or six games remaining, the title race could come down to the final weekend of league play.
Here's a look at how the nation's toughest conference stacks up with just three weeks to go in the regular season:
14. Northwestern (3-11, .907 PPP, 1.011 PPP allowed)
The Wildcats haven't won a game since Jan. 22 at home against Indiana and have eclipsed 56 points just once in their last six games. Chris Collins has two productive players in Dererk Pardon and Vic Law, but a lack of a point guard has been a deal breaker for this Northwestern team. The Wildcats still have a chance to play spoiler down the stretch as they have two games remaining against Ohio State, which is on the tournament bubble, and a home game against Purdue to close out the regular season.
13. Penn State (2-12, .954 PPP, 1.043 PPP allowed)
We're probably witnessing the end of the Pat Chambers era in State College as the Nittany Lions are in the league cellar with just two wins. Penn State has won two of its last four, including a stunning victory over Michigan at home last week, but its offense is just dreadful. For the season, Penn State ranks 307th nationally in 3-point shooting percentage, 289th in 2-point shooting percentage and 280th in free throw shooting percentage.
12. Indiana (4-10, .953 PPP, 1.055 PPP allowed)
What's wrong with the Hoosiers? Everything. Indiana is in complete free fall mode and had its worst performance of the season over the weekend in Minneapolis. The Hoosiers never challenged Minnesota at the Barn and trailed by as many as 30 in a 21-point loss. In the aftermath of the loss, Archie Miller mentioned that "drastic changes" are on the way for his team. Indiana doesn't have much time to figure things out as arch rival Purdue comes to Bloomington on Tuesday before a road trip to Iowa on Friday. Indiana is far and away the most disappointing team in the league this season.
11. Nebraska (5-10, .993 PPP, 1.041 PPP allowed)
The Huskers have won two straight, but lost seven straight before that, which likely sealed the fate of their season. The close of the regular season schedule is daunting for Tim Miles, who is likely to be removed from his post at the conclusion of the season. After traveling to Penn State on Tuesday, Nebraska's final four games are as follows: Purdue (home), Michigan (away), Michigan State (away) and Iowa (home). That's brutal.
10. Rutgers (5-10, .974 PPP, 1.071 PPP allowed)
Most Big Ten programs wouldn't feel good about a 5-10 league record, but that isn't the case in Piscataway. Rutgers lost a heartbreaker on Saturday to Iowa as Joe Wieskamp banked in a corner 3-pointer to sink the Scarlet Knights at the RAC. Moving forward, there is reason for optimism for Steve Pikiell as Rutgers is just 324th nationally in experience, according to KenPom, and will return nearly everyone notable next season from this year's roster. The Big Ten has been put on notice: Rutgers is no longer the league's doormat.
9. Illinois (6-8, 1.017 PPP, 1.047 PPP allowed)
The Illini have won four straight and five of six overall. If not for a dismal non-conference record, Brad Underwood and company might be in the NCAA tournament bubble mix. If the Illini can hold serve at home the rest of the way and win at Penn State to close the regular season, they'll have a 10-win Big Ten season. It's been quite the turnaround in Champaign for a team that started out 1-8 in league play.
8. Ohio State (6-8, .979 PPP, 1.010 PPP allowed)
The Buckeyes are still firmly in most NCAA tournament projections, but the resume lacks the quality wins to get too comfortable. Ohio State's best wins are at Cincinnati, at Creighton, Minnesota at home and at Nebraska. Only two of those teams are going to be in the tournament and the Buckeyes are in real danger of finishing with a sub. 500 record in Big Ten play. Ohio State still has a few chances to pick up resume building wins down the stretch. The Buckeyes still have road trips to Maryland and Purdue and will also host Iowa and Wisconsin.
7. Minnesota (7-8, 1.040 PPP, 1.073 PPP allowed)
The Golden Gophers snapped a four-game losing streak on Saturday by crushing Indiana and Richard Pitino looks like he'll have Minnesota in the NCAA tournament for the second time in his six seasons at the helm. Jordan Murphy's relentlessness on the glass is a marvel to watch and Amir Coffey doesn't get enough credit for his versatility in the Minnesota backcourt.
6. Iowa (9-5, 1.110 PPP, 1.090 PPP allowed)
The red hot Hawkeyes have won four straight and continue to win games despite a putrid defense. Iowa's latest win came in dramatic fashion as Joe Wieskamp banked in a corner 3-pointer to beat Rutgers in Piscataway. Iowa is the Big Ten's best 3-point shooting team and when the Hawkeyes are hot, they can play with anybody in the country. The problem, however, when it comes to NCAA tournament time, is that Iowa doesn't have a defense to fall back on if the shots stop falling.
5. Maryland (10-5, 1.038 PPP, .978 PPP allowed)
The Terps looked like a Big Ten title contender a few weeks ago, but have dropped four of their last seven games and are battling with Wisconsin for a double bye in the conference tournament. Bruno Fernando is likely to land on the All-Big Ten first team and the Terps are the league's best free throw shooting team, which could come in handy in a close game in March.
4. Wisconsin (9-5, 1.010 PPP, .942 PPP allowed)
Wisconsin has dropped two straight, but has a chance to win out with a very favorable schedule down the stretch. The Badgers will close the season with the following six contests: Illinois (home), Northwestern (away), Indiana (away), Penn State (home), Iowa (home) and Ohio State (away). Ethan Happ has a legitimate shot to win Big Ten player of the year and the Badgers should be a top four seed in the NCAA tournament.
3. Purdue (11-3, 1.127 PPP, 1.027 PPP allowed)
Like Wisconsin, Purdue has a very favorable close to the Big Ten schedule and still may be the favorite on paper to win the conference title. The Boilermakers will play four of their final six conference games on the road, but only one of those contests will be against a team currently projected to make the NCAA tournament (Minnesota). If you didn't catch this clip from Matt Painter after Purdue's win over Penn State this weekend, make sure to check it out.
2. Michigan State (12-3, 1.118 PPP, .952 PPP allowed)
Michigan State got another tough break on Sunday when Nick Ward went down with a hand injury that could sideline him for the rest of the regular season. Still, the Spartans found a way to bottle up Ohio State at home in the second half and cruised to a 62-44 victory. Credit Tom Izzo and the Michigan State coaching staff for overcoming the loss of Joshua Langford this season and still being in position for a top two seed in the NCAA tournament.
1. Michigan (12-3, 1.039 PPP, .918 PPP allowed)
The Wolverines were our preseason pick to win the Big Ten regular season title and despite a loss at Penn State last week, it could still happen. Michigan has a tough close to the regular season as it will face Michigan State twice and also travel to Minnesota and Maryland, but having the league's best defense gives the Wolverines a chance to win any game.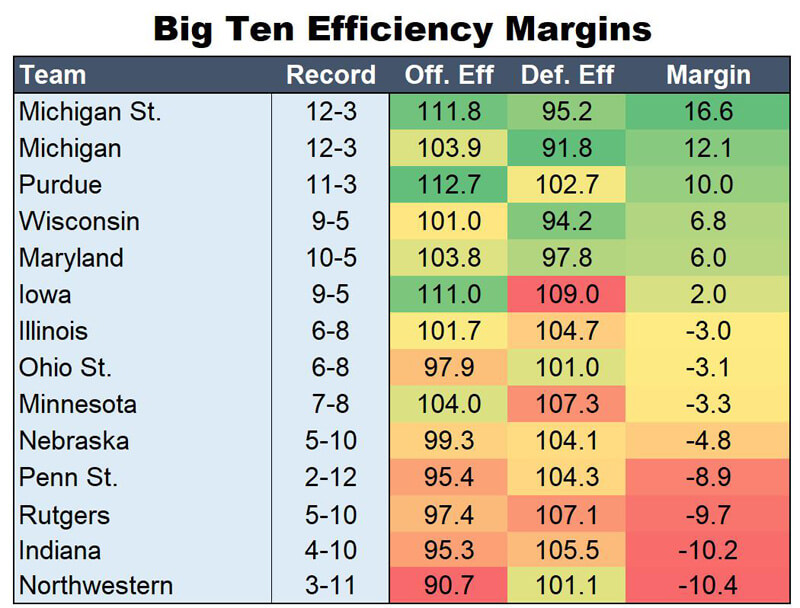 Filed to: Big Ten Power Rankings