News and notes from Archie Miller's radio show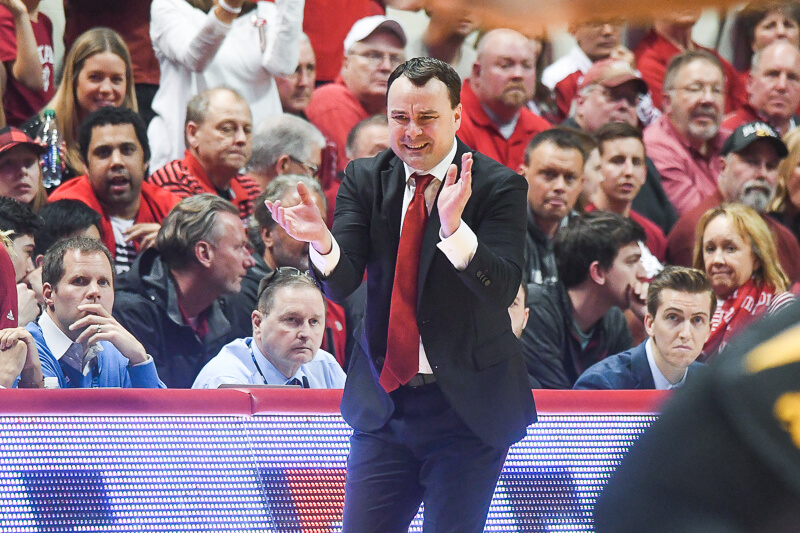 Archie Miller offered another look into the Indiana basketball program on his radio show Monday night. Here are some of the most prevalent notes from his discussion with Don Fischer.
• On the Hoosiers dropping both of their games this week: "It was a hard week for us," Miller said, adding that the Hoosiers didn't finish games the way they wanted to due to their failure to get timely stops and score consistently. "[We] had a chance to win both games, and just weren't good enough in certain areas throughout the course of the game or at the end of the game, being able to finish it properly."
• On the physicality of the Ohio State game: "It was a well-officiated game," Miller said. "[The officials] let both teams play through pretty much everything. I didn't think the officiating played a role in the outcome because both teams were basically given the same calls and the same amount of free throw attempts… It ended up being a really grind-it-out, physical, hard-played game."
• Miller also noted that while Juwan Moran struggled offensively against Ohio State's size and physicality, the senior played one of his best defensive games of the season by attacking the glass and battling Kaleb Wesson. Ohio State doubled Morgan every chance they got, thus limiting the amount of opportunities he had.
"Offensively, it was a very different game for him," Miller said. "His normal opportunities in and around the basket were very limited just due to the fact of how they chose to guard him."
• On Romeo Langford's shooting uptick: "Sometimes as a young guy goes through the conference race, it's difficult," Miller said. "As you get into February and March you feel like yourself. You feel like you can play the game you want to do it. And he's feeling a lot more confident shooting the ball."
Langford has shot 42.3 percent from deep and 76.5 percent from the free-throw line over his last four games, and while Indiana has won just one of those contests, the team needs Langford to continue scoring at an efficient clip.
"He's got to continue to keep that going for us because regardless of how teams play or how teams play us," Miller said. "He's the one guy on our team that finds a way to get baskets. He's just a naturally gifted scorer."
• Langford has also been dealing with a nagging ligament stretch near his thumb on his right hand since high school, which could be cause for the late uptick in his shooting. It seldom affects the rest of his game, though, save for when he draws contact on that hand.
"It just gets aggravated at times, I think, when he gets sort of whacked or bumped on the hand and it becomes sore," Miller said. "To his credit, he plays through it and doesn't say anything."
Miller said Langford and the team plan on examining the injury more closely after the season and taking the necessary steps from there.
• On De'Ron Davis' recent play: "I think he's the best that he's been all season in terms of mobility and being able to play longer stretches."
Miller added that Davis' ankle feels better, his confidence is back, and his conditioning is improving, all of which has given Indiana a significant boost in the frontcourt off the bench.
"It's really been beneficial to us," Miller said. "If you look at the minutes that he's played, they're very productive for our team. It gives Juwan the opportunity to play alongside him. It also gives us another guy that use [on] our bench. But you can tell he's a Big Ten body, he's comfortable in the low post catching and passing… so he gets guys shots too. It's not like he's just catching and scoring. So he's been a positive and we're going to need him to play hopefully a more extended role."
• As a result, Davis has played more minutes with Morgan lately, reuniting the starting frontcourt tandem from a year ago before Davis lost the rest of his season to an Achilles' tear. Miller likes that duos ability to bang with the physical frontlines of the Big Ten and give the Hoosiers a different look with Justin Smith out of the game.
"When Juwan was playing with him, that [makes] the matchup a little bit different," Miller said. "You can't play De'Ron with a little guy because he's really good around the basket, and sometimes you have to put a smaller guy on Juwan, which he has an advantage at times. That lineup here down the stretch versus the size that we're seeing is definitely something we're hoping to use."
• Both Morgan and Davis have also served as two of the team's most vocal leaders as of late, Miller said. Morgan has been the team's rock all season, while Davis is "a powerful voice" as well.
Miller also said that Al Durham has emerged as one of the most vocal and energetic leaders on a young team that has few overly emotional players.
"Al's giving us great energy, he's giving us great body language," Miller said. "He plays the right way, and we just need to see if we can't get a couple of these guys who are in there for extended stretches to continue to give us positive energy and positive communication throughout the course of the game."
• Moving forward, the Hoosiers will need every bit of encouragement and confidence they can get, either from within or outside of the team.
"I think that's the biggest thing, is confidence level," said Miller, whose team feels more pressure at home than on the road. "We're not as confident at home as we once were at one time, and I think that plays a little bit of a role in sort of what's going on. When you don't hold serve at home – in any league, really, but especially in this one – that really shakes you a little bit. And we haven't been that good at home in our last two prior to this week."
He stressed the importance of seizing the diminishing opportunities the Hoosiers have left to beat good teams in a really competitive league and staying committed to the work it takes to do so.
"You just cannot go away from the everyday grind and you've got to stay together as a group," Miller said. "You've got to try to find that us against the world mentality, so to speak, and you've got to find a way to get even more desperate and more guys trying to do exactly what you're asking them to do. I can't complain with our attitude and our togetherness. I think our team, right now, is together."
• As for its recent performances, Miller likes looks his team has created off of ball movement, as well as its assist totals in the Michigan State and Iowa games, but said that Indiana needs to find a way to manufacture offense when its first options are taken away. He mentioned Devonte Green as a valuable offensive creator who can create offense when possessions go haywire.
• Meanwhile, the head coach feels Rob Phinisee is getting back to the player he was before missing three (and a half) games with a concussion earlier in the year. Miller said that the injury has affected Phinisee's play of late and that he wasn't quite right in the games immediately following his return. Still, the freshman has looked better attacking the basket and defending the ball recently, something Miller hopes the team can get on a more regular basis.
"He's a safe, solid player who doesn't want to go outside the box, and a lot of times as a young guy you're not willing to step out unless you've made a couple."
• On Evan Fitzner's place in the rotation: "We need to find ways to obviously have him out there with De'Ron and Juwan, and maybe even Justin at times, because he is that guy that can really shoot the ball, and if he makes a couple it changes the game."
• Jerome Hunter is still recovering from two procedures on lower leg, working through conditioning with the team's medical staff. Hunter is "taking it slow" and has been set back a few times, but probably wasn't going to return this season anyway. Overall, Miller was pleased with his progress.
• Race Thompson is back in practice, but hasn't been able to get back into game shape since returning from a concussion. Miller hopes the redshirt freshman will see some minutes down the stretch of the season, and noted that Thompson desperately wants to contribute. The plan, as of Monday night, is to give him a go early in first halves and play things by ear from there.
"Without a doubt, we're going have to end up playing Race at some point in time just because he wants to contribute, and I think he can."
Filed to: Archie Miller