Five takeaways from Indiana's loss to Ohio State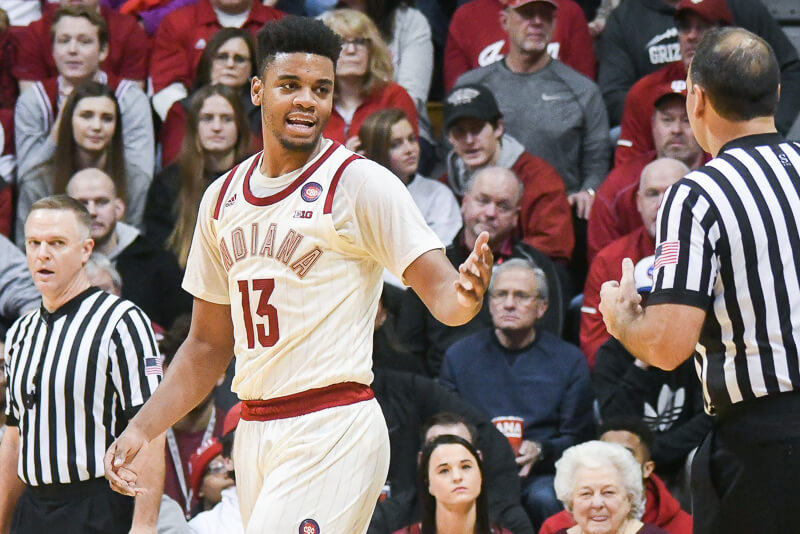 Indiana dropped to 2-9 this calendar year with a 55-52 loss on Sunday afternoon to Ohio State at Simon Skjodt Assembly Hall. The Hoosiers are now just 13-11 overall and 4-9 in the Big Ten.
Here's a look at five takeaways from the loss to the Buckeyes:
• Indiana's late game execution was poor: The Hoosiers scored for the last time in Sunday's loss on a long Devonte Green 3-pointer with 1:46 remaining.
It was a broken play in which Green made a really tough shot to give Indiana a 3-point lead, but was by no means a well-executed possession.
And from that point, Indiana's failure to execute on both ends was the determining factor in its fourth straight home loss. After Green's long 3-pointer splashed in, Ohio State answered with a desperation 3-pointer from CJ Jackson to tie the game.
On IU's ensuing possession, Rob Phinisee was blocked by Kaleb Wesson, but the ball went out of bounds to the Hoosiers. IU called a timeout to set up a play, but couldn't get the ball inbounds and had to signal for another timeout. The Hoosiers then turned it over before getting a shot up, which was a backbreaking possession. Ohio State then took a timeout and ran a basic slip play for Andre Wesson for an easy bucket.
Indiana, with no timeouts left, had a Romeo Langford 3-pointer rim off and had to foul Luther Muhammad. After Muhammad missed one of his two free throws, IU had a chance to tie the game, but a Green 3-pointer missed.
The Hoosiers, who won several close games early in the season with better execution, have consistently failed over the last 11 games to make plays when it has counted the most.
• Romeo Langford's strong play continues: Sunday was another strong performance by Romeo Langford, who continues to put up solid numbers in the midst of IU's collapse as a team.
The New Albany product finished with a team-high 15 points on 7-for-13 shooting in the loss. Over Indiana's last four games, Langford is shooting a respectable 42.3 percent from behind the 3-point line on 26 attempts.
Unfortunately for Indiana, Langford's teammates have been unable to consistently produce enough offense around him to translate his stellar play into team success.
• Indiana's offense is the third worst in the Big Ten: Despite having both Langford and Juwan Morgan on the roster, Indiana's offense continues to slide backward.
After scoring just .88 points per possession against Ohio State, Indiana is now averaging .956 points per possession in Big Ten play. That's 12th in the league and narrowly ahead of Penn State (.945) and Northwestern (.924).
Sunday's game against Ohio State was the latest example of an opponent ignoring one of IU's players (Justin Smith) with the intention of making things more difficult on Juwan Morgan and Langford. And it worked. The Buckeyes sagged off Smith completely and clogged up the space for Morgan to operate in the post and also clogged up Langford's driving lanes.
• IU's lack of urgency is alarming: Indiana has shown a lack of urgency for most of the calendar year and with its NCAA tournament chances in the crosshairs, the Hoosiers once again spotted an opponent a big lead at home.
In the aftermath, Indiana's players that were brought to the podium – Langford and Devonte Green – had no clear answers for why this continues to happen.
"I think we just need to be ready out of the gate," Green said. "That's the word we've been preaching since we've started slow, and I think if you stay ready, you don't have to get ready."
In reality, this falls more at the feet of the coaching staff and Morgan, who have failed to fix the problem over the course of the season.
• De'Ron Davis continues to make his case for more minutes: Indiana junior De'Ron Davis only played 16 minutes in Sunday's loss because of foul trouble, but he was again productive in his time on the floor.
The 6-foot-10 center scored six points and had two assists and the Hoosiers were +11 when Davis was on the court.
"De'Ron I thought was a big added bonus for us in the game," Archie Miller said. "Again, he continues to play good minutes for us, so to have him in the game there maybe in those last two or three minutes with Juwan could have potentially helped us in a couple of those situations, but we didn't have him in there."
Filed to: Ohio State Buckeyes