Big Ten Power Rankings: No movement at the top, some at the bottom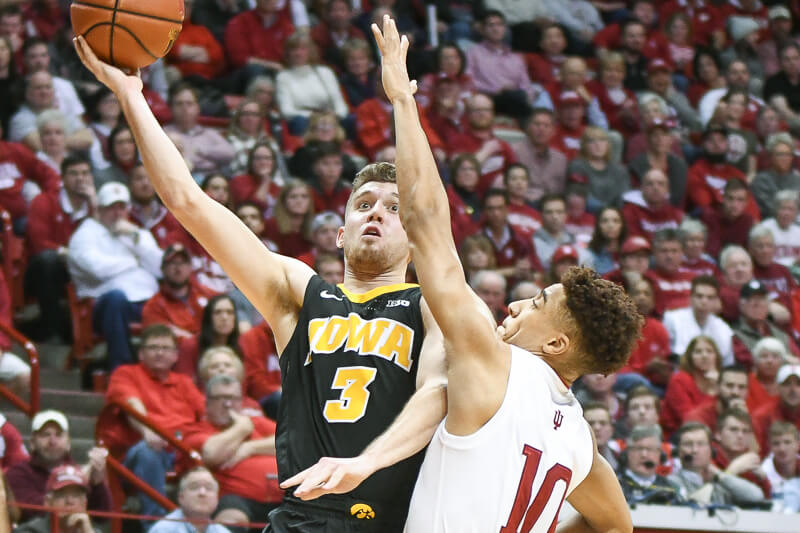 The Big Ten is certainly an improved conference from where it was a year ago, when it only sent four teams to the NCAA tournament. But it appears the lofty projections set earlier in the season may have been a reach. While the Big Ten still contains several of the top teams in the country, it seems unlikely that 9-10 teams will go to the Big Dance.
Still, there's a reasonable case that the Big Ten is the strongest conference in college basketball. Here's how it stacks up right now:
14. Penn State (1-11, .945 PPP, 1.043 PPP allowed)
The Nittany Lions finally earned their first Big Ten win of the season this week, a 59-52 road win over Northwestern on Monday. They narrowly missed out on their second at Ohio State on Thursday, but they had chances to pull that one out. That combination made for what should be considered Penn State's best week in quite some time. That's the sad state of affairs in State College this season. PSU faces Michigan at home on Tuesday and Purdue on the road on Saturday.
13. Northwestern (3-9, .924 PPP, 1.031 PPP allowed)
Northwestern suffered arguably the most backbreaking loss in the Big Ten this season on Sunday. The Wildcats led by 15 at Iowa with 4:30 to play, but they choked it away as Iowa pulled off a crunch-time comeback. Chris Collins' team really needed that one after falling to woeful Penn State earlier in the week. The Wildcats have lost four in a row, and they simply can't afford to miss opportunities against Rutgers and Nebraska this week. Losses in either of those games would be severely damaging to their chances of avoiding a Wednesday game in the Big Ten Tournament.
12. Nebraska (3-10, .996 PPP, 1.062 PPP allowed)
Nebraska looks like a shell of the team it was at the beginning of January. James Palmer Jr. and Isaiah Roby are still producing, but the loss of Isaac Copeland was so crippling for the Huskers. Beyond that, some of Nebraska's role players haven't played as well as they did earlier on. The Cornhuskers' losing streak is at seven games after losses to Maryland and Purdue last week, neither of which were particularly close. They'll host Minnesota and Northwestern this week.
11. Indiana (4-9, .956 PPP, 1.042 PPP allowed)
The Hoosiers squandered the chance to get momentum going this week after their shocking win at Michigan State. Tight losses to Iowa and Ohio State killed any optimism that was built up in Bloomington after the big win. IU's wins over MSU, Marquette and Louisville combined with the number of quality opponents remaining on the schedule don't completely kill its chances of making the NCAA tournament on paper, but that would require IU pulling off several upset wins in the next few weeks. Nothing that team has shown suggests that's even remotely realistic. Indiana has a light week, getting some rest before traveling to Minnesota on Saturday.
10. Rutgers (4-9, .975 PPP, 1.087 PPP allowed)
Rutgers came crashing down to Earth this week after its three-game winning streak. A loss to Michigan was expected, but losing to Illinois is a tough pill to swallow, even though the Illini have been playing well. Rutgers had to think it's in the same ballpark as Illinois, so while the Scarlet Knights have shown improvement this year from the past few seasons, this loss shows they still have a lot of work to do. Regardless, they'll still have a fighting chance at earning a bye in the Big Ten ttournament for the first time since they've been in the conference. The Scarlet Knights face Northwestern and Iowa this week.
9. Illinois (5-8, 1.022 PPP, 1.042 PPP allowed)
Don't look now, but Illinois has some nice momentum going. The Illini have won three straight, their longest winning streak of the season, and they've won four of their last five. That streak includes their biggest win of the season, a 79-74 home upset over Michigan State on Tuesday. Giorgi Bezhanishvili had a huge week, scoring 16 against the Spartans and going off for 35 — on an efficient 14-of-18 line — in Illinois' win over Rutgers on Saturday. Trent Frazier and Ayo Dosunmu have also been playing well for Brad Underwood. Illinois visits Ohio State on Thursday this week.
8. Minnesota (6-7, 1.026 PPP, 1.088 PPP allowed)
The Gophers have lost three in a row to three of the conference's top teams: Purdue, Wisconsin and Michigan State. They're firmly entrenched in the middle of the pack in the Big Ten, and that's not a bad thing this season. Amir Coffey is having a nice season for Richard Pitino, and Jordan Murphy is one of the top rebounders in the country — he's fourth in the nation in rebounds per game at 11.9. Minnesota's fortunes this season will be strongly tied to the play of those two. The Gophers get a break from the difficult matchups this week, facing Nebraska on the road and Indiana at home.
7. Ohio State (6-6, 1.014 PPP, 1.018 PPP allowed)
The Buckeyes survived challenges from Penn State and Indiana this week. Behind a strong season from Kaleb Wesson, Chris Holtmann has Ohio State in good shape to make the NCAA tournament. The team appears to have turned the page from its five-game losing streak to open January, having won four of its last five. Now the Buckeyes need to show they can hang with the good teams in the conference: those four wins came agains PSU, IU, Rutgers and Nebraska. They get an opportunity to show that this week when they visit Michigan State on Sunday. They also host Illinois on Thursday.
6. Iowa (8-5, 1.111 PPP, 1.092 PPP allowed)
Iowa won two close games this week: a 77-72 win at Indiana and an improbable 80-79 home win over Northwestern. The Hawkeyes closed that Northwestern game on a 23-7 run after trailing for the entire second half. Jordan Bohannon won the game on this miraculous shot. This was a huge week for Bohannon — he scored 15 in the Northwestern game, and he scored 25 against Indiana and hit several clutch shots to ice the game away. Iowa's defense needs to improve if it has any realistic chance of making a run in the NCAA tournament, it at least appears to be in good shape to get there. The Hawkeyes travel to Rutgers on Saturday this week.
5. Maryland (9-4, 1.052 PPP, .984 PPP allowed)
Maryland took care of business at Nebraska last Wednesday. The Terps are tied with Wisconsin in the standings and have a realistic chance at earning a double-bye in the Big Ten Tournament. Bruno Fernando will land on an all-Big Ten team as he's turning in a fine season. He's second in the Big Ten and 11th in the country in rebounds per game at 10.7. Anthony Cowan also has a good chance at all-Big Ten honors. The Terps have two massive opportunities to add to their resume and climb up the standings this week, hosting Purdue on Tuesday and visiting Michigan on Saturday.
4. Wisconsin (9-4, 1.018 PPP, .936 PPP allowed)
The Badgers missed a huge opportunity to make up ground in the Big Ten standings this week with their loss at Michigan on Saturday. That snapped a six-game winning streak for Greg Gard's squad. Still, Wisconsin is in a great spot heading into the home stretch of the season. The Badgers were a four seed in the NCAA tournament Top 16 reveal, suggesting their resume is in good shape. Ethan Happ is having a marvelous season, putting up career-highs in points, rebounds and assists per game, and he's a favorite for Big Ten player of the year. Wisconsin has a big opportunity this week when it hosts Michigan State on Tuesday.
3. Michigan State (10-3, 1.135 PPP, .974 PPP allowed)
If Michigan State's loss to Indiana was surprising, then its loss to Illinois was jaw-dropping. Sure, the Illini have played well recently, but the Spartans are clearly multiple classes above them. That's a game MSU wins nine times out of 10. But Michigan State got back on track against Minnesota on Saturday. Cassius Winston should be a first team all-Big Ten selection with a realistic shot at Big Ten Player of the Year. He's fourth in the country in assists per game at 7.5. Michigan State has two big games this week against Wisconsin and upset-minded Ohio State.
2. Michigan (11-2, 1.041 PPP, .909 PPP allowed)
The Wolverines' win over Wisconsin was reassuring for their fans after the loss to Iowa the previous week, and they took down Rutgers earlier in the week. Jon Teske had a huge game against Wisconsin, posting 17 points and 12 rebounds. Ignas Brazdeikis (14.9 points per game on the season) will be an easy choice for the Big Ten all-Freshman team, and depending on how Indiana finishes down the stretch, could have a chance at battling Romeo Langford for Big Ten freshman of the year. With two games left against both Maryland and Michigan State, the Wolverines have several remaining chances to boost their resume. The first of those chances comes this Saturday when Michigan hosts Maryland, and UM visits Penn State on Tuesday.
1. Purdue (10-2, 1.155 PPP, 1.035 PPP allowed)
The Boilermakers passed their lone test of the week with flying colors, dismantling Nebraska 81-62. Non-conference play left doubt as to how good Purdue could be this season, but that team has stepped up to the challenges of Big Ten play quite well. Nojel Eastern has played really well in the last two weeks, averaging 10.3 points and 8.7 rebounds per game in those contests. And Carsen Edwards is having a terrific season, averaging 24.6 points per game. In the last two weeks, Edwards is putting up a ridiculous 27.3 points per game. He'll be an easy first team all-Big Ten selection, and he should garner consideration for All-American honors. Purdue faces Maryland on the road on Tuesday and Penn State at home on Saturday this week.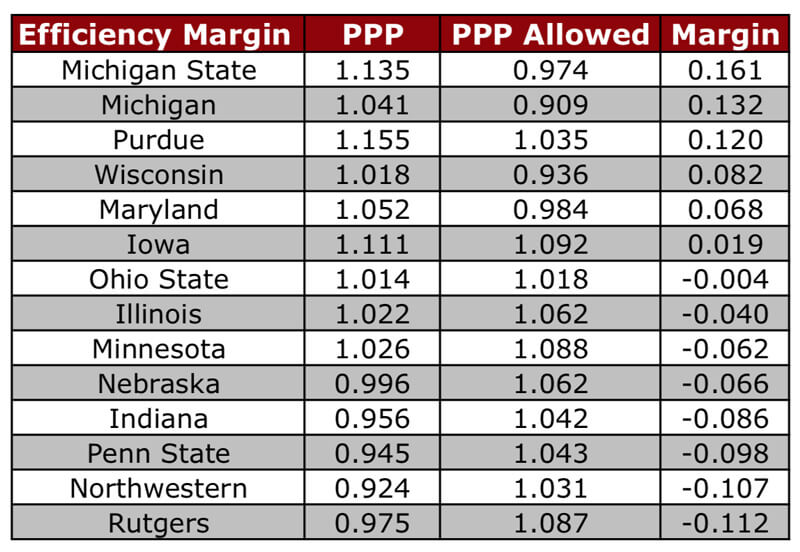 Filed to: Big Ten Power Rankings