Offensive struggles and key late plays curb IU in loss to Ohio State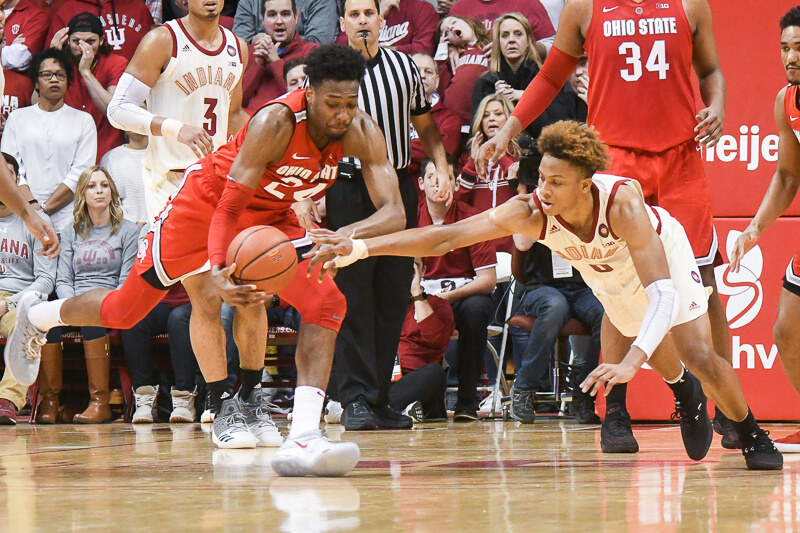 With the game tied and less than 30 seconds to play, Andre Wesson passed to C.J. Jackson beyond the 3-point line with momentum carrying Jackson away from the basket.
Wesson faked a screen, which fooled Justin Smith into hedging early, and slipped through Indiana's defense for a go-ahead dunk. Romeo Langford came very close to a block but his angle was just slightly off, hitting Wesson's arm instead of the ball, and Wesson finished through the contact.
That play was a microcosm of Indiana's performance in its 55-52 loss to Ohio State. The Hoosiers were rarely in sync offensively, frequently made poor decisions, and even though they still had a fighting chance at the end, they came up short.
Juwan Morgan set a career-high in rebounds with 14, but he shot 1-for-7 for three points, his lowest scoring output since January 19, 2018 at Michigan State — he missed the entire second half of that game with an injury.
Archie Miller credited Kaleb Wesson's defense in the middle for limiting Morgan's (and, in turn, IU's) effectiveness.
"They made things very difficult in and around the basket all game to get either post-ups or catches just because of the way that they treated the post crowds or the traps, and he just didn't get his normal amount around the rim," Miller said.
Indiana forced itself to play from behind yet again after a slow start. Aside from a few quick runs to either cut the deficit or tie the game, IU's offense was just ineffective. The Hoosiers passed up open looks they would have taken earlier in the season, forced bad passes and put up some head-scratching shots. They were never able to get into a rhythm through their sets, forcing a reliance on hitting outside shots, and IU didn't hit enough to win.
"I think they were playing good defense," Devonte Green said. "Just didn't allow us to get in a rhythm, I guess. We had shots that we needed to knock down, and we just didn't."
Defensively, the Hoosiers were solid. Morgan and De'Ron Davis did a good job against Kaleb Wesson, who can torch opponents who aren't up to the task. There were occasional breakdowns, such as Smith losing Andre Wesson on the late go-ahead dunk, but it was mostly tough sledding for Ohio State as well.
But no matter how well your defense plays, it's hard to win when your offense scores 0.88 points per possession.
Langford's shooting emergence continues, despite a crucial late miss
Romeo Langford's biggest weakness for much of the season had been his outside shot. He'd established himself as one of the top drivers and finishers at the rim in the Big Ten and in the country, but his 3-pointer was such a non-threat that opponents had to pay minimal attention to it.
In recent games, he's flipped that script.
This is the third time in four games that Langford shot 3-for-7 from 3-point range. He's shooting 42 percent from beyond the arc in those four games. He said he feels like his 3-pointer is returning after working hard on it in the gym.
But when Indiana needed a clutch 3-pointer from him late in the game, he couldn't convert. Following the go-ahead Wesson dunk, Langford took the ball up with no intention of passing it off. He dribbled across the 3-point line and put up a shot off a Morgan screen. The ball bounced from the front of the rim to the back and fell to the Buckeyes.
The freshman didn't read between the lines on the miss.
"I just missed the shot," Langford said. "It went in and out. You miss some and you make some, so that's all that happened."
That wasn't the only important late play Langford was involved in. With 46 seconds left, IU used back-to-back timeouts — one after an offensive rebound on a blocked shot with seven seconds on the shot clock, and another on the ensuing in-bound to avoid a five-second violation. When play resumed, the Hoosiers got the ball to Morgan near the top of the key. He tried to feed Langford in the post, but the pass was low and Andre Wesson picked up the steal, which led to his key dunk after a Buckeyes timeout.
Miller took the blame for the broken play.
"We drew up a play that obviously put Juwan and Romeo in a position to try and either drive it from the top or get a post-up, and wasn't sure if he was open or not," Miller said. "I know it obviously was a deflected pass. It was a big turnover. But you can put that on me. We tried to get the ball right at the basket with Romeo, maybe get fouled, maybe get a quick bucket, but it was a big turnover."
Filed to: Archie Miller, Ohio State Buckeyes, Romeo Langford