Notebook: Indiana rediscovers itself in win over Michigan State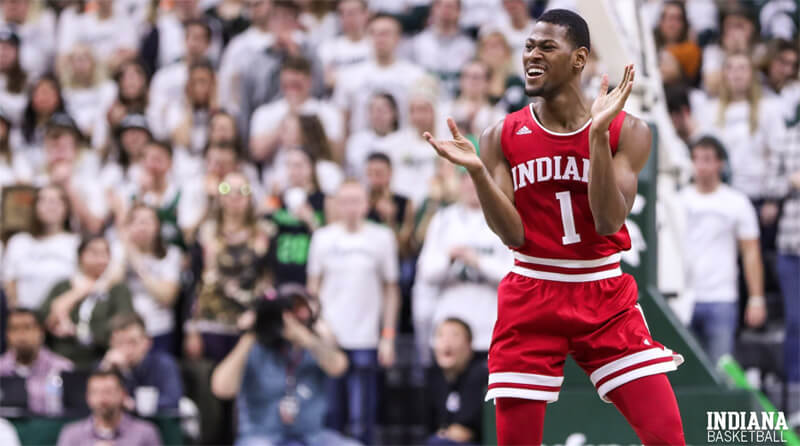 EAST LANSING, Mich. – Indiana chose the most adverse of all circumstances to snap out of a month-long losing streak that threatened to send its season into an irreversible downward spiral.
Matched up with No. 6 Michigan State in a packed Breslin Center Saturday night, the Hoosiers lost Juwan Morgan to an apparent shoulder injury on a tussle for a loose ball – and for a moment the entire season flashed before the eyes of IU fans. Already thin at most every position, the Hoosiers could not afford to miss their best and most consistent player for more than a few minutes. As Morgan writhed at the free throw line, Indiana came to grips with the cold reality of losing him for much longer.
Then, as if conjured by magic, the rally came.
The spirit and toughness that had been so blatantly lacking over the last seven games returned as Indiana fought to stay in a game that many expected it would not be in. Through contributions throughout the roster the Hoosiers shared the ball, united on defense, and, eventually, edged out one of the best teams in the country, 79-75, in overtime.
Regardless of whether Saturday night proves to be the definitive turning point in IU's season, the Hoosiers showed just what was missing in the month of January and what sort of team it can be when those elements are restored. The Hoosiers played with tenacity, tact, and discipline, using Morgan's absence as a motivator rather than an excuse.
Here's what else stood out from an electric win:
Contribution by committee
Soon after Morgan walked off the floor, De'Ron Davis blocked Nick Ward's layup attempt off the glass and hit a left-handed hook on the ensuing possession. With the frontcourt rotation already thin, Davis, who played 25 minutes, provided a huge lift with 12 points, six rebounds, and four assists – all through a sore ankle that has effectively kept him out of Indiana's last seven games. "Everybody's just got to step up," Davis said. "I had to step up. I had to play more minutes, even if I'm not able to."
And nearly everybody did. Indiana's lack of depth has limited Archie Miller's options all season, and with Morgan absent for most of the game and Zach McRoberts sitting out with a foot injury, the course of Saturday's game mandated contributions from nearly everyone on Indiana's roster. Two early fouls on Rob Phinisee left Indiana with precious little on its bench, and a second-half injury to Al Durham (from which he returned) momentarily left Indiana with next to nothing in the way of backcourt options.
That only made Devonte Green's 34 productive minutes all the more valuable and Durham's steady two-way presence a necessity. Durham is Indiana's best point guard at the moment, and has grown into a more prominent role on both ends of the floor. He was largely responsible for holding Matt McQuaid to just three shot attempts, though he also spend time on Cassius Winston, Aaron Henry, and Kyle Ahrens. Without Morgan to help steer the offense, Durham's slashing and playmaking served as a vital counter to Romeo Langford's unhurried drives and pull-ups. He was at the center of on-court huddles and often the conduit for Miller's instructions from the bench.
Regardless of when Morgan returns, Durham should be in line for a bigger role, and Indiana can feel more comfortable relying on him to carry the load.
Matching up with Michigan State's big men
All of Indiana's big men battled foul trouble – including Jake Forrester, who fouled out after just eight grueling minutes of defending Ward – yet defended Michigan State's frontcourt capably. The Spartans are an especially difficult front line to match up with, even in a conference laden with great big men. They require that opponents be big enough to bang against Ward, Kenny Goins, and Xavier Tillman, yet mobile enough to defend them on the perimeter as well. Manage that, and teams must still account for their superlative passing and decision-making.
At times, that proved too difficult for Indiana to match. Ward abused Forrester, Evan Fitzner, and – at times – even Davis with deep seals in the post, where he had only to catch and turn to the basket. Goins outmuscled Smith in the post, only to pull him beyond the arc with three made 3-pointers in subsequent possessions. Tillman had his way against undersized defenders.
And yet, Indiana did just enough to get by. Smith has made monumental strides as a help defender this season, and came up with three crucial blocks as a result of crisp defensive rotations. Davis' sheer size helped contain Ward's bruising backdowns after Morgan did what he could early in the game. The Hoosiers out-rebounded Michigan State, 48-40, and matched the Spartans' physicality despite a stark size disadvantage. (Ward's 1-of-9 showing at the free-throw line helped Indiana tremendously).
On the perimeter, Phinisee made most of Winston's shots difficult, but constant foul trouble prevented him from being on the floor long enough to make much of a difference. So Green provided backup, taking on Winston's zippy drives and clever dishes to teammates. The junior scored 26 points, but took 22 shots to get them and committed a game-high four turnovers. All Indiana could hope to do was make his job difficult, and they largely succeeded.
Offensive connectedness
The continuity that allowed Indiana to plug so many holes on defense carried over to the offensive end, where the Hoosiers looked their most cohesive since December. Indiana scored 1.04 points per possession, due largely to 21 assists on 28 made baskets. As a result of that crisp ball movement, IU hit 10 of its 20 3-point attempts and only heated up as the game intensified. The Hoosiers outscored Michigan State 31-23 over the final 13 minutes of the game (including overtime), hitting four consecutive threes in a 3:03 span.
That time coincided with Langford finding his rhythm, and Indiana's shooting opened the floor for him to attack as he did earlier in the year. The freshman has spent the better part of a month barreling into help defenders, attacking driving lanes that are no longer there. Saturday night, those lanes opened back up and allowed Langford to carry Indiana down the stretch. He played arguably the best half of his career, all things considered, scoring 12 of his 19 points in a 10-minute span that included a rare taunt of an opponent after a stepback triple. His ability to create offense for himself and others was on full display, and on the decisive possession of regulation, that talent proved as critical as ever.
IU still has room to tighten up
An incomplete list of plays that very well could have cost the Hoosiers on Saturday night:
• An offensive rebound by Goins 20 seconds into the game that led to a Winston 3.
• A fast-break dunk by Henry as a result of Langford jogging back on defense after missing a fadeaway three at the end of the shot clock.
• A fast-break dunk by Tillman, who outran Smith down the floor, on the ensuing possession.
• A right-wing three by McQuaid 1:30 into the second half after Indiana failed to pick him up in transition.
• A driving layup by Winston as a result of Green complaining – perhaps rightfully – to the official about a missed foul call.
The plays in themselves are decidedly negative, and should be corrected. That Indiana won in spite of them is a testament to all they did well – and the countless other effort plays that finally went the other way.
(Photo credit: Indiana Basketball on Twitter)
Filed to: Michigan State Spartans